Cilea: Chamber Music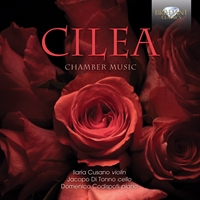 Composer
Francesco Cilea
Artist
Ilaria Cusano violin
Jacopo Di Tonno cello
Domenico Codispoti piano
Format
1 CD
Cat. number
94443
EAN code
5028421944432
Release
February 2014
About this release
Child genius Francesco Cilea, sent to study law at just seven years of age, became a celebrated composer in late-19th- and early-20th-century Italy. Among his most famous works are the operas Adriana Lecouvreur, L'arlesiana and Gina, and the symphonic poem Il canto della vita, which was written in 1913 for the centenary of Verdi's birth. He was awarded membership of the Accademia d'Italia in recognition of his musical achievements.

Many of Cilea's chamber music compositions were written while the composer was in his 20s – these include the Cello Sonata in D and Trio for violin, cello and piano, both of which display a distinctive lyricism that would become a feature of much of Cilea's mature work. The Theme and Variations and the Canto were written much later, and were originally composed for orchestra. Here they are performed in the composer's re-arranged version for piano and cello.

Performing together for the first time on the Brilliant Classics label, each of the performers on this recording enjoys an international reputation: Ilaria Cusano (violin), Jacopo Di Tonno (cello) and Domenico Codispoti (piano).

Other information:
- Recorded on February 2013, Studio I Musicanti, Rome.
- Francesco Cilea went into history as the composer of one opera, Adrienne Lecouvreur. However, this late romantic Italian left a fine oeuvre of chamber and solo music, a selection of which is presented on this CD: the piano trio, the cello sonata and shorter genre pieces.
- They are wonderfully evocative pieces, full of subtlety and finesse, in the style of early Debussy, studies in sonority and instrumental glitter. The Cello Sonata is a valuable addition to the repertoire.
- The Italian soloists play with great clarity and feeling for the atmosphere of these colourful works.
- Liner notes and biographies included in the booklet.
Listening
Track list
Disk 1
Francesco Cilea: Cello Sonata in D Major: I. Allegro moderato

Francesco Cilea: Cello Sonata in D Major: II. Alla Romanza. Largo doloroso

Francesco Cilea: Cello Sonata in D Major: III. Allegro animato

Francesco Cilea: Piano Trio in D Major: I. Allegro sostenuto

Francesco Cilea: Piano Trio in D Major: II. Scherzo. Presto

Francesco Cilea: Piano Trio in D Major: III. Andante molto espressivo

Francesco Cilea: Piano Trio in D Major: IV. Allegro con fuoco

Francesco Cilea: Vocalizzo da concerto No. 2 in D Minor. Canto (Lento doloroso)

Francesco Cilea: Theme and Variations (Andante sostenuto – Poco più mosso – Allegro – Andante – Moderato)