Cilea: Complete Piano Music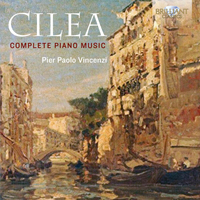 Composer
Francesco Cilea
Artist
Pier Paolo Vincenzi piano
Marco Gaggini piano
Format
2 CD
Cat. number
95318
EAN code
5028421953182
Release
December 2016
About this release
Francesco Cilea may now be best remembered as a composer of durable, blood-and-thunder staples of the verismo operatic school such as Adriana Lecouvreur and L'Arlesiana, but he addressed himself to chamber and instrumental music at both the beginning and end of his long career. Conservative and unfailingly melodic as his chosen idiom was, it nonetheless evolved in the 66 years between student salon pieces such as the Tre piccoli pezzi of 1888 and the album-leaf of 1944.

There have been a few surveys of Cilea's piano music on record, but none as complete as this new recording from Pier Paolo Vincenzi, who has already won critical praise on Brilliant Classics for recordings of piano rarities. A Diabelli Variations album (BC94836) gathered all the composers who had initially responded to the Viennese publisher's request for variations on his little waltz together with the late masterpiece of variation form eventually devised by Beethoven. Vincenzi has also recorded the complete piano music of Richard Wagner (BC94450) which drew this notice from Fanfare magazine: 'Vincenzi has the kind of sparkling, clear Italian touch one often associates with Benedetti, Michelangeli, or, more recently, Luisi. His playing alternates between seriousness and sensuality, drama and joy, and the listener is with him every step of the way… [His] performances are the recommended ones.

Vincenzi's experience with the shavings from an operatic master's workbench is put to telling effect by Cilea's little suites and dances. Most pieces are around three minutes long, but all capture a mood with the deft touch of an experienced writer for the stage. Although critics have occasionally been dismissive in their appraisal of these works, the scores actually speak for the composer's meticulous handling of his material and his delight in showing off certain features of timbre and harmony.

Francesco Cilea went into history as the composer of one opera, Adrienne Lecouvreur. However, this late romantic Italian (he lived a long life from 1866 till 1950) left a fine oeuvre of solo piano music, which is presented completely on these two CDs. The piano works are wonderfully evocative character pieces, full of subtlety and finesse, in the style of early Debussy. One of the best pieces, Acque correnti, is a Ravelian study in sonority and instrumental glitter.
Also included are the works for piano 4 hands.
Italian pianist Pier Paolo Vincenzi plays with great clarity and feeling for the atmosphere of these colourful piano pieces. He already recorded piano works by Wagner (BC94450) and the Complete Variations on a Waltz by Diabelli (BC94836).
Excellent liner notes by the artist.
Track list
Disk 1
Tre piccoli pezzi: I. Melodia

Tre piccoli pezzi: II. Serenata

Tre piccoli pezzi: III. Danza

Chanson du rouet, Op. 4

Canto del mattino, Op. 5

La petite coquette – Air de danse, Op. 9

C'est toi que j'aime – Impromptu à la mazurka, Op. 10

Aria campestre

Flatterie, Op. 11

Mazurka, Op. 14

Badinage, Op. 15

Berceuse, Op. 20

Notturno, Op. 22

Seconda danza, Op. 26

Trois petits morceaux, Op. 28: I. Loin dans la mer

Trois petits morceaux, Op. 28: II. Feuille d'album

Trois petits morceaux, Op. 28: III. Pensée espagnole

Tre pezzi, Op. 29: I. Romanza

Tre pezzi, Op. 29: II. Scherzino

Tre pezzi, Op. 29: III. Barzelletta

Gocce di rugiada, Op. 33

Au village, Op. 34

A la mazurka, Op. 35

Valzer, Op. 36

Foglio d'album, Op. 41

Suite, Op. 42: I. Allegro

Suite, Op. 42: II. Sarabanda

Suite, Op. 42: III. Capriccio

Foglio d'album, Op. 41

Fuga reale
Disk 2
Tre pezzi, Op. 43: I. Verrà?

Tre pezzi, Op. 43: II. Acque correnti

Tre pezzi, Op. 43: III. Valle fiorita

Due pezzi: I. Risonanze nostalgiche

Due pezzi: II. Festa silana

Scherzo

Scherzando

Danza calabrese

Impromptu

Mazurka

Preludio

Vespero

Foglio d'album

Invocazione

Serenata a dispetto

Danza

Four Hands Music: Untitled in A Major

Four Hands Music: Chansonnette, Op. 31

Four Hands Music: Sentiment poétique

Four Hands Music: Amour joyeux, Op. 37

Idillio

Alla gavotte