Cimarosa: L'impresario in Angustie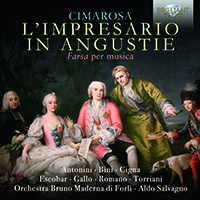 Download booklet
Composer
Domenico Cimarosa
Artist
Carlo Torriani bass
Marco Filippo Romano bass
Paolo Cigna soprano
Lavinia Bini soprano
Camilla Antonini mezzo-soprano
Alejandro Escobar tenor
Luca Gallo bass
Orchestra Bruno Maderna di Forli
Aldo Salvagno conductor
Format
1 CD
Cat. number
95746
EAN code
5028421957463
Release
November 2018
About this release
The Neapolitan Domenico Cimarosa (1749-1801) was certainly a prolific composer of operas, having more than 80 titles to his name. Though many have only recently enjoyed a revival, they were widely admired in his day. Cimarosa specialised in comedies, the form known as opera buffa, and his greatest achievement, Il matrimonio segreto, represents the pinnacle of the genre and would influence his contemporaries and generations of composers to come.

L'impresario in angustie (The Ruined Impresario), a one-act farce from earlier
in his career, was also a resounding success, even capturing the imagination of that German literary giant Johann Wolfgang von Goethe when he saw it in Rome. Goethe would go on to join the many translators of the work who facilitated the opera's staging across Europe and its remarkable international popularity.

An impresario and his cast and creative team are preparing a new opera for their theatre in Naples. The three leading ladies are each attempting to intervene with the impresario, the composer, and the poet in charge of the libretto, in order to secure for themselves the biggest role and best music in the new production. Each of divas, in turn, is the object of amorous attention from one of more of the creators. The impresario is bankrupt, however, and the work will never see the light of day.

The cast for this recording is a who's who of Italian bel canto and opera buffa talent, all skilled singer–actors capable of bringing the comic nuance of this hilarious story into vivid relief.

Domenico Cimarosa (1749-1801) was one of the best known composers of the Neapolitan School. He held several important musical posts throughout Europe (St. Petersburg, the Emperor Leopold in Vienna) as a highly successful composer of operas.
L'impresario in angusti is a comic opera, a parody, an opera about writing and performing an opera, including its intrigues, love affairs, successes and failures. It was a resounding success and was performed all over Europe, indeed Johann Wolfgang von Goethe was so taken by it that he wrote a German translation and had it performed in Weimar.
The cast is a line up of excellent Italian singers, the Orchestra Bruno Maderna di Forlí is conducted by Aldo Salvagno. Their performance brims with drama, wit and irresistable fun.
Listening
Track list
Disk 1
Domenico Cimarosa: L'impresario in angustie: I. Ve' che matta, maledetta!

Domenico Cimarosa: L'impresario in angustie: II. Ma care mie potreste senza chiasso

Domenico Cimarosa: L'impresario in angustie: III. Senti, senti l'augellino

Domenico Cimarosa: L'impresario in angustie: IV. Cara, aggio revotato in Parnaso

Domenico Cimarosa: L'impresario in angustie: V. Vado e giro nei palchetti

Domenico Cimarosa: L'impresario in angustie: VI. L'amico, poffarbacco, ingalluzzisce

Domenico Cimarosa: L'impresario in angustie: VII. Il meglio mio carattere

Domenico Cimarosa: L'impresario in angustie: VIII. Vi prego, sor poeta

Domenico Cimarosa: L'impresario in angustie: IX. Anima cruda e cotta

Domenico Cimarosa: L'impresario in angustie: X. Ora vedrò, Strabinio

Domenico Cimarosa: L'impresario in angustie: XI. Io son placida e serena

Domenico Cimarosa: L'impresario in angustie: XII. Questa nemmeno scherza colle lune

Domenico Cimarosa: L'impresario in angustie: XIII. Lo 'mpresario, gioia mia

Domenico Cimarosa: L'impresario in angustie: XIV. Orsù, per me le cose

Domenico Cimarosa: L'impresario in angustie: XV. Son donzella si innocente