Clarinet Trio's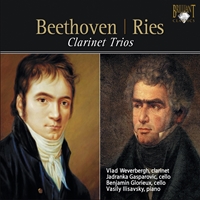 Composer
Ferdinand Ries, Ludwig van Beethoven
Artist
Vlad Weverbergh clarinet
Vasily Ilisavsky piano
Benjamin Glorieux cello
Jadranka Gasparovic cello
Format
2 CD
Cat. number
93684
EAN code
5028421936840
Release
April 2006
About this release
The combination of Beethoven's and Ries' works may seem obvious. After all Ferdinand Ries was one of Beethoven's
best-known pupils but mainly because he was otherwise involved with the work of his (former) teacher as well.

The most striking result of this juxtaposing is the contrast between the music of both composers. Even though being the pupil Ries' music with its flowing melodies much more conforms to the classical tradition of the time than do the works of his teacher. One of the later (more romantic) works being a trio version of his Septet Op. 20.

For these recordings Belgian clarinettist Vlad Weverbergh has chosen some early chamber music by Beethoven. Together with Vasily Ilisavsky, piano and Benjamin Glorieux and Jadranka Gasparovic, cellos, he also performs Ries his Op. 28, Op. 29 and Op. 169.

This release presents an interesting view on master and pupil. The relatively simple music is enhanced by the excellent performances.
Track list
Disk 1
Trio for piano, clarinet & cello in E-Flat Major, Op. 38, (arrangement of the Septet, Op. 20): Adagio-allegro con brio

Trio for piano, clarinet & cello in E-Flat Major, Op. 38, (arrangement of the Septet, Op. 20): Adagio cantabile

Trio for piano, clarinet & cello in E-Flat Major, Op. 38, (arrangement of the Septet, Op. 20): Tempo di menuetto

Trio for piano, clarinet & cello in E-Flat Major, Op. 38, (arrangement of the Septet, Op. 20): Andante con variazioni

Trio for piano, clarinet & cello in E-Flat Major, Op. 38, (arrangement of the Septet, Op. 20): Scherzo

Trio for piano, clarinet & cello in E-Flat Major, Op. 38, (arrangement of the Septet, Op. 20): Andante con moto alla marcia-presto

Trio for piano, clarinet and cello in B-Flat Major, Op. 11 "Gassenhauer Trio": Allegro con brio

Trio for piano, clarinet and cello in B-Flat Major, Op. 11 "Gassenhauer Trio": Adagio

Trio for piano, clarinet and cello in B-Flat Major, Op. 11 "Gassenhauer Trio": Allegretto
Disk 2
Trio for piano, clarinet & cello in G Minor, Op. 28: Allegro

Trio for piano, clarinet & cello in G Minor, Op. 28: Scherzo

Trio for piano, clarinet & cello in G Minor, Op. 28: Adagio

Trio for piano, clarinet & cello in G Minor, Op. 28: Rondo

Sonate Sentimentale for clarinet & piano in E-Flat Major, Op. 169: Allegro moderato

Sonate Sentimentale for clarinet & piano in E-Flat Major, Op. 169: Adagio con moto

Sonate Sentimentale for clarinet & piano in E-Flat Major, Op. 169: Rondo

Sonata for clarinet & piano in G Minor, Op. 29: Adagio-allegro

Sonata for clarinet & piano in G Minor, Op. 29: Adagio con moto

Sonata for clarinet & piano in G Minor, Op. 29: Adagio-allegro non troppo