Clementi: The Complete Sonatas Vol.IV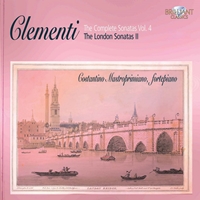 | | |
| --- | --- |
| Composer | Muzio Clementi |
| Artist | Constantino Mastroprimiano fortepiano |
| Format | 3 CD |
| Cat. number | 94024 |
| EAN code | 5028421940243 |
| Release | December 2010 |
About this release
Muzio Clementi is one of the more fascinating contemporaries of Mozart. Adopted by an English nobleman Peter Beckford – his family agreed this arrangement as it would ensure that their son's musical talents were nurtured, (an odd decision as the education he was receiving in Rome was among the best possible!) and he would be brought up as an English gentleman. So the young Clementi travelled from his native Rome to rural Dorset and a village called Stapleton. Beckford paid the family quarterly under 3 contracts until Clementi reached 21. In Dorset, he studied 8 hours a day Corelli, Scarlatti, Handel and Paradies, and got into the rhythm of a large country house, playing for guests, and instructing Beckwith's daughters on the piano. The Beckwith library contained scores by J.S and C.P.E Bach, and these soon fascinated Clementi, exerting an influence on the sonatas on these discs.

Clementi moved to London in 1774, and remained there more or less for the rest of his life. At this time London Piano School was one of the most influential groups of pianists – J.B Cramer, J.L Dussek, and later Ignaz Moscheles and William Sterndale Bennett. Piano manufacturing was at its height (Clementi would one day own a piano manufacturer in London), and Broadwood in particular produced extremely powerful instruments that appealed to these composers. Clementi's London sonatas exhibit a remarkable change in his style, especially so in the 0p.25 works – these sonatas were to influence the young Beethoven with whom he later became friends. The Op.33 set includes a work in C major that also survives as a piano concerto – one of many Clementi concertos adapted from sonatas that are sadly now lost. The Op.33 sonatas date from 1794.

No composer was more influential in establishing the dominant role of the piano in 19th century European music.

Other information:
- Recorded in 2008, period instrument performances on a 1798 Kirckman fortepiano.
- Including booklet essay by the artist.
Track list
Disk 1
Muzio Clementi: Sonata, Op. XXIII No. 1 in E-Flat: I. Allegro molto

Muzio Clementi: Sonata, Op. XXIII No. 1 in E-Flat: II. Rondeau: Vivace

Muzio Clementi: Sonata, Op. XXIII No. 2 in F: I. Allegro con spirito

Muzio Clementi: Sonata, Op. XXIII No. 2 in F: II. Adagio

Muzio Clementi: Sonata, Op. XXIII No. 2 in F: III. Rondo: Allegro con spirito

Muzio Clementi: Sonata, Op. XXIII No. 3 in E-Flat: I. Allegro con vivacità

Muzio Clementi: Sonata, Op. XXIII No. 3 in E-Flat: II. Air with (8) Variations: Allegretto vivace

Muzio Clementi: Sonata, Op. XXV No. 1 in C: I. Allegro di molto

Muzio Clementi: Sonata, Op. XXV No. 1 in C: II. Adagio

Muzio Clementi: Sonata, Op. XXV No. 1 in C: III. Rondeau: Presto

Muzio Clementi: Sonata, Op. XXV No. 2 in G: I. Allegro con brio

Muzio Clementi: Sonata, Op. XXV No. 2 in G: II. Rondo: Un poco allegro
Disk 2
Muzio Clementi: Sonata, Op. XXV No. 3 in B flat: I. Allegro

Muzio Clementi: Sonata, Op. XXV No. 3 in B flat: II. Rondo: Vivace

Muzio Clementi: Sonata, Op. XXV No. 4 in A: I. Maestoso e cantabile

Muzio Clementi: Sonata, Op. XXV No. 4 in A: II. Molto allegro

Muzio Clementi: Sonata, Op. XXV No. 5 in F-Sharp Minor: I. Più tosto allegro con espressione

Muzio Clementi: Sonata, Op. XXV No. 5 in F-Sharp Minor: II. Lento e patetico

Muzio Clementi: Sonata, Op. XXV No. 5 in F-Sharp Minor: III. Presto

Muzio Clementi: Sonata, Op. XXV No. 6 in D: I. Presto

Muzio Clementi: Sonata, Op. XXV No. 6 in D: II. Un poco andante

Muzio Clementi: Sonata, Op. XXV No. 6 in D: III. Rondo: Allegro assai

Muzio Clementi: Sonata in F, WoO3 (Corri's Collection): I. Vivace

Muzio Clementi: Sonata in F, WoO3 (Corri's Collection): II. Rondeau: Spiritoso
Disk 3
Muzio Clementi: Minuetto a Tempo di Ballo, composed by Mr Collick with five Variations for the Piano-Forte, WoO5: A Tempo di Ballo

Muzio Clementi: Sonata for Piano-Forte or Harpsichord, Op. XXVI (Preston & Son, London): I. Allegro

Muzio Clementi: Sonata for Piano-Forte or Harpsichord, Op. XXVI (Preston & Son, London): II. Rondeau: Allegretto

Muzio Clementi: Sonata, Op. XXXIII No.1 in A: I. Allegro

Muzio Clementi: Sonata, Op. XXXIII No.1 in A: II. Presto

Muzio Clementi: Sonata, Op. XXXIII No.2 in F: I. Adagio – Allegro con fuoco

Muzio Clementi: Sonata, Op. XXXIII No.2 in F: II. Presto

Muzio Clementi: Sonata, Op. XXXIII No.3 in C: I. Allegro con spirito

Muzio Clementi: Sonata, Op. XXXIII No.3 in C: II. Adagio e cantabile con grand'espressione

Muzio Clementi: Sonata, Op. XXXIII No.3 in C: III. Presto