Colista: Sinfonie a tre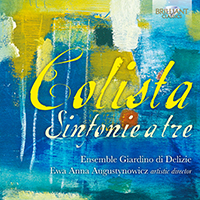 Composer
Lelio Colista
Artist
Ensemble Giardino di Delizie
Ewa Anna Augustynowicz baroque violin, artistic director
Format
1 CD
Cat. number
96033
EAN code
5028421960333
Release
September 2020
About this release
Brilliant Classics presents another forgotten composer to add to its unrivalled library of Baroque rarities in modern, period-aware, world-premiere recordings.

Who was Lelio Colista (1629-1680)? Known by his early 20s as 'the Orpheus of Rome', he began his musical education as a choirboy before soon becoming a performer at the papal Barberini court. He then made his name as a lutenist and a theorbo virtuoso, but his talents evidently extended beyond music. He became an equrry to the Pope at the age of 26 and Keeper of the Sistine Chapel paintings from 1660 until his death around two decades later. He toured Europe widely, earning the admiration of King Louis XIV, before returning to Rome and teaching the art of lute-playing to notable composers of the next generation such as Gaspar Sanz.

Very little of Colista's own music has been widely heard; a neglect which may be attributed to the composer's reluctance to have it published during his lifetime. The manuscript for these nine three-part sinfonias is kept by the National Liibrary in Turin. They were performed on Christmas Eve 1664 at the Roman church of Santa Maria del Popolo and perhaps not since then, until this enterprising Polish-Italian group of period-instrument musicians has revived them for this recording.

The sinfonias all follow a satisfying template, mostly opening with a grave slow movement, and reserving the practice of strict counterpoint for the penultimate movement before the upbeat finale. Only one of the nine is cast in a minor-key, but the recording is completed by another manuscript piece, the Ballo in G minor, which plays with Baroque expressions of mourning.

Previous Brilliant Classics albums by the Ensemble Giardino di Delizie have won praise for their innovative programming and performances full of youthful verve and expression, including most recently 'Gems of Polish Baroque' (95955), also featuring several world-premiere recordings.

'The performance sounds completely natural, full of spontaneity and bursting energy. It's clear the group really likes this music and not merely try and lecture it.' The Classic Review on Lonati Sinfonias, 95590

'A superb album for lovers of the Baroque, to be enjoyed in silence to appreciate the smallest nuances of bow strokes and subtle variations of the basso continuo.' Musicando on Lonati

Lelio Colista was born in Rome in 1629. Raised as a choirboy the child prodigy took Rome by storm, the "Orpheus of the city of Rome" played the guitar, lute, theorbo and harp, as well as being a dancer in the staged performances at the famous Palazzo Barberini. He worked at the courts of several Italian cities (Bologna, Firenze) before settling in Rome again, becoming a sought-after composer and teacher (one of his students was Gaspar Sanz).
This new recording contains Colista's Sinfonias in three parts (Sinfonie a tre), played here by two violins, cello, guitar and organ. They all feature a well-structured slow first movement that is richly expressive and melodious, along with the strict counterpoint typical of the Roman School, where the fugue is often placed in the second-to-last movement. It is thus possible that they formed a model that influenced composers such as Stradella, Mannelli, Lonati and Corelli in their concepts of the Trio Sonata.
Played on period instruments by the Early Music group Ensemble Giardino Di Delizie, who already successfully recorded Sinfonias by Lonati (BC 95590) and Gems of the Polish Baroque (BC 95955) for Brilliant Classics.
Listening
Track list
Disk 1
Lelio Colista: Sinfonia a tre in F Major, W-K26

Lelio Colista: Sinfonia a tre in A Major, W-K22

Lelio Colista: Sinfonia a tre in C Major, W-K14

Lelio Colista: Sinfonia a tre in E Minor, W-K31

Lelio Colista: Sinfonia a tre in C Major, W-K13

Lelio Colista: Sinfonia a tre in B-Flat Major, W-K28

Lelio Colista: Sinfonia a tre in G Major, W-K37

Lelio Colista: Sinfonia a tre in C Major, W-K10

Lelio Colista: Sinfonia a tre in F Major, W-K25

Lelio Colista: Ballo a tre in G Minor, W-K41