Corbetta: La Guitarre Royalle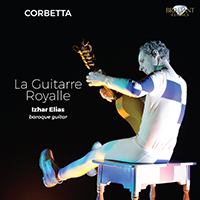 Download booklet
| | |
| --- | --- |
| Composer | Francesco Corbetta |
| Artist | Izhar Elias baroque guitar |
| Format | 1 CD |
| Cat. number | 95587 |
| EAN code | 5028421955872 |
| Release | September 2018 |
About this release
Francesco Corbetta: the JS Bach of the guitar? A bold claim, but one made with passion by the guitarist Izhar Elias in his own booklet essay for this ground-breaking new album.

Born in the Italian city of Pavia around 1615, Corbetta worked as a musician in the court of Madrid but he made his career and lasting reputation in France. According to contemporary accounts, Corbetta's playing epitomized the ornate Baroque guitar solo. The high range, frequent resolution of dissonance, virtuosic techniques, and coloristic effects, such as overlapping tones of campanelas or flashy repicco strumming, converged in his guitar music to make it the most brilliant if challenging of the era.

On this album Elias has made his own selection from two of Corbetta's published volumes which were written for King Charles II (1671) and King Louis XIV (1674) respectively. According to him, Corbetta's music is rooted in the popular songs and dances of his day, making him more like a modern pop songwriter. Using the genres of chaconne and passacaglia, several of which are included here, he transformed the guitar into a polyphonic instrument and a genuinely soloistic one compared to its previous, humble role as an accompaniment to song and strings. There are also two substantial dance suites, in A minor and G minor.

The Dutch-born guitarist Izhar Elias has made several significant contributions to the extensive library of guitar music on Brilliant Classics, including a Spanish Baroque album, 'La Monarcha' (BC94352), an exploration of Beethoven's little-known writing for the instrument (BC94631); and perhaps most noteworthy, a first complete recording for substantial excerpts from Rossini's late masterpiece Semiramide, arranged for solo guitar by Giuliani (BC93902). 'You'll rarely hear anyone work so hard,' remarked the Classics Today reviewer. 'The playing is magnificent – fluent, tonally as varied as possible, rhythmically true to Rossini.'

Francesco Corbetta (1615-1681) was an Italian guitar player, teacher and composer. First attached to the Mantua court of the Gonzaga family, he later traveled Europe as one of the first guitar virtuosos, finding an admiring welcome at the courts of Madrid and Hannover, finally settling at the court of Louis XIV. In later years he was also active as court musician to Charles II of England, dividing his last 20 years between Paris and London.
His early works were mostly strummed dance music, later he developed his style with complex harmonies and polyphony in the French taste.
Corbetta's magnum opus is titled La Guitarre Royalle, consisting of two books written for his two patrons (Louis XIV and Charles II). The rhythmic pattern of the court dances are embellished with French style ornamentations, the result being a highly sophisticated, folk music based instrumentation.
Dutch guitarist Izhar Elias is one of today's most sought-after specialists in Early Music, chamber music and contemporary music. He recorded several remarkable CD's for Brilliant Classics, to great international acclaim. He wrote the informative liner himself, in English and German.
Listening
Track list
Disk 1
Francesco Corbetta: Autre chacone in C Major

Francesco Corbetta: Suite in A Minor: I. Prelude

Francesco Corbetta: Suite in A Minor: II. Allemande

Francesco Corbetta: Suite in A Minor: III. Courante

Francesco Corbetta: Suite in A Minor: IV. La victoire, sarabande

Francesco Corbetta: Suite in A Minor: V. Passacaille

Francesco Corbetta: Suite in A Minor: VI. Sarabande

Francesco Corbetta: Suite in A Minor: VII. Gigue

Francesco Corbetta: Suite in A Minor: VIII. Menuet

Francesco Corbetta: Allemande in D Major

Francesco Corbetta: Autre air de trompette in D Major

Francesco Corbetta: Follie in G Minor

Francesco Corbetta: Passacaille in G Minor

Francesco Corbetta: Suite in G Minor: I. Prelude

Francesco Corbetta: Suite in G Minor: II. Allemande

Francesco Corbetta: Suite in G Minor: III. Courante

Francesco Corbetta: Suite in G Minor: IV. Sarabande

Francesco Corbetta: Suite in G Minor: V. Gigue

Francesco Corbetta: Suite in G Minor: VI. Passacaille

Francesco Corbetta: Chacone in C Major

Francesco Corbetta: Sarabande in C Minor

Francesco Corbetta: Passacaille in C Minor

Francesco Corbetta: Gigue in C Minor

Francesco Corbetta: Caprice de chacone in C Major