Corpus Christi: Music for the Octave of Corpus Christi in the Corpus Christi Royal College of Valencia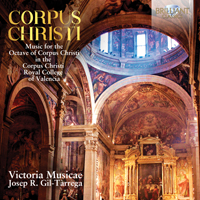 Artist
Victoria Musicae
Josep R. Gil-Tàrrega conductor
Format
1 CD
Cat. number
95263
EAN code
5028421952635
Release
November 2017
About this release
The city of Valencia's Corpus Christi Royal College, known locally as 'del Patriarca', was established in the early 17th century by Juan de Ribera, Archbishop of Valencia and patriarch of Antioch. From the start, its founder had intended this church and seminary to become a great centre for sacred music, so he also created the 'del Patriarca' chapel within it, an institution that would become home to over three centuries of music making, overseen by a succession of Kapellmeisters serving as its resident composers and music directors.

This programme is dedicated to this musical legacy and to the Kapellmeisters from the first century of the chapel's existence, composers living and working in the height of the baroque era on the Iberian Peninsula. Following the structure of the Office of Compline (the final church service of the day in the Christian tradition of canonical hours) set during the Octave of the Feast of Corpus Christi (the College's namesake), the vocal and instrumental group Victoriae Musicae explores compositions by these 17th-century Kapellmeisters, all of the music researched and transcribed by them from unpublished archival manuscripts.

Victoriae Musicae was founded in Valencia in 1992 and presents historically informed performances of Spanish repertoire from the 16th, 17th and 18th centuries under chief music director Josep R. Gil-Tàrrega. Since 1999 the group has focused on recovering the music of Valencian composers of the baroque.

This new recording presents a fascinating reconstruction of a performance of the "Oficio de Completas y Letanias al Santissimo Sacramento", the Office the Complines and Litanies of the Sacred Sacrament, in the Royal College of Corpus Christi in Valencia in the 17-th century. This glorious College, which still exists today, was one of the most important and influential institutions for sacred music in the Spanish Baroque.
Included are works by Ríos, Ortells, Comes, Baylón, Hinojosa and Pérez.
The Spanish group Victoria Musicae was founded in 1992 with the aim of performing neglected masterworks from the Spanish Renaissance and Baroque. The choir is accompanied by instrumentalists including organ, violone, theorbo and bassoon.
Recorded at the University of Valencia in August 2011.
Contains detailed notes on the programme, the composers and the style of the works.
Track list
Disk 1
Anonymous: Plainchant: Deus in adjutorium

Máximo Ríos: Te lucis ante terminum

Anonymous: Plainchant: Miserere mihi Domine

Antonio Ortells: Cum invocarem

Antonio Ortells: Qui habitat

Aniceto Baylón: Ecce benedicite dominum

Anonymous: Plainchant: Miserere mihi Domine

José Hinojosa: In manus tuas

Anonymous: Plainchant: Salva nos, domine

Antonio Ortells: Nunc dimittis

Anonymous: Plainchant: Salva nos, domine

Marcos Pérez: Salve regina

Joan Baptista Comes: Letanías al santísimo sacramento