Corradini: 12 Ricercari & Vendi: Canzoni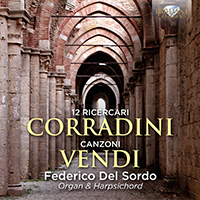 | | |
| --- | --- |
| Composer | Mattia Vendi, Nicolò Corradini |
| Artist | Federico Del Sordo organ & harpsichord |
| Format | 1 CD |
| Cat. number | 96136 |
| EAN code | 5028421961361 |
| Release | March 2021 |
About this release
Biographical information on NicoloÌ Corradini is scarce, but we do know he spent most of his life in Cremona, the city where he was most likely born. His works include a Book of Madrigals for 5 to 8 voices with viol consort (published in Venice in 1620), the First Book of French Canzoni (Venice, 1620), Motets for 1 to 4 voices (Bartolomeo Magni, Venice, 1624) and the 4-voice Ricercari recorded here, from 1615. The only surviving copy of this latter collection – held at the International Museum and Library of Music of Bologna – is missing its frontispiece and colophon, but according to Luigi Ferdinando Tagliavini it was printed, like his Motets, in Venice by Bartolomeo Magni. This is the only set of Corradini's music that fully lends itself to performance by a solo keyboard player, as the Canzoni are clearly better suited to a group of multiple instruments.

Each of Corradini's ricercars – which cover the full range of 12 church modes – is based on multiple themes (called fughe). This polythematism keeps hearers of these grandiose musical paintings intrigued with a variety that – while clearly based on the architecture of the 16th-century choral motet – at times goes beyond it in a way more akin to fugues of the early 18th century, decades ahead of his time.

Alongside Corradini's ricercars, Federico del Sordo showcases canzoni written by a composer named Vendi that were found in the manuscript SPBK Mus. ms. 40615 at the Staatsbibliothek in Berlin. Much about the life of this author is still uncertain. In the Berlin manuscript his name is sometimes preceded by the abbreviation 'Fr.', which could be either for a first given name like Francesco, or for 'Frate' meaning Friar. And what appears to be his given name is also always abbreviated Maa. or Mat., which could be for Matteo or Mattia. Vendi's canzoni are less complex than those of Merulo or Frescobaldi, instead possessing a transparency seen, for example, in the compositions of Agostino Soderini, active in Milan in the same period. They are clear examples of compositions not based on vocal models and can therefore be dated to around the 1610s or 1620s.

· Nicolò Corradini was born in the late 16th century, and died in 1646. He spent most of his life in Cremona, the city where he was most likely born. Corradini received his early musical education from fellow Cremonese citizen Giovanni Battista Morsellino. In 1611 he was appointed organist of the Church of San Pietro in Cremona, and that same year he was also asked to accompany the Litanies of the Virgin, which were traditionally performed at Cremona Cathedral every Saturday and on all feast days dedicated to the Virgin Mary. In 1635 he took up the role of organist at the cathedral. Corradini's works include a book of Madrigali a 5 et a 8 voci con Sinfonie di Viole (published in Venice in 1620).
· This new recording presents Corradini's ricercars – which cover the full range of twelve church modes. They are based on multiple themes (called fughe, or fuguesl, a technique also employed, for example, in Giovanni Maria Trabaci's Ricercate) and containing a number of themes, varying from 2 to 5. The polythematism found in these grandiose musical paintings keeps the listener entertained with a varying ethos that, while clearly structured around the architecture of the 16th-century choral motet, in some passages surpasses the limits beyond which many other composers did not stray until the early 17th century.
· Also included in this recording are the canzoni written by Mattia Vendi, a musician, probably from Italy, whose life definitely bridged the 16th and 17th centuries.
· Two instruments were used in the recordings: the organ built by Graziadio Antegnati (1565) in the Basilica Palatina di Santa Barbara in Mantua, and the copy of a 17th-century harpsichord built by Tony Chinnery in 2009 and housed in the Sala Accademica at the Pontifical Institute of Sacred Music in Rome.
· Another enterprising recording by Federico del Sordo, keyboard player and musicologist, never tired of discovering hidden gems from the Renaissance and Baroque of his native country Italy.
Listening
Track list
Disk 1
Nicolò Corradini: Ricercar del primo tuono. Di quattro fughe

Nicolò Corradini: Ricercar del secondo tuono. Di due fughe

Nicolò Corradini: Ricercar del terzo tuono. Di quattro fughe

Mattia Vendi: Canzon III toni

Mattia Vendi: Canzon II toni

Nicolò Corradini: Ricercar del quarto tuono. Di quattro fughe

Nicolò Corradini: Ricercar del quinto tuono. Di quattro fughe

Nicolò Corradini: Ricercar del sesto tuono. Di due fughe

Mattia Vendi: Canzon II toni

Mattia Vendi: Canzon VII toni

Nicolò Corradini: Ricercar del settimo tuono. Di quattro fughe

Nicolò Corradini: Ricercar del ottavo tuono. Di cinque fughe

Mattia Vendi: Canzon I toni

Mattia Vendi: Canzon VIII toni

Nicolò Corradini: Ricercar del nono tuono. Con tre fughe

Nicolò Corradini: Ricercar del decimo tuono. Con tre fughe

Nicolò Corradini: Ricercar del undecimo tuono. Con tre fughe

Nicolò Corradini: Ricercar del duodecimo tuono. Di quattro fughe