Correa de Arauxo: Organ Music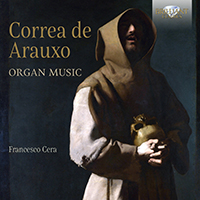 | | |
| --- | --- |
| Composer | Francisco Correa de Arauxo |
| Artist | Francesco Cera organ |
| Format | 2 CD |
| Cat. number | 95508 |
| EAN code | 5028421955087 |
| Release | June 2018 |
About this release
17th-century Spanish toccatas, fantasias and inventions by a master organ composer from Seville.

It may be pure coincidence, but in 1626, it was two enlightened intellectuals from Seville – artist Diego Velázquez and composer Francisco Correa de Arauxo, who stood out for their ability to portray a microcosm of human emotions in their work.

The surviving body of Correa's work, the Facultad orgánica, was published in 1626. For its time it remains a remarkably forward-looking collection. It is especially notable for the dissonant harmonies which Correa, as a cleric as well as a composer, aimed to evoke for his listeners the hardships facing them on their path towards a longed-for paradise.

Francesco Cera has made a 2CD selection of highlights from the Facultad orgánica. The original volume opened with a collection of tientos, organised as a collection following the 12 modern modes – an exceptional practice in Spanish keyboard music. The first tiento was a calling-card for Correa, revealing his skill at counterpoint by employing thematic inversion and experimenting with different types of imitative technique. Interleaved with the dance-like, freely elaborated tientos are the glosas, which exploit still more virtuosic possibilities of rhythm and colour – Correa himself was evidently a distinguished performer. The result is a collection of still little-known yet dazzling music that will attract the attention of all organ-music enthusiasts.

Francesco Cera has made significant contributions to the Brilliant Classics library of 17th-century keyboard music. Among them are albums dedicated to d'Anglebert (BC94793) and an imaginative compilation of Gabrieli, Cabezon and Frescobaldi, 'The Organ at European Courts' (BC95240). His recording of Bach's Orgelbüchlein (BC94639) was chosen by MusicWeb International as a recording of the Month. 'Francesco Cera plays with that innate rhythm that establishes that irresistible, compelling pulse in Bach… I wouldn't just want to have one recording of these works … but if I had to reduce to one, it would be Cera.'

Francisco Correa de Arauxo (1584-1654) was an organist, cleric and rector of the Fraternity of the priests at Sevilla's Church of San Salvador, one of the most important posts in that city. In 1626 he published the Facultad Orgánica (The Art of the Organ), containing theoretical writings and a set of Tientos, Fantasia-like compositions with imitative writing in various musical forms (for instance a fugue). In these works passionate and dissonance-laden passages alternate with more gentle, sweeter episodes, creating an unexpectedly powerful emotional impact on the listener, like the painter Velazquez did in his paintings (Valazquez was active in Seville as well in Correa's time).
Francesco Cera, one of the foremost Early Music musicians of Italy, plays the organ of the Santa Maria church of Garrovillas de Alconétar, the oldest playable organ in Spain, built in 1550 and still featuring the original pipes.
The booklet contains scholarly liner notes and information and photo of the organ.
Listening
Track list
Disk 1
Francisco Correa de Arauxo: Segundo tiento de tiple de septimo tono

Francisco Correa de Arauxo: Tiento y discurso de segundo tono

Francisco Correa de Arauxo: Tiento de dos tiples de septimo tono

Francisco Correa de Arauxo: Segundo tiento de quarto tono a modo de canción

Francisco Correa de Arauxo: Segundo tiento de baxon de septimo tono

Francisco Correa de Arauxo: Tiento de primero tono

Francisco Correa de Arauxo: Tercero tiento de tiple de septimo tono

Francisco Correa de Arauxo: Tiento de sexto tono sobre la Batalla de Morales

Francisco Correa de Arauxo: Gaybergier de Tomás Crequilion, FO 66

Francisco Correa de Arauxo: Tiento de tiple de septimo tono
Disk 2
Francisco Correa de Arauxo: Tiento de duodecimo tono

Francisco Correa de Arauxo: Tres glosas sobre el canto llano de la Immaculada Concepción, FO 69

Francisco Correa de Arauxo: Tiento de quinto tono, FO 5

Francisco Correa de Arauxo: Discurso de dos baxones de segundo tono

Francisco Correa de Arauxo: Tiento y discurso de tercero tono

Francisco Correa de Arauxo: Tiento de tiple de segundo tono

Francisco Correa de Arauxo: Quinto tiento de quarto tono

Francisco Correa de Arauxo: Tiento de baxon de dezimo tono

Francisco Correa de Arauxo: Tiento de septimo tono