Corrette: Les délices de la Solitude Sonatas Op.20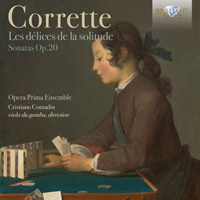 Composer
Michel Corrette
Artist
Opera Prima Ensemble
Cristiano Contadin viola da gamba & director
Format
1 CD
Cat. number
95265
EAN code
5028421952659
Release
July 2016
About this release
The Parisian composer Michel Corrette (1707-1795) is now best-known for his organ music, which delightfully exemplifies the lighter side of the French Baroque organ school, with pastorally inflected Noels and boisterous dances. Those qualities are no less present in this collection of six chamber sonatas which was published in 1738 or thereabouts as Corrette's Op.20.

Indeed, there is every reason to suppose both from these concertos and much other, even less familiar secular music, that Corrette was no less at home in aristocratic salons than he was in a cathedral organ loft. With the curtain-raising fugue and affettuoso central outset of the First Concerto in F major, Corrette explores from the outset a vein of rhythmic elasticity, melodic contouring and lyrical expression that commands attention throughout the cycle. There's plenty of joy taken in virtuosity – his court musicians must have been true soloists – displayed in vibrant finales abounding in momentum and rhythmic drive.

The composer's ecclesiastical side is reflected by the sonata da Chiesa structure of the Fourth, and the 'fuga di capella' which concludes the Third; elsewhere, there are hunting scenes and soulful arias without words. The Sixth Sonata adopts a Vivaldian programme, with a closing gigue which lives out the awakening of the year with all the eternity of a happy smile. The album concludes with a D major concerto, subtitled 'Le Phénix', with solo parts for the unusual and richly coloured combination of four bass instruments: cello or bassoon, cello or organ and two further cellos (or violas da gamba).

Opera Prima is a historically informed ensemble recently founded by Cristiano Contadin, with a performing focus on music of the early Baroque. Their growing discography also includes a 5CD Brilliant Classics set (BC94831) of Telemann's complete trio sonatas. They are joined here by the eminent harpsichordist Roberto Loreggian who has made many acclaimed recordings for Brilliant, including the complete extant works of Frescobaldi.

Michel Corrette (1707-1795) was born in a musical family, his father was organist, his grandfather dancing master. He was a famous composer, teacher and organist, his long lifetime seeing the cultural change from the Baroque to the Classical era. This transformation is also apparent in his music, from the strict and elaborate Baroque forms to the charming and transparent classical language. Corrette's intriguingly titled "Les délices de la solitude" is a series of sonatas for viola da gamba, cello, bassoon and continuo, an unusual combination of dark and rich instrumental colours. The language is lyrical, dramatic, with a predominance of the melody, full of rhythmic elasticity and emotional tension.
Played by the Italian group Opera Prima, led by violist Cristiano Contadin, who already recorded a superb Telemann 5CD set on Brilliant classics (BC94831), which was CD of the Month in CLASSIC VOICE.
Track list
Disk 1
Michel Corrette: Les délices de la solitude, Op. 20: I. Sonata in F Major. Allegro – Fuga, Aria – Affettuoso, Allegro

Michel Corrette: Les délices de la solitude, Op. 20: II. Sonata in D Minor. Allegro, aria I – Affettuoso e aria II, allegro staccato

Michel Corrette: Les délices de la solitude, Op. 20: III. Sonata in C Major. Allegro, sarabanda, allegro – Fuga da capella

Michel Corrette: Les délices de la solitude, Op. 20: IV. Sonata in B-Flat Major. Adagio, corrente, aria – Affettuoso, allegro – Bruit de chasse

Michel Corrette: Les délices de la solitude, Op. 20: V. Sonata in G Major. Presto - Preludio, allegro – Allemanda, sarabanda, presto

Michel Corrette: Les délices de la solitude, Op. 20: VI. Sonata in D Major. Allegro moderato, aria – Affettuoso, allegro – Giga

Michel Corrette: Concert "le phénix" in D Major: Allegro, adagio, allegro