Couperin: Complete Solo Harpsichord Music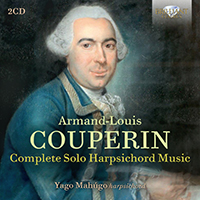 | | |
| --- | --- |
| Composer | Armand Louis Couperin |
| Artist | Yago Mahúgo harpsichord |
| Format | 2 CD |
| Cat. number | 95459 |
| EAN code | 5028421954592 |
| Release | August 2021 |
About this release
Towards the end of the renowned Couperin dynasty, Armand-Louis was born in 1727 as the nephew of François Couperin ('le grand'), and in due course he became titulaire organist at the Église Saint-Gervais in the Marais district of Paris, as generations of Couperins in a continuous sequence stretching back to 1653. In 1752 he married Elisabeth-Antoinette Blanchet, daughter of the harpsichord-maker François-Étienne Blanchet and herself the third generation of a family of musicians and luthiers. They had four children, three of whom lived to maturity and became musicians, including their son Pierre, who succeeded Armand-Louis at Saint- Gervais after a tragic accident with a runaway horse brought about the composer's premature end in 1789.

It has been suggested that personal modesty, as well as the demands of a schedule which saw him in demand at churches across Paris, was the cause of Armand-Louis publishing so little of his music. Certainly it was highly esteemed during his lifetime. These Pièces de Clavecin were published in 1751 as his 'Opus 1' and succeeded only by lesser-known collections of violin sonatas and trios. The Pièces de clavecin deserve consideration alongside the viol fantazias of Purcell and the Lachrymae of Dowland for their rich, saturated exploitation of an idiom passed its high noon.
The collection is divided into two parts by key, G major/minor and B flat major/minor. The titles allude to friends and well-known figures of the time, and much is lost or rather buried within and between the notes in this kind of portraiture, yet the pieces spring to life in the right hands. The Spanish harpsichordist Yago Mahúgo won glowing reviews for a Brilliant Classics volume (94479) of the harpsichord music by Pancrace Royer, another little-known figure from the generation before Armand-Louis Couperin: 'performed with elegance and refinement… If you purchase [Mahúgo's] recording you won't regret it.'

· Armand-Louis Couperin was a notable French composer, organist, and harpsichordist of the late Baroque and early Classical period. He was a member of the Couperin family of musicians, of which the most famous were his great uncle Louis and his cousin François. He was born in Paris and was raised by his father, Nicolas, also a composer and the successor to François "Le Grand" as organist at Saint-Gervais-Saint-Protais Church in 1748, a post Armand-Louis inherited after his father's death. Subsequent posts included the Notre Dame (from 1755), the Sainte Chapelle (from 1760), L'église Sainte-Marguerite, and the royal chapel (from 1770).
· Armand-Louis Couperin was one of the last great harpsichord composers of France, and he remained attached stylistically to la grande tradition française. His works show a bold harmonic language, a remarkable degree of improvisational impulse and a tendency to explore new ways of using the instrument.
· Harpsichordist Yago Mahúgo is winner of several prestigious Competitions, notably the Bruges Early Music Competition. His previous recordings on Brilliant Classics of works by Royer, Clérembault and Marchand received several 5 star reviews in international music magazines, and a "CD of the Month" in the Spanish magazine Scherzo.
Listening
Track list
Disk 1
Armand Louis Couperin: Pièces de clavecin in G Major: I. La victoire

Armand Louis Couperin: Pièces de clavecin in G Major: II. Allemande

Armand Louis Couperin: Pièces de clavecin in G Major: III. Courante. La de croissy

Armand Louis Couperin: Pièces de clavecin in G Major: IV. Les cacqueteuses

Armand Louis Couperin: Pièces de clavecin in G Major: V. La grégoire

Armand Louis Couperin: Pièces de clavecin in G Major: VI. L'Intrépide

Armand Louis Couperin: Pièces de clavecin in G Major: VII. Menuets in G Major I & II

Armand Louis Couperin: Pièces de clavecin in G Major: VIII. L'Arlequine ou la adam

Armand Louis Couperin: Pièces de clavecin in G Major: IX. La blanchet

Armand Louis Couperin: Pièces de clavecin in G Major: X. La de boisgelou

Armand Louis Couperin: Pièces de clavecin in G Major: XI. La foucquet

Armand Louis Couperin: Pièces de clavecin in G Major: XII. La semillante ou la joly
Disk 2
Armand Louis Couperin: Pièces de clavecin in B-Flat Major: I. La turpin

Armand Louis Couperin: Pièces de clavecin in B-Flat Major: II. Gavottes I & II

Armand Louis Couperin: Pièces de clavecin in B-Flat Major: III. Menuets in B Major I & II

Armand Louis Couperin: Pièces de clavecin in B-Flat Major: IV. La du breüil

Armand Louis Couperin: Pièces de clavecin in B-Flat Major: V. La chéron

Armand Louis Couperin: Pièces de clavecin in B-Flat Major: VI. L'Affligée

Armand Louis Couperin: Pièces de clavecin in B-Flat Major: VII. L'Enjouée

Armand Louis Couperin: Pièces de clavecin in B-Flat Major: VIII. Les tendres sentiments

Armand Louis Couperin: Pièces de clavecin in B-Flat Major: IX. Rondeau. Gracieux

Armand Louis Couperin: Les quatre nations: I. L'Italienne

Armand Louis Couperin: Les quatre nations: II. L'Angloise

Armand Louis Couperin: Les quatre nations: III. L'Allemande

Armand Louis Couperin: Les quatre nations: IV. La Françoise

Armand Louis Couperin: La chasse