C.P.E. Bach: Chamber Music with Transverse Flute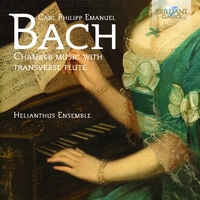 Download booklet
Composer
Carl Philipp Emanuel Bach
Artist
Helianthus Ensemble
Laura Pontecorvo transverse flute
Elisa Citterio violin & viola
Francesco Galligioni cello
Guido Morini harpsichord
Format
1 CD
Cat. number
94884
EAN code
5028421948843
Release
March 2014
About this release
During the last years of his life, CPE, not unlike his father, was not interested in following fashions or the market, his main aim being to leave posterity a meaningful musical heritage. In a letter written in 1787 he declared that he had concluded his 'work for the public and now wished to abandon the pen' not least because the desire to see certain works published that would 'bring him honour after his death' had been fulfilled by the publication in 1786 of the Zwey Litaneien Wq204 and in 1787 of the cantata Die Auferstehung und Himmelfahrt Jesu Wq240. The three quartets on this disc, written in 1788, the last year of his life and apparently without commission, can thus be considered the pearls of the composer's chamber output, and one of the finest fruits of a period of creativity in which he was able to express precisely what he wanted without constraints. The choice of instruments is particularly interesting – indeed, practically unique as a genre and highly original in terms of timbre.

Laura Pontecorvo, a baroque flute specialist, has played first flute with the Concerto Italiano and regularly collaborates with ensembles such as Accademia Bizantina, Divino Sospiro, Europa Galante and L'Arte dell'arco. She has performed as a soloist all over the world and has recorded for several record labels including Opus 111 and Stradivarius. As part of the Helianthus Ensemble, she has already made a fine recording for Brilliant Classics, of chamber music by Giovanni Battista Buonamente (94478), featuring performances with copies of the instruments of the Sacro Convento of Assisi's collection.


Other information:
- Recorded in 2013.
- These beautiful quartets were written by Carl Philipp Emanuel Bach in the last year before his death, not on commission but purely as a kind of musical testament, the purest and most individual outpour of his creative genius.
- The three Quartets in this recording are very different compositions. Because all three instruments play an essential role in the development of the musical discourse, even though the main part is entrusted to the keyboard, these works could never be performed ad libitum. Moreover, the choice of instruments is particularly interesting – indeed, practically unique as a genre and highly original in terms of timbre.
- Flutist Laura Pontecorvo is first flutist of the famous Concerto Italiano (Rinaldo Alessandrini), and plays regularly with such eminent ensembles like Accademia Bizantina, Europa Galante and L'Arte dell'Arco.
- Booklet includes notes on the music by Laura Pontecorvo.
- Italian liner notes available for download on this page.
Track list
Disk 1
Quartet in A Minor, Wq. 93: I. Andantino

Quartet in A Minor, Wq. 93: II. Largo è sostenuto

Quartet in A Minor, Wq. 93: III. Allegro assai

Quartet in D Major, Wq. 94: I. Allegretto

Quartet in D Major, Wq. 94: II. Adagio

Quartet in D Major, Wq. 94: III. Allegro di molto

Duet in E Minor, Wq. 140: I. Andante (edited by the author in Musikalisches Vielerley, Hamburg 1770)

Duet in E Minor, Wq. 140: II. Allegro (edited by the author in Musikalisches Vielerley, Hamburg 1770)

Duet in E Minor, Wq. 140: III. Allegretto (edited by the author in Musikalisches Vielerley, Hamburg 1770)

Quartet in G Major, Wq. 95: I. Allegretto

Quartet in G Major, Wq. 95: II. Adagio

Quartet in G Major, Wq. 95: III. Presto

Trio Sonata in A Major, Wq. 146: I. Allegretto

Trio Sonata in A Major, Wq. 146: II. Andante

Trio Sonata in A Major, Wq. 146: III. Vivace