C.P.E. Bach: Complete Organ Music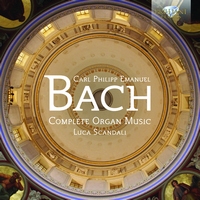 | | |
| --- | --- |
| Composer | Carl Philipp Emanuel Bach |
| Artist | Luca Scandali organ |
| Format | 2 CD |
| Cat. number | 94812 |
| EAN code | 5028421948126 |
| Release | March 2014 |
About this release
Carl Philipp Emanuel Bach's interest in the organ would seem to be fairly limited, at least judging by the number of pieces he composed for the instrument. The reasons for this attitude could be personal and professional, but could also reflect the changing affections and the new sensibility of the period, since during his lifetime the organ underwent a phase of relative decline. Indeed, following the acme reached by Johann Sebastian Bach, the instrument sank into a phase of neglect in Germany during the second half of the 1700s. It was only in the early 19th century, in the name of Bach, that it once more became the focus of interest and enthusiasm, but it may also be that the son wished not to draw from the well which so resplendently bore his father's name, preferring instead to tap new springs.

In the second edition of his Neues Lexicon, Ernst Ludwig Gerber, musicologist and court organist at Sonderhausen, claimed that C.P.E. Bach wrote the set of six organ sonatas Wq70 during the most fruitful period of his career. From the outset the sonatas met with widespread favour, with their galant style, full of good humour and energy. Even the fugues proceed along unlikely routes with an unbuttoned relish for episodic characterization that might have confounded, not to say horrified, old Johann Sebastian. The chorale preludes are naturally more clean-cut and sombre but they still take the opportunity for colourful musical illustration of their Biblical themes.

Luca Scandali is an Italian organist who won, among other accolades, first prize at the Twelfth Paul Hofhaimer International Organ Competition in Innsbruck, a prize awarded only four times during the competition's 40-year history.

Other information:
- Recorded in 2013.
- This release contains the complete music for organ by Carl Philipp Emanuel Bach, a relatively modest output, no doubt because of the decline of popularity the instrument in the 2nd half of the 18th century, and because of his new style, which is less dependent on rigorous counterpoint (the organ's forte) than on a gallant and transparent melodic lines.
- The six organ sonatas are vintage CPE: full of good humour and the urge to experiment, brimming with energy and wit.
- Luca Scandali is one of Italy's foremost organists, with an impressive discography of over 20 CD's, for quality labels CPO, Pierre Verany, Tactus and Brilliant.
- The booklet contains excellent liner notes by the artist, plus full organ specifications.
- Booklet contains scholarly notes by Luca Scandali and full organ specification.
Track list
Disk 1
Carl Philipp Emanuel Bach: Sonata in D Major, Wq. 70 No. 5: I. Allegro di molto

Carl Philipp Emanuel Bach: Sonata in D Major, Wq. 70 No. 5: II. Adagio e mesto

Carl Philipp Emanuel Bach: Sonata in D Major, Wq. 70 No. 5: III. Allegro

Carl Philipp Emanuel Bach: Fugue in D Minor, Wq. 119 No. 2 (Allegro di molto)

Carl Philipp Emanuel Bach: Sonata in F Major, Wq. 70 No. 3: I. Allegro

Carl Philipp Emanuel Bach: Sonata in F Major, Wq. 70 No. 3: II. Largo

Carl Philipp Emanuel Bach: Sonata in F Major, Wq. 70 No. 3: III. Allegretto

Carl Philipp Emanuel Bach: Fugue in F Major, Wq. 119 No. 3 (Allegro)

Carl Philipp Emanuel Bach: Sonata in G Minor, Wq. 70 No. 6: I. Allegro moderato

Carl Philipp Emanuel Bach: Sonata in G Minor, Wq. 70 No. 6: II. Adagio

Carl Philipp Emanuel Bach: Sonata in G Minor, Wq. 70 No. 6: III. Allegro

Carl Philipp Emanuel Bach: Fugue in G Minor, Wq. 119 No. 5 (Allegro di molto)
Disk 2
Carl Philipp Emanuel Bach: Sonata in A Minor, Wq. 70 No. 4: I. Allegro assai

Carl Philipp Emanuel Bach: Sonata in A Minor, Wq. 70 No. 4: II. Adagio

Carl Philipp Emanuel Bach: Sonata in A Minor, Wq. 70 No. 4: III. Allegro

Carl Philipp Emanuel Bach: Fugue in A Major, Wq. 119 No. 4 (Allegretto)

Carl Philipp Emanuel Bach: Sonata in B-Flat Major, Wq. 70 No. 2: I. Allegro

Carl Philipp Emanuel Bach: Sonata in B-Flat Major, Wq. 70 No. 2: II. Arioso

Carl Philipp Emanuel Bach: Sonata in B-Flat Major, Wq. 70 No. 2: III. Allegro

Carl Philipp Emanuel Bach: Fugue in E-Flat Major, Wq. 119 No. 6 (Alla breve moderato)

Carl Philipp Emanuel Bach: Fugue in D Minor, H. 372 (Moderato)

Carl Philipp Emanuel Bach: Adagio in D Minor, Wq. n.v.66

Carl Philipp Emanuel Bach: Prelude in D Major, Wq. 70 No. 7 (Grave – Presto – Grave – Presto)

Carl Philipp Emanuel Bach: Ich ruf zu dir, Herr Jesu Christ, BWV Anh. 73

Carl Philipp Emanuel Bach: Aus der Tiefe rufe ich, BWV 745

Carl Philipp Emanuel Bach: 5 Choräle mit ausgesetzten Mittelstimmen H. 336: No. 1, O Gott, du frommer Gott

Carl Philipp Emanuel Bach: 5 Choräle mit ausgesetzten Mittelstimmen H. 336: No. 2, Ich bin ja, Herr, in D Majoreiner Macht

Carl Philipp Emanuel Bach: 5 Choräle mit ausgesetzten Mittelstimmen H. 336: No. 3, Jesus, meine Zuversicht

Carl Philipp Emanuel Bach: 5 Choräle mit ausgesetzten Mittelstimmen H. 336: No. 4, Wer nur den lieben Gott läßt walten

Carl Philipp Emanuel Bach: 5 Choräle mit ausgesetzten Mittelstimmen H. 336: No. 5, Komm, heiliger Geist, Herre Gott

Carl Philipp Emanuel Bach: Fantasia and Fugue in C Minor, Wq. 119 No. 7 (Allegretto – Allegro)