C.P.E. Bach: Complete Solo Flute Sonatas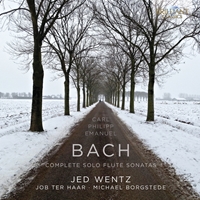 Composer
Carl Philipp Emanuel Bach
Artist
Musica ad Rhenum
Jed Wentz transverse flute
Job ter Haar cello
Michael Borgstede harpsichord & fortepiano
Format
2 CD
Cat. number
94323
EAN code
5028421943237
Release
November 2013
About this release
Celebrating the Tricentenary of his birth, this new release presents Carl Philipp Emanuel Bach's complete sonatas for flute solo and harpsichord.

Passion and music went hand in hand in the Baroque era. Not only was music a way to express the passion of the composer, but it could also stimulate it in the listener. In this special collection of Carl Philipp Emmanuel Bach's complete solo flute sonatas, it is easy to hear how the composer kept his emotions close to the surface, as he pours into his works the joy and irritations of his daily life. These wonderful performances draw the listener in to the imagination of the composer and allow them to feel his innermost blushes, tears and ecstasy.

The sonatas are performed on period instruments by Musica ad Rhenum, one of the world's leading early music groups, which has earned an international following since its formation in 1992. Jed Wentz plays the transverse flute, and is accompanied by Job ter Haar (cello) and Michael Borgstede (harpsichord).

Other information:
- Recorded in 2012 and 2013.
- Contains information on the works, the period instruments and performers.
- Carl Philipp Emanuel is the most adventurous and original of the great Johann Sebastian's many composing sons. His style is free, elaborate and highly personal, embodying the "Sturm und Drang" movement of his time, which gave prominence to the expression of personal feelings and emotions.
- A warm welcome to this first new solo recording in several years by Jed Wentz, highly esteemed traverso player, champion of the Historically Informed Performance Practice, scholar and passionate musician. His former recordings for Brilliant Classics have been highly acclaimed; his Bach Flute Sonatas received the prestigious Diapason d'Or. Again his partner is Michael Borgstede, himself a brilliant soloist (his BC discography contains the Suites by Handel and the harpsichord works by Couperin), together forming a perfect match in this highly attractive music.
Track list
Disk 1
Sonata in G Major, Wq. 127: I. Adagio

Sonata in G Major, Wq. 127: II. Allegro

Sonata in G Major, Wq. 127: III. Vivace

Sonata in E Minor, Wq. 124: I. Adagio

Sonata in E Minor, Wq. 124: II. Allegro

Sonata in E Minor, Wq. 124: III. Minuetto

Sonata in G Major, Wq. 123: I. Andante

Sonata in G Major, Wq. 123: II. Allegro

Sonata in G Major, Wq. 123: III. Tempo di menuetto

Sonata in B-Flat Major, Wq. 125: I. Adagio

Sonata in B-Flat Major, Wq. 125: II. Allegro

Sonata in B-Flat Major, Wq. 125: III. Vivace

Sonata in D Major, Wq. 126: I. Largo

Sonata in D Major, Wq. 126: II. Allegro

Sonata in D Major, Wq. 126: III. Vivace

Sonata in B-Flat Major, Wq. 130: I. Largo

Sonata in B-Flat Major, Wq. 130: II. Allegro

Sonata in B-Flat Major, Wq. 130: III. Allegro
Disk 2
Sonata in D Major, Wq. 129: I. Adagio

Sonata in D Major, Wq. 129: II. Allegro

Sonata in D Major, Wq. 129: III. Vivace

Sonata in A Minor, Wq. 128: I. Andante

Sonata in A Minor, Wq. 128: II. Allegro

Sonata in A Minor, Wq. 128: III. Vivace

Sonata in G Major, Wq. 134: I. Adagio

Sonata in G Major, Wq. 134: II. Allegro

Sonata in G Major, Wq. 134: III. Vivace

Sonata in D Major, Wq. 131: I. Andante

Sonata in D Major, Wq. 131: II. Allegretto

Sonata in D Major, Wq. 131: III. Allegro

Sonata in G Major, Wq. 133: I. Allegretto

Sonata in G Major, Wq. 133: II Rondo. Presto