C.P.E. Bach: Fantasias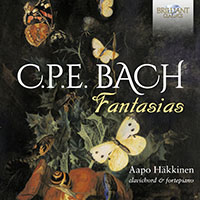 | | |
| --- | --- |
| Composer | Carl Philipp Emanuel Bach, Johann Sebastian Bach |
| Artist | Aapo Häkkinen clavichord & fortepiano |
| Format | 1 CD |
| Cat. number | 96567 |
| EAN code | 5028421965673 |
| Release | May 2023 |
About this release
Carl Philipp Emanuel Bach was widely known for his passionate, incomparable improvisations on the clavichord, most characteristically in the form of free fantasia. His compositions were unique in style, full of contrasts, and universally admired by several generations; the Vienna Classicists, even Beethoven and Schubert, considered him their musical father.

Declamatory, improvisatory style is of course the epitaph of all 18th-century music – exemplified in Johann Sebastian Bach's Chromatic Fantasia BWV903, with its central recitative and broken chords audaciously passing through distant harmonies. Johann Nikolaus Forkel, author of the first Bach biography and part of C.P.E. Bach's literary circles, transmitted a refined version in his manuscript (P 212) and subsequent edition that may derive from a revised original version once in possession of the Bach sons. C.P.E. Bach's Fantasia in C minor (published in 1753) bears distinct similarities to his father's Fantasia chromatica, and it has been suggested that it may in fact have been a tombeau to the elder Bach. The deep personal nature and connection between the two works is explicit.

For Carl Philipp Emanuel Bach and the 'Bachists', the most expressive and intimate compositions were reserved for the clavichord. It was in the clavichord that one might 'find the soundboard of your heart. … Have no regrets when alone under the moonlight you improvise, or refresh your soul on a summer night, or when you celebrate a spring evening; ah! then pine not for the strident harpsichord. See, your clavichord breathes as gently as your heart.' (Ch.F.D. Schubart: Musikalische Rhapsodien III, 1786) Charles Burney, who visited C.P.E. Bach in Hamburg in 1772, described the composer improvising at his legendary clavichord, built by Gottfried Silbermann: 'He grew so animated and possessed that he not only played but looked like one inspired. His eyes were fixed, his lower lip fell, and drops of effervescence distilled from his countenance.'

The original 18th-century instruments heard on this recording – from Regensburg, Stockholm and Vienna – demonstrate possibilities the like of which would have been known to Carl Philipp Emanuel Bach in Berlin and Hamburg and ultimately derive from the Saxon school of G. Silbermann.

Other information:
- Recorded June 2022 in Pitäjänmäen kyläkirkko, Pitäjänmäki (Helsinki), Finland.
- Booklet in English contains liner notes by the artist and a biography on the artist.

- Carl Philipp Emanuel Bach (1714-1788) was the most famous and successful son of the great Johann Sebastian. He was a protagonist of the Empfindsame Stil, intended to express true and natural feelings, featuring sudden contrasts of mood and emotions.
- This new recording features a selection of Fantasias, Sonatas and Rondos. "It is particularly in the fantasias that the keyboard player, more than any other musician, can practise a declamatory style, passing audaciously from one affect to another … to spontaneously master the feelings of his listeners." (C.Ph.E. Bach: Versuch über die wahre Art das Clavier zu spielen, 1753). Also included in this program is the Chromatic Fantasy & Fugue by Johann Sebastian Bach, its central recitative and broken chords audaciously passing through distant harmonies were certainly an example and inspiration for the son.
- The recording features two different harpsichords and a Daniel Dörr fortepiano.
- Finnish keyboard player Aapo Häkkinen studied in Helsinki and subsequently with Bob van Asperen, Menno van Delft (clavichord), and Stanley Hoogland (fortepiano) at the Amsterdam Conservatory and with Pierre Hantaï in Paris, while also enjoying the generous guidance and encouragement of Gustav Leonhardt. He won second prize and the VRT prize at the Bruges Harpsichord Competition. He was also awarded the Norddeutscher Rundfunk Musikpreis 1997 for his interpretations of Italian music. He developed a successful career as harpsichordist and conductor, and is Artistic Director of the Helsinki Baroque Orchestra.
Listening
Track list
Disk 1
Carl Philipp Emanuel Bach: Sonata in F Minor, Wq.63/6 (H.75): I. Allegro di molto

Carl Philipp Emanuel Bach: Sonata in F Minor, Wq.63/6 (H.75): II. Adagio affettuoso

Carl Philipp Emanuel Bach: Sonata in F Minor, Wq.63/6 (H.75): III. Fantasia

Carl Philipp Emanuel Bach: Fantasia and Fugue in C Minor, Wq.119/7 (H.75.5): I. Fantasia

Carl Philipp Emanuel Bach: Fantasia and Fugue in C Minor, Wq.119/7 (H.75.5): II. Fugue

Carl Philipp Emanuel Bach: Fantasia in D Major, Wq.117/14 (H.160)

Carl Philipp Emanuel Bach: Fantasia in G Minor, Wq.117/13 (H.225)

Carl Philipp Emanuel Bach: Fantasia in E-Flat Major, Wq. deest (H.348)

Carl Philipp Emanuel Bach: Fantasia and Fugue in D Minor, Wq. deest (H.349): I. Fantasia

Carl Philipp Emanuel Bach: Fantasia and Fugue in D Minor, Wq. deest (H.349): II. Fugue

Johann Sebastian Bach: Chromatic Fantasia and Fugue in D Minor, BWV 903: I. Fantasia

Johann Sebastian Bach: Chromatic Fantasia and Fugue in D Minor, BWV 903: II. Fugue

Carl Philipp Emanuel Bach: Rondo in E Minor, Abschied von meinem Silbermannischen Claviere, Wq.66 (H.272)

Carl Philipp Emanuel Bach: Fantasia in F-Sharp Minor, C.P.E. Bachs Empfindungen, Wq.67 (H.300)