C.P.E. Bach: Keyboard Symphonies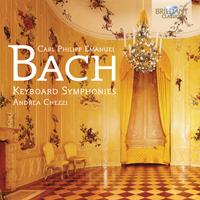 Composer
Carl Philipp Emanuel Bach
Artist
Andrea Chezzi harpsichord
Alberto Colzani (2000), after Goermans-Taskin
(Russel Collection of Edimburgh, 1764-1783)
Format
1 CD
Cat. number
94839
EAN code
5028421948393
Release
April 2014
About this release
A curious and unsatisfying reduction of huge music for tiny forces? By no means. These are not, after all, symphonies in the way that Beethoven, let alone Mahler, understood the term, but breezy three-movement affairs which had lately sprung out of an operatic context and were enjoying a new and independent life through the always-unpredictable idiom of C.P.E., who wrote eight such works between 1741 and 1762. Most of them began as symphonies for strings, with wind parts added later when Bach's orchestra was enlarged. These early symphonies mixed an Italian style of pleasant and simple writing with the composer's own evolving voice influenced by the Empfindsamer Stil, drawn together by the impeccable technique which C.P.E. had learnt at the feet of his father, the great Johann Sebastian.

The composer did not make these transcriptions of his 'Berlin' symphonies, but they were done during his lifetime to cater to the extensive public of amateur keyboard players. The Symphony in G major Wq122 No.1 (arr. Wq173) is perfectly suited to the harpsichord, with the freshness of an Italian opera overture, especially in the first movement. Elsewhere, Andrea Chezzi has made a few additions to the arrangement when it is excessively thin, limited to some doubling or addition of the inner part, following the practice of the time, while also playing with the ornamentation appropriate to a keyboard performance.

Andrea Chezzi is a solo harpsichordist and organist based in Parma, where he is titular organist for the Church of Santa Maria Annunziata in Mezzano Rondani in the Comune di Colorno, Parma, artistic director of the comune's cultural association La Compagnia del Lorno, and a founding member of the Giuseppe Serassi cultural association for the appreciation of organs and early instruments.

Other information:
- Rarely recorded arrangements and repertoire.
- The symphonies by Carl Philipp Emanuel Bach span the bridge between the Baroque and the Classical period. They are relatively short 3 movement works and abound in originality, caprice and virtuosity. In order to satisfy the need of the upcoming class of bourgeois amateur players he transcribed several of these symphonies for harpsichord solo, altering or omitting little or nothing, and fully preserving the boldness and drama of the original. After all Carl Philipp was a phenomenal harpsichord player himself…
- Italian keyboard player Andrea Chezzi plays these works with full drive and conviction on a magnificent harpsichord of orchestral allure.
- New recording, released to coincide with the great upsurge of interest in C.P.E. Bach on the 300th anniversary of his birth.
- Liner notes by the artist in Italian and English.
Track list
Disk 1
Carl Philipp Emanuel Bach: Symphony in G Major, Wq. 122 No. 1: I. Allegro assai

Carl Philipp Emanuel Bach: Symphony in G Major, Wq. 122 No. 1: II. Andante

Carl Philipp Emanuel Bach: Symphony in G Major, Wq. 122 No. 1: III. Allegretto

Carl Philipp Emanuel Bach: Symphony in F Major, Wq. 122 No. 2: I. Allegro assai

Carl Philipp Emanuel Bach: Symphony in F Major, Wq. 122 No. 2: II. Andante

Carl Philipp Emanuel Bach: Symphony in F Major, Wq. 122 No. 2: III. Tempo di minuetto

Carl Philipp Emanuel Bach: Symphony in D Major: I. Allegro (Arr. Wq. 176)

Carl Philipp Emanuel Bach: Symphony in D Major: II. Andante (Arr. Wq. 176)

Carl Philipp Emanuel Bach: Symphony in D Major: III. Presto (Arr. Wq. 176)

Carl Philipp Emanuel Bach: Symphony in E Minor, Wq. 122 No. 3: I. Allegro assai

Carl Philipp Emanuel Bach: Symphony in E Minor, Wq. 122 No. 3: II. Andante

Carl Philipp Emanuel Bach: Symphony in E Minor, Wq. 122 No. 3: III. Allegro