C.P.E. Bach: Oboe Concertos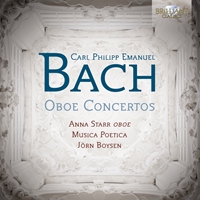 Composer
Carl Philipp Emanuel Bach
Artist
Anna Starr oboe
Musica Poetica:
Jörn Boysen harpsichord & concert master
Format
1 CD
Cat. number
94298
EAN code
5028421942988
Release
April 2012
About this release
C.P.E. Bach's two surviving oboe concertos both began as keyboard concertos that were later transcribed for oboe; their intended performer was probably Johann Christian Fischer, a virtuoso based in Potsdam in the mid 1760s. This would perhaps account for their technical and immensely challenging solo lines, which suggest that, like his father, Carl Philipp Emmanuel revelled in pushing instruments and performers to their limits. The highpoints of both concertos are their slow movements, which feature music of such beauty and chromatic melancholy – achieve by muting the oboe with sheep's wool – that the emotion is profoundly moving.

The concertos are complemented by the Pastorale in A minor and Sonata in G minor. Although the Pastorale is of uncertain authorship and may have been composed by C.P.E Bach's brother Wilhelm Friedemann, the Sonata can be dated to the mid 1730s. Like the concertos, this work has a highly effective slow movement, in this case the opening movement, containing music of great beauty and high emotional charge. A fast movement follows, and the work concludes with a virtuosic set of variations.

Other information:
- A new recording of C.P.E. Bach's two oboe concertos, made in 2011.
- The contrasting slow movements show the "Sturm und Drang" composer at his best: the oboe sings in profoundly moving cantilenas, over daring chromatic harmonies.
- Performances on historic instruments.
- Anna Starr, together with her own ensembles, has won the International Young Artists Presentation in Antwerp.
- Booklet notes in English and German.
Track list
Disk 1
Carl Philipp Emanuel Bach: Concerto in B-Flat, Wq. 164: I. Allegretto

Carl Philipp Emanuel Bach: Concerto in B-Flat, Wq. 164: II. Largo e mesto, con sordini

Carl Philipp Emanuel Bach: Concerto in B-Flat, Wq. 164: III. Allegro moderato

Carl Philipp Emanuel Bach: Pastorale in A Minor, Wq. deest

Carl Philipp Emanuel Bach: Sonata in G Minor, Wq. 135: I. Adagio

Carl Philipp Emanuel Bach: Sonata in G Minor, Wq. 135: II. Allegro

Carl Philipp Emanuel Bach: Sonata in G Minor, Wq. 135: III. Vivace

Carl Philipp Emanuel Bach: Concerto in E-Flat, Wq. 165: I. Allegro

Carl Philipp Emanuel Bach: Concerto in E-Flat, Wq. 165: II. Adagio ma non troppo

Carl Philipp Emanuel Bach: Concerto in E-Flat, Wq. 165: III. Allegro ma non troppo