C.P.E. Bach: Symphonies for Hamburg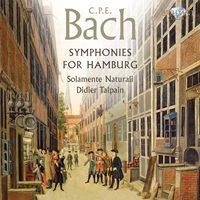 Composer
Carl Philipp Emanuel Bach
Artist
Solamente Naturali
Didier Talpain conductor
Marek Toporowski conductor
Format
1 CD
Cat. number
94042
EAN code
5028421940427
Release
April 2010
About this release
This release presents the 4 symphonies that Carl Philipp Emanuel Bach wrote during his stay in Hamburg. In these large-scale works the string section is extended with 2 flutes, 2 oboes, 2 horns and bassoon, instruments which are treated quasi solistically, so that one can almost speak of a Sinfonia Concertante.

The musical language is clearly "Sturm und Drang", full of vehement dynamics and changes of sentiment, the fingerprint of this most famous son of Johann Sebastian.

Brilliant performances on period instruments by Solamente Naturali, an exciting group of early music players from Bratislava.

Other information:
- Includes extensive liner notes by specialist Didier Talpain.
Track list
Disk 1
Symphony Wq183/1 (H663) in D Allegro di molto

Symphony Wq183/1 (H663) in D Largo

Symphony Wq183/1 (H663) in D Presto

Symphony Wq183/2 (H664) in E flat Allegro di molto

Symphony Wq183/2 (H664) in E flat Larghetto

Symphony Wq183/2 (H664) in E flat Presto

Symphony Wq183/2 (H664) in E flat Allegro assai

Harpsichord Concerto Wq43/4 (H474) in C Minor Poco adagio

Harpsichord Concerto Wq43/4 (H474) in C Minor Tempo di menuetto

Harpsichord Concerto Wq43/4 (H474) in C Minor Allegro assai

Symphony Wq183/3 (H665) in F Allegro di molto

Symphony Wq183/3 (H665) in F Larghetto

Symphony Wq183/3 (H665) in F Presto

Symphony Wq183/4 (H666) in G Allegro assai

Symphony Wq183/4 (H666) in G Poco andante

Symphony Wq183/4 (H666) in G Presto