Czech String Quartets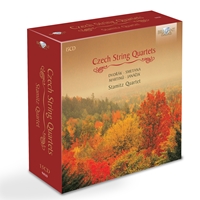 Composer
Antonín Dvorák, Bedrich Smetana, Bohuslav Martinu, Leoš Janácek
Artist
Stamitz Quartet
Bohuslav Matoušek first violin
Josef Kekula second violin
Jan Peruška viola
Vladimír Leixner cello
Format
15 CD
Cat. number
9410
EAN code
5029365941020
Release
May 2013
About this release
This extensive collection brings together the complete string quartets of Czech composers Antonín Dvořák, Bedřich Smetana, Leoš Janáček and Bohuslav Martinů.

Those by Dvořák chart the evolution of his style, from his interest in Wagnerian music in the years prior to 1870 – String Quartet in D major – to the folk-infused works of his later life, such as the String Quartet in G major Op.106, and show the influence of his time in the United States, with the String Quartet in F Op.96 'American'. The quartets of Smetana have a distinctive neo-classical flavour while those of Janáček show strong links to his operatic works. Prolific composer Bohuslav Martinů composed six quartets, of which two were mislaid during the war. One of these, his fifth string quartet, is widely considered to be one of the most pivotal works in the composer's oeuvre, written in 1938, a year of much upheaval in Martinů's life. Many of the quartets in the collection hold an emotional dimension, all of which are exquisitely brought to life by the Stamitz Quartet.

Established in 1985, the Stamitz Quartet quickly became known as leading interpreters of Czech repertory. Winners of the 1986 National Broadcasting Union Competition in Salzburg, the Quartet's rise to fame was meteoric; they have since participated in tours throughout Europe and America and undertaken a variety of recording projects, of which this collection is one.

Other information:
- Recorded between 1987 and 1993.
- For the first time together in one collection: the complete string quartets of Dvorak, Smetana, Janacek and Martinu!
- Though differing stylistically (Dvorak highly romantic and melodious, Smetana classical but deeply personal ("From My Life"), Janacek intimately speaking about love and tenderness, Martinu vibrant, colourful and exuberant), they share their Bohemian roots in a common heartfelt passion and love for the folklore of their country.
- Excellent performances by the Stamitz Quartet, "natives" with the same musical genes as the composers.
- The booklet provides extensive liner notes for each work.
Track list
Disk 1
Antonín Dvorák: String Quartet No. 3 in D Major, B. 18: I. Allegro con brio

Antonín Dvorák: String Quartet No. 3 in D Major, B. 18: II. Andantino

Antonín Dvorák: String Quartet No. 3 in D Major, B. 18: III. Allegro energico

Antonín Dvorák: String Quartet No. 3 in D Major, B. 18: IV. Finale: Allegretto
Disk 2
Antonín Dvorák: Quartet No. 2 in B-Flat Major, Op. 4, B. 17: I. Allegro non troppo

Antonín Dvorák: Quartet No. 2 in B-Flat Major, Op. 4, B. 17: II. Largo

Antonín Dvorák: Quartet No. 2 in B-Flat Major, Op. 4, B. 17: III. Allegro con brio

Antonín Dvorák: Quartet No. 2 in B-Flat Major, Op. 4, B. 17: IV. Finale: Andante – Allegro giusto – Allegro con fuoco

Antonín Dvorák: Andante appassionato, B. 40a
Disk 3
Antonín Dvorák: String Quartet No. 8 in E Major, Op. 80, B. 57: I. Allegro

Antonín Dvorák: String Quartet No. 8 in E Major, Op. 80, B. 57: II. Andante con moto

Antonín Dvorák: String Quartet No. 8 in E Major, Op. 80, B. 57: III. Allegretto scherzando

Antonín Dvorák: String Quartet No. 8 in E Major, Op. 80, B. 57: IV. Finale: Allegro con brio

Antonín Dvorák: Echo of Songs, B. 152: I. Moderato (I Know That on My Love to Thee)

Antonín Dvorák: Echo of Songs, B. 152: II. Allegro ma non troppo (In Many a Heart Is Death)

Antonín Dvorák: Echo of Songs, B. 152: III. Andante con moto (In the Sweet Power of Your Eyes)

Antonín Dvorák: Echo of Songs, B. 152: IV. Poco adagio (Oh, Our Love Will Not Bloom into That Long Wished-For Happiness)

Antonín Dvorák: Echo of Songs, B. 152: V. Andante (Here I Search for Your Dear Letter)

Antonín Dvorák: Echo of Songs, B. 152: VI. Andante moderato (Oh, Golden Charming Rose)

Antonín Dvorák: Echo of Songs, B. 152: VII. Andante con moto (I Lurch Around the House)

Antonín Dvorák: Echo of Songs, B. 152: VIII. Lento (Here in the Depths of the Forest)

Antonín Dvorák: Echo of Songs, B. 152: IX. Moderato (Oh, dear soul, only one)

Antonín Dvorák: Echo of Songs, B. 152: X. Andante maestoso (There Stands an Ancient Rock)

Antonín Dvorák: Echo of Songs, B. 152: XI. Allegro scherzando (Nature Is Held in Light Sleep)

Antonín Dvorák: Echo of Songs, B. 152: XII. Allegro animato (You Ask Why My Songs)
Disk 4
Antonín Dvorák: String Quartet No. 4 in E Minor, B. 19: I. Assai con moto ed energico

Antonín Dvorák: String Quartet No. 4 in E Minor, B. 19: II. Andante religioso

Antonín Dvorák: String Quartet No. 4 in E Minor, B. 19: III. Allegro con brio

Antonín Dvorák: Quartet movement in F Major, B. 120
Disk 5
Antonín Dvorák: String Quartet No. 5 in F Minor, Op. 9, B. 37: I. Moderato

Antonín Dvorák: String Quartet No. 5 in F Minor, Op. 9, B. 37: II. Andante con moto quasi allegretto

Antonín Dvorák: String Quartet No. 5 in F Minor, Op. 9, B. 37: III. Tempo di valse

Antonín Dvorák: String Quartet No. 5 in F Minor, Op. 9, B. 37: IV. Finale: Allegro molto

Antonín Dvorák: String Quartet No. 6 in A Minor, Op. 12, B. 40: I. Allegro ma non troppo

Antonín Dvorák: String Quartet No. 6 in A Minor, Op. 12, B. 40: II. Poco allegro

Antonín Dvorák: String Quartet No. 6 in A Minor, Op. 12, B. 40: III. Poco adagio

Antonín Dvorák: String Quartet No. 6 in A Minor, Op. 12, B. 40: IV. Finale: Allegro molto
Disk 6
Antonín Dvorák: String Quartet No. 1 in A Major Op. 2, B. 8: I. Andante – Allegro

Antonín Dvorák: String Quartet No. 1 in A Major Op. 2, B. 8: II. Andante affetuoso ed appassionato

Antonín Dvorák: String Quartet No. 1 in A Major Op. 2, B. 8: III. Allegro scherzando

Antonín Dvorák: String Quartet No. 1 in A Major Op. 2, B. 8: IV. Finale: Allegro animato

Antonín Dvorák: Terzetto in C Major for Two Violins & Viola, Op. 74, B. 148: I. Introduzione: Allegro ma non troppo

Antonín Dvorák: Terzetto in C Major for Two Violins & Viola, Op. 74, B. 148: II. Larghetto

Antonín Dvorák: Terzetto in C Major for Two Violins & Viola, Op. 74, B. 148: III. Scherzo: Vivace

Antonín Dvorák: Terzetto in C Major for Two Violins & Viola, Op. 74, B. 148: IV. Thema con variazioni
Disk 7
Antonín Dvorák: String Quartet No. 11 in C Major, Op. 61, B. 121: I. Allegro

Antonín Dvorák: String Quartet No. 11 in C Major, Op. 61, B. 121: II. Poco adagio e molto cantabile

Antonín Dvorák: String Quartet No. 11 in C Major, Op. 61, B. 121: III. Scherzo

Antonín Dvorák: String Quartet No. 11 in C Major, Op. 61, B. 121: IV. Finale: Vivace

Antonín Dvorák: Two Waltzes, Op. 54, B. 105: No. 1. Moderato

Antonín Dvorák: Two Waltzes, Op. 54, B. 105: No. 2. Allegro vivace
Disk 8
Antonín Dvorák: String Quartet No. 9 in D Minor, Op. 34, B. 75: I. Allegro

Antonín Dvorák: String Quartet No. 9 in D Minor, Op. 34, B. 75: II. Alla Polka

Antonín Dvorák: String Quartet No. 9 in D Minor, Op. 34, B. 75: III. Adagio

Antonín Dvorák: String Quartet No. 9 in D Minor, Op. 34, B. 75: IV. Finale: Poco allegro

Antonín Dvorák: String Quartet No. 7 in A Minor, Op. 16, B. 45: I. Allegro ma non troppo

Antonín Dvorák: String Quartet No. 7 in A Minor, Op. 16, B. 45: II. Andante cantabile

Antonín Dvorák: String Quartet No. 7 in A Minor, Op. 16, B. 45: III. Allegro scherzando

Antonín Dvorák: String Quartet No. 7 in A Minor, Op. 16, B. 45: IV. Finale: Allegro ma non troppo
Disk 9
Antonín Dvorák: String Quartet No. 10 in E-Flat Major, Op. 51, B. 92 'Slavonic': I. Allegro ma non troppo

Antonín Dvorák: String Quartet No. 10 in E-Flat Major, Op. 51, B. 92 'Slavonic': II. Dumka (Elegia): Andante con moto

Antonín Dvorák: String Quartet No. 10 in E-Flat Major, Op. 51, B. 92 'Slavonic': III. Romanza: Andante con moto

Antonín Dvorák: String Quartet No. 10 in E-Flat Major, Op. 51, B. 92 'Slavonic': IV. Finale: Allegro assai

Antonín Dvorák: String Quartet No. 14 in A-Flat Major, Op. 105, B. 193: I. Adagio ma non troppo allegro appassionato

Antonín Dvorák: String Quartet No. 14 in A-Flat Major, Op. 105, B. 193: II. Molto vivace

Antonín Dvorák: String Quartet No. 14 in A-Flat Major, Op. 105, B. 193: III. Lento e molto cantabile

Antonín Dvorák: String Quartet No. 14 in A-Flat Major, Op. 105, B. 193: IV. Allegro non tanto
Disk 10
Antonín Dvorák: String Quartet No. 12 in F Major, Op. 96, B. 179 'American': I. Allegro ma non troppo

Antonín Dvorák: String Quartet No. 12 in F Major, Op. 96, B. 179 'American': II. Lento

Antonín Dvorák: String Quartet No. 12 in F Major, Op. 96, B. 179 'American': III. Molto vivace

Antonín Dvorák: String Quartet No. 12 in F Major, Op. 96, B. 179 'American': IV. Finale: Vivace ma non troppo

Antonín Dvorák: String Quartet No. 13 in G Major, Op. 106, B. 192: I. Allegro moderato

Antonín Dvorák: String Quartet No. 13 in G Major, Op. 106, B. 192: II. Adagio ma non troppo

Antonín Dvorák: String Quartet No. 13 in G Major, Op. 106, B. 192: III. Molto vivace

Antonín Dvorák: String Quartet No. 13 in G Major, Op. 106, B. 192: IV. Finale: Andante sostenuto – Allegro con fuoco
Disk 11
Bedrich Smetana: String Quartet No. 1 in E Minor, JB 1:105 'From my Life': I. Allegro vivo appassionato

Bedrich Smetana: String Quartet No. 1 in E Minor, JB 1:105 'From my Life': II. Allegro moderato a la Polka

Bedrich Smetana: String Quartet No. 1 in E Minor, JB 1:105 'From my Life': III. Largo sostenuto

Bedrich Smetana: String Quartet No. 1 in E Minor, JB 1:105 'From my Life': IV. Vivace

Bedrich Smetana: String Quartet No. 2 in D Minor, JB 1:124: I. Allegro

Bedrich Smetana: String Quartet No. 2 in D Minor, JB 1:124: II. Allegro moderato

Bedrich Smetana: String Quartet No. 2 in D Minor, JB 1:124: III. Allegro non più moderato

Bedrich Smetana: String Quartet No. 2 in D Minor, JB 1:124: IV. Finale: Presto
Disk 12
Leoš Janácek: String Quartet No. 1, JWV 11/8 'Kreutzer Sonata': I. Adagio

Leoš Janácek: String Quartet No. 1, JWV 11/8 'Kreutzer Sonata': II. Con moto

Leoš Janácek: String Quartet No. 1, JWV 11/8 'Kreutzer Sonata': III. Con moto – Vivo – Andante

Leoš Janácek: String Quartet No. 1, JWV 11/8 'Kreutzer Sonata': IV. Con moto (adagio) – Più mosso

Leoš Janácek: String Quartet No. 2, J WV11/13 'Intimate Letters': I. Andante – Con moto – Allegro

Leoš Janácek: String Quartet No. 2, J WV11/13 'Intimate Letters': II. Adagio – Vivace

Leoš Janácek: String Quartet No. 2, J WV11/13 'Intimate Letters': III. Moderato – Adagio – Allegro

Leoš Janácek: String Quartet No. 2, J WV11/13 'Intimate Letters': IV. Allegro – Andante – Adagio
Disk 13
Bohuslav Martinu: String Quartet No. 1, H. 117 'The French': I. Moderato – Allegro ma non troppo

Bohuslav Martinu: String Quartet No. 1, H. 117 'The French': II. Andante moderato

Bohuslav Martinu: String Quartet No. 1, H. 117 'The French': III. Allegro non troppo

Bohuslav Martinu: String Quartet No. 1, H. 117 'The French': IV. Allegro con brio

Bohuslav Martinu: String Quartet No. 2, H. 150: I. Moderato – Allegro vivace

Bohuslav Martinu: String Quartet No. 2, H. 150: II. Andante

Bohuslav Martinu: String Quartet No. 2, H. 150: III. Allegro

Bohuslav Martinu: String Quartet No. 3, H. 183: I. Allegro

Bohuslav Martinu: String Quartet No. 3, H. 183: II. Andante

Bohuslav Martinu: String Quartet No. 3, H. 183: III. Vivo
Disk 14
Bohuslav Martinu: String Quartet No. 4 in D Major, H. 256: I. Allegro poco moderato

Bohuslav Martinu: String Quartet No. 4 in D Major, H. 256: II. Allegro scherzando

Bohuslav Martinu: String Quartet No. 4 in D Major, H. 256: III. Adagio

Bohuslav Martinu: String Quartet No. 4 in D Major, H. 256: IV. Allegro

Bohuslav Martinu: String Quartet No. 5, H. 268: I. Allegro ma non troppo

Bohuslav Martinu: String Quartet No. 5, H. 268: II Adagio

Bohuslav Martinu: String Quartet No. 5, H. 268: III. Allegro vivo

Bohuslav Martinu: String Quartet No. 5, H. 268: IV. Lento – Allegro

Bohuslav Martinu: String Quartet No. 6, H. 312: I. Allegro moderato

Bohuslav Martinu: String Quartet No. 6, H. 312: II. Andante

Bohuslav Martinu: String Quartet No. 6, H. 312: III. Allegro
Disk 15
Bohuslav Martinu: String Quartet No. 7 'Concerto da Camera', H. 314: I. Poco allegro

Bohuslav Martinu: String Quartet No. 7 'Concerto da Camera', H. 314: II. Andante

Bohuslav Martinu: String Quartet No. 7 'Concerto da Camera', H. 314: III. Allegro vivo

Bohuslav Martinu: Duo No. 1 '3 Madrigals', H. 313 for Violin and Viola: I. Poco allegro

Bohuslav Martinu: Duo No. 1 '3 Madrigals', H. 313 for Violin and Viola: II. Poco andante

Bohuslav Martinu: Duo No. 1 '3 Madrigals', H. 313 for Violin and Viola: III. Allegro

Bohuslav Martinu: String Trio No. 2, H. 238: I. Allegro

Bohuslav Martinu: String Trio No. 2, H. 238: II. Poco moderato