Czerny & Viotti: Piano Concertos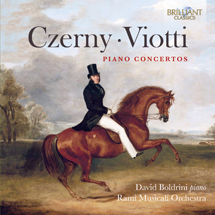 Composer
Carl Czerny, Giovanni Battista Viotti
Artist
David Boldrini piano
Rami Musicali Orchestra
Massimo Belli conductor
Format
2 CD
Cat. number
94899
EAN code
5028421948997
Release
May 2016
About this release
Carl Czerny has yet to emerge fully from his established place in the shadow of Beethoven as principally a composer of punishing studies for young and developing pianists, but this release should help him on his way. The A minor Concerto Op.214 is a full-scale essay of early Romanticism, composed in Vienna in 1829, full of the technical challenges he understood so well but distinguished by moments of high drama, especially in the brilliant concluding Rondo.

A Rossinian influence comes to the fore in the concerto for two pianos Op.153 from four years earlier. It is as though Czerny conceived of this concerto as a way of testing the entire expressive potential of a piano entrusted to four hands. Ranging from almost imperceptible pianissimi to deafening fortissimo, the two pianists weave a tapestry of surprising complexity over the struts of the orchestral accompaniment.

If anything the works by Viotti are even less often encountered, but no less charming to the ear. The composer is well-known as a founder of the Italian virtuoso violin tradition – just a little before Paganini – but he was also a skilled pianist. David Boldrini has recorded here contemporaneous arrangements (probably not made by the composer) of a pair of Viotti's violin concertos, No.19 and No.9, in which parts of the solo violin part survive as an important concertante element.

David Boldrini's previous recording on Brilliant Classics was of the 88 keyboard sonatas (BC95027) by one of Czerny's pre-eminent contemporaries, Domenico Cimarosa. He is a composer, conductor and player of diverse keyboard instruments according to the style of the period under consideration, among them organ, harpsichord and early examples of the piano in development. He is also a former pupil of Bruno Canino and the pioneer of a historically informed keyboard style, Paul Badura-Skoda.

This 2 CD set contains some seldom heard early 19th century concertos in which the piano plays the leading role.
Carl Czerny, a famous pianist and teacher, student of Beethoven, wrote an immense oeuvre for the piano, in which his prodigious technique could be shown to the greatest advantage. This recording features a Piano Concerto in A minor and a Concerto for Piano 4-hands: good tunes, brilliant pianism: highly attractive!
Giovanni Viotti made world fame as a violinist, his many concertos for this instrument are standard repertoire. Viotti arranged one of his most famous concertos, the G minor, for piano solo and orchestra. Also featured is the double concerto for piano, violin and orchestra in A major.
Played with obvious zest and "Spielfreude" by David Boldrini as soloist, the Rami Musicali Orchestra is conducted by Massimo Belli.
Track list
Disk 1
Piano Concerto No. 1 in A Minor, Op. 214: I. Allegro moderato

Piano Concerto No. 1 in A Minor, Op. 214: II. Adagio con moto

Piano Concerto No. 1 in A Minor, Op. 214: Rondo, allegro con anima

Concerto No. 19 in G Minor: I. Maestoso e grandioso

Concerto No. 19 in G Minor: II. Andante sostenuto

Concerto No. 19 in G Minor: III. Allegretto con moto
Disk 2
Concerto for Piano 4 Hands and Orchestra in C Major, Op. 153: I. Allegro con brio

Concerto for Piano 4 Hands and Orchestra in C Major, Op. 153: II. Adagio espressivo

Concerto for Piano 4 Hands and Orchestra in C Major, Op. 153: III. Rondo alla polacca, Vivace

Violin Concerto No. 3 in A Major, WI:9: I. Allegro

Violin Concerto No. 3 in A Major, WI:9: II. Rondo, allegro