D. Scarlatti: 42 Sonatas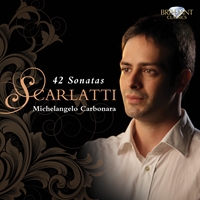 | | |
| --- | --- |
| Composer | Domenico Scarlatti |
| Artist | Michelangelo Carbonara piano |
| Format | 2 CD |
| Cat. number | 93979 |
| EAN code | 5028421939797 |
| Release | February 2010 |
About this release
A selection from the 600 sontas by Domenico Scarlatti (1685 - 1757) that illustrate two facets of his musical personality. The first part depicts the genius of the composer – some of his greatest and most remarkable sonatas have been selected by Carbonara. These works illustrate the exploratory and innovative nature of the sonatas. The second part gathers together a selection of sonatas that illustrate the gambler, or the reckless side of the composer. These sonatas are just as innovative as those on the first part, but there is a devil may care craziness to some of the music.

Other information:
- Recordings made in 2009.
- 42 Scarlatti sonatas containing some unknown and rarely recorded works.
- Extensive booklet essay on each sonata, written by the artist.
- Carbonara studied with Andreas Staier, Alicia de Larrocha and Leon Fleischer. For Brilliant Classics, he has recorded Ravel's complete piano music, as well as piano music by Nino Rota.
Track list
Disk 1
Sonata K158 in C Minor: Andante

Sonata K461 in C: Allegro

Sonata K124 in G: Allegro

Sonata K308 in C: Cantabile

Sonata K50 in F Minor: Allegro

Sonata K544 in B flat: Cantabile

Sonata K135 in E: Allegro

Sonata K497 in B Minor: Allegro

Sonata K219 in A: Andante

Sonata K312 in D: Allegro

Sonata K109 in A Minor:Adagio

Sonata K319 in F sharp: Allegro

Sonata K394 in E Minor: Allegro

Sonata K270 in C

Sonata K184 in F Minor: Allegro

Sonata K147 in E Minor

Sonata K82 in F

Sonata K193 in E flat: Allegro

Sonata K61 in A Minor

Sonata K262 in B:viVo

Sonata K427 in G: Presto quanto sia possibile
Disk 2
Sonata K127 in A flat: Allegro

Sonata K115 in C Minor: Allegro

Sonata K206 in E: Andante

Sonata K138 in D Minor: Allegro

Sonata K202 in B flat: Allegro

Sonata K208 in A:Adagio e cantabile

Sonata K209 in A: Allegro

Sonata K391 in G: Allegro

Sonata K69 in F Minor

Sonata K6 in F: Allegro

Sonata K126 in C Minor

Sonata K132 in C: Cantabile

Sonata K205 in F:viVo

Sonata K296 in F: Andante

Sonata K12 in G Minor: Presto

Sonata K95 in C: (slow version)

Sonata K95 in C: (fast version)

Sonata K32 in D Minor:Aria

Sonata K417 in D Minor: Allegro Moderato

Sonata K513 in C: Moderato e molto allegro – Presto

Sonata K462 in F Minor: Andante