D. Scarlatti: Sonatas for Guitar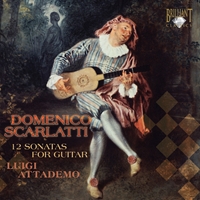 | | |
| --- | --- |
| Composer | Domenico Scarlatti |
| Artist | Luigi Attademo guitar |
| Format | 1 CD |
| Cat. number | 9125 |
| EAN code | 5029365912525 |
| Release | August 2009 |
About this release
The 600 or so sonatas for harpsichord by Domenico Scarlatti contain some of the most remarkable music for keyboard from the Barock era. The influence of these works can be detected in the sonatas of Haydn, Clementi, and Beethoven. The fact that these composers, who developed the piano sonata form to new levels virtuosity, and at a time when the piano was a 'new' instrument, developing constantly, were influenced by his examples, has lead to many performers re-appraising Scarlatti's sonatas.

How would they sound on other instruments? The modern concert grand is, today, no stranger to Scarlatti's sonatas, but the guitar? The great Andres Segovia was one of the first to recognise that many of these sonatas would work for the guitar. His idea was not to imitate the harpsichord ('a guitar with a cold' as he famously said, much to the annoyance of the great harpsichordist Wanda Landowska), but to bring out hitherto unexplored textures and colours contained in the music that only the guitar could realise. There wasn't much in the way of period interpretation or slavish imitation of keyboard practice in Segovia's approach. It was a marvellously 'gut feel' instinctive interpretation that divided opinion.

In 1994 Claudio Giuliani attempted (successfully) to navigate a path for guitarists through the purists and Segovia's opposing positions and published a collection of Scarlatti's sonatas that lie within the compass of the guitar.

On this CD Attademo skilfully demonstrates that the two schools of thought can be brought together – Scarlatti's genius as keyboard virtuoso, and the genius and instinctiveness of Segovia.

Other information:
- Recording made in 1998.
- Review coverage in guitar press assured.
- Luigi Attademo is responsible for the premieres of rediscovered works for guitar by Tansman, Cyril Scott (Sonatina, Alesandria, 2001), Lennox Berkeley and Mompou.
Track list
Disk 1
12 Sonatas For Guitar: 1 Sonata K377: Allegrissimo

12 Sonatas For Guitar: 2 Sonata K208: Adagio e cantabile

12 Sonatas For Guitar: 3 Sonata K209: Allegro

12 Sonatas For Guitar: 4 Sonata K32: Aria

12 Sonatas For Guitar: 5 Sonata K77: Moderato e cantabile

12 Sonatas For Guitar: Minuet

12 Sonatas For Guitar: 6 Sonata K34: Larghetto

12 Sonatas For Guitar: 7 Sonata K291: Andante

12 Sonatas For Guitar: 8 Sonata K292: Allegro

12 Sonatas For Guitar: 9 Sonata K87 -

12 Sonatas For Guitar: 10 Sonata K481: Andante e cantabile

12 Sonatas For Guitar: 11 Sonata K476: Allegro

12 Sonatas For Guitar: 12 Sonata K213: Andante