D. Scarlatti: Sonatas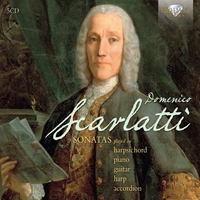 Composer
Domenico Scarlatti
Artist
Pieter-Jan Belder harpsichord
Michelangelo Carbonara piano
Luigi Attademo guitar
Godelieve Schrama harp
Mie Miki accordion
Format
5 CD
Cat. number
94613
EAN code
5028421946139
Release
May 2013
About this release
Baroque powerhouse Domenico Scarlatti – son of the great Alessandro Scarlatti and born in 1600, the same year as Johann Sebastian Bach and George Friderich Handel – wrote an enormous 555 keyboard sonatas. These were mostly to be performed on the harpsichord, although several sources suggest that he may have also written some for the fortepiano at the Spanish court, where he was employed from 1733. The universal appeal of these sonatas – containing Scarlatti's trademark influence of Iberian folk music and dances – is such that they have been pushed beyond the boundaries of the intended instrument, and thus the recording also boasts performances of selected sonatas on the harp and accordion, bringing these wonderful sonatas into the 21st century.

Each of the performers on the recording are leading interpreters on their instrument. The awards that the performers have won include prizes at the Schubert International Piano Competition (Michelangelo Carbonara), Leipzig Bach Harpsichord Competition (Pieter-Jan Belder), the Concours International d'Exécution Musicale (Luigi Attademo), as well as the RecordAcademy Award (Mie Miki) and the Dutch Music Prize (Godelieve Schrama) This collection boasts a handpicked selection of these for harpsichord, piano, guitar, harp and accordion.

Other information:
- An original and appealing concept: Scarlatti sonatas played on 5 different instruments: harpsichord, piano, guitar, harp, and accordion.
- Scarlatti's keyboard sonatas have gained such iconic status that each performance on a different instrument reveals new secrets, beauties, witticisms and a visceral feeling of virtuosity and brilliance.
- Extensive liner notes available at www.brilliantclassics.com.
Track list
Disk 1
Sonata in G Major, K. 520: Allegretto

Sonata in G Major, K. 521 in G Major: Allegro

Sonata in G Major, K. 522 in G Major: Allegro

Sonata in G Major, K. 523 in G Major: Allegro

Sonata in F Major, K. 524 in F Major: Allegro

Sonata in F Major, K. 525 in F Major: Allegro

Sonata in C Minor, K. 526: Allegro comodo

Sonata C Major, K. 527 in: Allegro assai

Sonata in B-Flat Major, K. 528: Allegro

Sonata in B-Flat Major, K. 529: Allegro

Sonata in E Major, K. 530: Allegro

Sonata in E Major, K. 531: Allegro

Sonata in A Minor, K. 532: Allegretto

Sonata in A Major, K. 533: Allegro assai

Sonata in D Major, K. 534: Cantabile

Sonata in D Major, K. 535: Allegro
Disk 2
Sonata in C Minor, K. 158: Andante

Sonata in C Major, K. 461: Allegro

Sonata in G Major, K. 124: Allegro

Sonata in C Major, K. 308: Cantabile

Sonata in F Minor, K. 50: Allegro

Sonata in B-Flat Major, K. 544: Cantabile

Sonata in E Major, K. 135: Allegro

Sonata in B Minor, K. 497: Allegro

Sonata in A Major, K. 219: Andante

Sonata in D Major, K. 312: Allegro

Sonata in A Minor, K. 109: Adagio

Sonata in F-Sharp Major, K. 319: Allegro

Sonata in E Minor, K. 394: Allegro

Sonata in C Major, K. 270

Sonata in F Minor, K. 184: Allegro

Sonata in E Minor, K. 147

Sonata in F Major, K. 82

Sonata in E-Flat Major, K. 193: Allegro

Sonata in A Minor, K. 61

Sonata in B Major, K. 262: Vivo

Sonata in G Major, K. 427: Presto, quanto sia possibile
Disk 3
Sonata in B Minor, K. 377: Allegrissimo

Sonata in A Major, K. 208: Adagio è cantabile

Sonata in A Major, K. 209: Allegro

Sonata in D Minor, K. 32: Aria

Sonata in D Minor, K. 77: Moderato è cantabile –

Sonata in D Minor, K. 77: Minuet

Sonata in D Minor, K. 34: Larghetto

Sonata in E Minor, K. 291: Andante

Sonata in E Minor, K. 292: Allegro

Sonata in B Minor, K. 87

Sonata in F Minor, K. 481: Andante è cantabile

Sonata in G Minor, K. 476: Allegro

Sonata in D Minor, K. 213: Andante
Disk 4
Sonata in G Major, K. 124: Allegro

Sonata in G Major, K. 125: Vivo

Sonata in B Minor, K. 27: Allegro

Sonata in A Major, K. 208: Adagio è cantabile

Sonata in A Major, K. 209: Allegro

Sonata in D Minor, K. 9: Allegro

Sonata in C Major, K. 420: Allegro

Sonata in C Major, K. 421: Allegro

Sonata in E Minor, K. 402: Andante

Sonata in E Major, K. 403: Allegro

Sonata in D Major, K. 511: Allegro

Sonata in D Major, K. 512: Allegro

Sonata in D Minor, K. 213: Andante

Sonata in D Major, K. 214: Allegro vivo
Disk 5
Sonata in F Major, K. 6: Allegro

Sonata in D Minor, K. 10: Presto

Sonata in F Major, K. 78: Gigba. Allegro

Sonata in C Major, K. 159: Allegro

Sonata in D Minor, K. 52: Andante moderato

Sonata in D Minor, K. 141: Allegro

Sonata in D Minor, K. 9: Allegro

Sonata in A Major, K. 24: Presto

Sonata in E Minor, K. 98: Allegrissimo

Sonata in E Minor, K. 394: Allegro

Sonata in F Minor, K. 184: Allegro

Sonata in F Minor, K. 183: Allegro

Sonata in F Minor, K. 519: Allegro assai

Sonata in D Major, K. 288: Allegro

Sonata in F-Sharp Major, K. 310: Allegro

Sonata in C-Sharp Minor, K. 247: Allegro

Sonata in G Major, K. 63: Capriccio. Allegro

Sonata in F Major, K. 107: Allegro

Sonata in D Minor, K. 1: Allegro