Dallapiccola: Complete Songs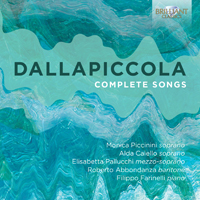 Download booklet
Composer
Luigi Dallapiccola
Artist
Monica Piccinini soprano
Alda Caiello soprano
Elisabetta Pallucchi mezzo-soprano
Roberto Abbondanza baritone
Filippo Farinelli piano
Format
2 CD
Cat. number
95202
EAN code
5028421952024
Release
June 2015
About this release
Here's a set unique on record: Dallapiccola's song cycles with small ensemble, mostly based on ancient and medieval texts are well-known as a cornerstone of his reputation for the kind of lyrical modernism which flowered in the work of Nono and Berio from the following generation. Like other Italian modernists such as Bruno Maderna, he was no less passionately interested in his cultural heritage represented here by the early-Baroque composers who developed the idea and practice of opera, such as Monteverdi, and Cavalli. He made practical editions for modern performance of many Baroque songs in order to disseminate this music at the time when scholarly interest was just beginning to move beyond academic confines into concert halls and recording studios, at the birth of the historically informed performance movement.

As the pianist Filippo Farinelli remarks in the booklet-note, "This is a repertoire that merits a place alongside Britten's arrangements of Purcell and other famous English composers. Dallapiccola did much more than realise the basso continuo part. Thanks to his musicological studies, his unique artistic taste and his understanding of the great composers of the early 20th century, he was able to breathe new life into early music, allowing listeners to perceive it in fresh, new terms that ring entirely true."

Alongside these two volumes of songs by Caccini, Stradella, Frescobaldi and more are placed the two song cycles he conceived for voice and piano accomapaniment. Both use an adapted 12-tone language. Rencesvals from 1946 is a setting of fragments from the medieval Book of Roland (commissioned by Poulenc's friend, the baritone Pierre Bernac: the two men gave the cycle's first performance), and the four settings of Antonio Machado date from two years later. Encountering the socialist-realism texts of Machado was a seminal moment for Dallapiccola, whose work consistently protests against oppression. In these brief, high-lying settings we may hear a less sublimated version of the intense lyricism to which Schoenberg aspired in his Book of the Hanging Gardens.

The first Recording of the complete songs by Dallapiccola, one of the most influential composers of 20th century Italy. His political engagement and his experiments with the 12-tone technique established him firmly in the European Avant-Garde.
The main work on this double CD are the transcriptions he made of 17th and 18th century Italian songs, by Monteverdi, Caldara, Carissimi, Caccini, Durante, Stradella, Legrenzi and others. He wrote brilliantly dry and essential, making intelligent use of counterpoint and canon, with exquisite taste for vocal timbres and polyrhythm. In that sense they are far more "20th century" than similar transcriptions by other composers (Respighi, Busoni a.o.) who romanticised the original early works.
Also included are the two original song cycles by Dallapiccola: Rencesvals and Quattro Liriche di Antonio Machado, fascinating testimony of his unique style, both severe and warmly emotional.
Beautifully performed by 4 excellent Italian singers who already recorded successfully the songs by Jolivet (BC9220) and Ravel (BC94743).
Scholarly written liner notes by the pianist, Filippo Farinelli.
Listening
Track list
Disk 1
Antonio Caldara: Selve amiche

Giacomo Carissimi: Vittoria, mio cuore

Claudio Monteverdi: Lasciatemi morire

Alessandro Scarlatti: Già il sole dal gange

Giulio Caccini: Udite, amanti

Francesco Cavalli: Sospiri di foco

Giulio Caccini: Belle rose purpurine

Andrea Falconieri: Bella porta di rubini

Emilio de'Cavalieri: Monologo del "tempo"

Francesco Durante: Vergin, tutto amor

Guiseppe Giordani: Caro mio ben

Giulio Caccini: Sfogava con le stele

Jacopo Peri: Nel puro ardour

Claudio Monteverdi: Di misera Regina from "Il ritorno di Ulisse in patria"

Alessandro Scarlatti: Sento nel core

Luigi Dallapiccola: Rencesvals, trois fragments de "La chanson de Roland": I. Molto deciso. Alla Marcia

Luigi Dallapiccola: Rencesvals, trois fragments de "La chanson de Roland": II. Il doppio più lento

Luigi Dallapiccola: Rencesvals, trois fragments de "La chanson de Roland": III. Molto lento
Disk 2
Giulio Caccini: Amarilli in G Minor

Giovanni Legrenzi: Che fiero costume

Francesco Durante: Danza fanciulla gentile

Giulio Caccini: Occhi immortali

Francesco Cavalli: Son ancor pargoletta

Alessandro Scarlatti: O cessate di piagarmi

Alessandro Stradella: Se nel ben sempre incostante

Andrea Falconieri: Occhietti amati

Alessandro Scarlatti: Toglietemi la vita ancor

Raffaello Rontani: Caldi sospiri

Girolamo Frescobaldi: Sonetto spirituale (Maddalena alla croce)

Girolamo Frescobaldi: Sonetto spirituale in stile recitativo

Claudio Monteverdi: Illustratevi, o cieli (from "Il ritorno d'Ulisse in patria")

Salvatore Rosa: Vado ben spesso cangiando loco

Jacopo Peri: Gioite al canto mio (from "Euridice")

Luigi Dallapiccola: Quattro liriche di Antonio Machado: I. Mosso. con vivacità

Luigi Dallapiccola: Quattro liriche di Antonio Machado: II. Lento. Flessibile

Luigi Dallapiccola: Quattro liriche di Antonio Machado: III. Sostenutissimo

Luigi Dallapiccola: Quattro liriche di Antonio Machado: IV. Quasi adagio. con amarezza