D'Ambrosio: Complete Music for Violin & Piano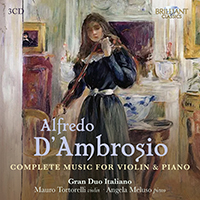 Composer
Alfredo D'Ambrosio
Artist
Gran Duo Italiano
Mauro Tortorelli violin
Angela Meluso piano
Format
3 CD
Cat. number
96727
EAN code
5028421967271
Release
November 2022
About this release
Charming salon miniatures by a Neapolitan master of the musical postcard.

Alfredo d'Ambrosio (1871-1914) was born in Naples and perhaps became a student of Marco Enrico Bossi, but he made his career around the turn of the last century once he moved to France. As the composer of small- and large-scale works for the violin that were premiered and performed by virtuoso soloists of the day, published internationally and appealing in different forms to both amateur and professional musicians, D'Ambrosio enjoyed a measure of fame that seems rapidly to have waned after his death, at the early age of 43. The present album has the field to itself (for now) in attempting a complementary survey of D'Ambrosio's work as a salon musician.

D'Ambrosio wrote a violin concerto, premiered in Berlin, and an opera, first heard in Nice in 1903, but his slender claim to fame rests on the album leaves recorded here, in which he records his friendship and esteem for distinguished colleagues. Aside from his publisher Decourcelle and his daughter Suzanne, D'Ambrosio pays tribute to the friendship of fellow violinists such as August Wilhelmj, Jacques Thibaud and Jan Kubelík. Then there is a trio of fellow violinist-composers, the best known of whom is Vittorio Monti (author of the Csardas which remains popular encore fare).

There are elegies, canzonettas, ariettas, serenatas and romanzas, most of them just a minute or two in length, all written to be enjoyed equally by the musicians, the dedicatee and by their audience. They are revived here with native flair by the Gran Duo Italiano, who have made a series of acclaimed albums for Brilliant Classics, including the sonatas of Saint-Saens (94848) and the music of other lesser-known late-Romantic Italian contemporaries such as Santoliquido (96589) and Scalero (96160).

Alfredo d'Ambrosio (1871-1914) was an Italian composer and violinist. He studied under Enrico Bossi at the Conservatory San Pietro a Majella in Naples, and later with Pablo de Sarasate in Madrid and August Wilhelmj in London. He then settled in Nice, and devoted himself to his compositions and his work as a teacher.

Born in Naples, Alfredo d'Ambrosio wrote two violin concertos, a string quartet in c minor, a quintet, but he is best known for the various concert pieces for violin and piano, which enjoyed great popularity in the early 20th century. His second violin concerto, dedicated to Jacques Thibaud was premiered by Georges Enescu on 6 April 1913 in Paris, conducted by the composer.

This new recording presents the complete works for violin and piano, delightful miniatures in sophisticated salon style, with titles such as Serenade, Berceuse, Canzonetta, Romanza, Valse etc.

Played by Mauro Tortorelli (violin) and Angela Meluso (piano), whose previous recordings for Brilliant Classics (Saint-Saëns, Milhaud, Castelnuovo-Tedesco, Scalero) were highly praised in the international press. 'Tortorelli is equally impressive on viola and on violin… On both instruments he spins a flawless, silky line with perfect intonation.' (Fanfare, May 2017 – Milhaud). 'This release is not just for violinists and lovers of violin music; it's for everyone. Urgently recommended.' (Fanfare, July 2021 – Scalero), 'Sympathetic performance… employing many idiomatic (at least to the period) expressive devices.' (Fanfare, May 2015 – Saint-Saëns).
Listening
Track list
Disk 1
Alfredo D'Ambrosio: Sérénade in D Major, Op. 4 (A M. P. Decourcelle)

Alfredo D'Ambrosio: Canzonetta No. 1 in G Minor, Op. 6 (A Eugène Gandolfo)

Alfredo D'Ambrosio: Romanza in D Major, Op. 9 (A Carlo Germano)

Alfredo D'Ambrosio: Mazurka in D Minor, Op. 11 (A Pablo de Sarasate)

Alfredo D'Ambrosio: Strimpellata in G Minor, Op. 12 (A Hugo Heermann)

Alfredo D'Ambrosio: Cavatina in F-Sharp Minor, Op. 13 (A Jaroslaw Kocian)

Alfredo D'Ambrosio: Sicilienne, Op. 14

Alfredo D'Ambrosio: Berceuse, Op. 15 (A Mireille)

Alfredo D'Ambrosio: Novelletta No. 1, Op. 16

Alfredo D'Ambrosio: Aubade in G Major, Op. 17

Alfredo D'Ambrosio: Rêverie in A Major, Op. 18 (A Mlle Jeanne Vautier)

Alfredo D'Ambrosio: Novelletta No. 2 in E-Flat Major, Op. 20

Alfredo D'Ambrosio: Feuille d'album, Op. 21

Alfredo D'Ambrosio: Aria in D Minor, Op. 22 (A Jan Kubelík)

Alfredo D'Ambrosio: Arietta, Op. 23

Alfredo D'Ambrosio: Orientale in D Minor, Op. 24 (A Jacques Thibaud)
Disk 2
Alfredo D'Ambrosio: Introduction et humoresque, Op. 25 (A Edie Reynolds)

Alfredo D'Ambrosio: Madrigal, Op. 26

Alfredo D'Ambrosio: Romanza in G Major, Op. 27 (A Joseph Debroux)

Alfredo D'Ambrosio: Deuxième canzonetta, Op. 28

Alfredo D'Ambrosio: Berceuse, Op. 30

Alfredo D'Ambrosio: Caprice-Sérénade in E Major, Op. 31 (A August Wilhelmj)

Alfredo D'Ambrosio: 2 Pieces, Op. 35: I. Sonnet allègre

Alfredo D'Ambrosio: 2 Pieces, Op. 35: II. Nocturne

Alfredo D'Ambrosio: Petite Suite, Op. 37: I. Chanson napolitaine

Alfredo D'Ambrosio: Petite Suite, Op. 37: II. Mélancolie

Alfredo D'Ambrosio: Petite Suite, Op. 37: III. Valse

Alfredo D'Ambrosio: 2 Pieces, Op. 38: I. Aveu (A Achille Simonetti)

Alfredo D'Ambrosio: 2 Pieces, Op. 38: II. Le route (A Ernesto Centola)

Alfredo D'Ambrosio: Ballade in G Minor, Op. 39 (A Vittorio Monti)
Disk 3
Alfredo D'Ambrosio: Serenata in G Major, Op. 40

Alfredo D'Ambrosio: Burlesque, Op. 43

Alfredo D'Ambrosio: Racconto in A Major, Op. 44

Alfredo D'Ambrosio: Tarentelle napolitaine, Op. 45

Alfredo D'Ambrosio: Elégie, Op. 46

Alfredo D'Ambrosio: Troisième canzonetta, Op. 47 (A Mlle Suzanne Decourcelle)

Alfredo D'Ambrosio: Idylle, Op. 48 (A Mr Georges de Franco de Almodovar)

Alfredo D'Ambrosio: Serenatella in E Major, Op. 50 (A Fernand Monge)

Alfredo D'Ambrosio: Aubade, Op. 53 (A Mario Frosali)

Alfredo D'Ambrosio: Napoli-Sérénade, Op. 54 (A G. Bonincontro)

Alfredo D'Ambrosio: Intermède Louis XV, Op. 55

Alfredo D'Ambrosio: Ariette, Op. 56

Alfredo D'Ambrosio: À ton reveil

Alfredo D'Ambrosio: Souvenance