D'Anglebert: Complete Harpsichord Music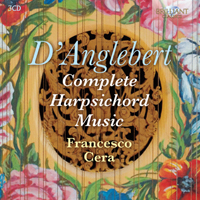 | | |
| --- | --- |
| Composer | Jean-Henry d'Anglebert |
| Artist | Francesco Cera harpsichord |
| Format | 3 CD |
| Cat. number | 94793 |
| EAN code | 5028421947938 |
| Release | August 2014 |
About this release
Despite the fact that he came from a modest background, the composer and harpsichordist Jean-Henri d'Anglebert managed to carve out an impressive career for himself in 17th-century Paris, which culminated with his appointment as harpsichordist at the court of King Louis XIV. His musical style is characterised by a rich and expressive contrapuntal and harmonic language, as well as lavish ornamentation.

The four Suites heard here constitute D'Anglebert's Pièces de Clavecin, which represent one of the most significant musical achievements of the second half of the 17th century. It is the composer's magnum opus, in which he took what he had learnt about the French school of composition and performance from his predecessor at Louis XIV's court, the highly influential Jacques Champion de Chambonnières, and enhanced it with his unique artistry. His sophisticated ornamentation was unprecedented at the time and posed a real challenge for performers. Other remarkable features of the Suites include striking examples of the Prélude non mesuré (written without rhythm or metre indications), solemn and meditative Gaillardes and Passacailles contrasted with lively Correnti and Gigues, and an intimate homage to Chambonnières which closes the fourth Suite. The Lully transcriptions showcase D'Anglebert's admiration for, and close affinity with, the composer – he played the harpsichord in many of the performances of Lully's tragédies lyriques – and invest what was the widespread and sometimes commonplace practice of transcription with a much greater artistic value, using the harpsichord to suggest orchestral textures.

D'Anglebert's complete harpsichord works are performed by early music specialist Francesco Cera, who regularly appears with leading early music ensembles and has been acclaimed for his 'great intelligence' and 'impeccable interpretative command' (Amadeus).

Other information:
- Recorded in 2013 in Italy.
- This important release present the complete music for harpsichord on 3 CD's by Henri D'Anglebert.
- D'Angelbert was a famous keyboard virtuoso and composer at the court of Louis the XIV, the Sun King. His style is typically French, expressed in a rich counterpoint and lavish ornamentation, a free and improvisatory style, in which sometimes the metre indications are missing ("non mesuré") and a high level of virtuosity.
- Francesco Cera is one of the foremost Italian cembalists, having recorded extensively for various labels, and is considered a specialist in the French repertoire. He plays a magnificent instrument, a copy after Tibaut 1691.
- A valuable addition to the ever growing discography of Baroque keyboard masters on Brilliant Classics (Rameau, Couperin, Duphly, Buxtehude, Reincken, Böhm, Muffat, Gronau, Froberger and many more)!
- Booklet includes liner notes and artist biographies.
Track list
Disk 1
Jean-Henry d'Anglebert: Suite No. 1 in G Major: I. Prélude

Jean-Henry d'Anglebert: Suite No. 1 in G Major: II. Allemande

Jean-Henry d'Anglebert: Suite No. 1 in G Major: III. Courante

Jean-Henry d'Anglebert: Suite No. 1 in G Major: IV. Double de la courante

Jean-Henry d'Anglebert: Suite No. 1 in G Major: V. Seconde courante

Jean-Henry d'Anglebert: Suite No. 1 in G Major: VI. Troisième Courante

Jean-Henry d'Anglebert: Suite No. 1 in G Major: VII. Sarabande

Jean-Henry d'Anglebert: Suite No. 1 in G Major: VIII. Gigue

Jean-Henry d'Anglebert: Suite No. 1 in G Major: XVII. Seconde cigue

Jean-Henry d'Anglebert: Suite No. 1 in G Major: IX. Gaillarde

Jean-Henry d'Anglebert: Suite No. 1 in G Major: X. Chaconne rondeau

Jean-Henry d'Anglebert: Suite No. 1 in G Major: XI. Gavotte

Jean-Henry d'Anglebert: Suite No. 1 in G Major: XII. Menuet

Jean-Henry d'Anglebert: Suite No. 2 in G minor: I. Prélude

Jean-Henry d'Anglebert: Suite No. 2 in G minor: II. Allemande

Jean-Henry d'Anglebert: Suite No. 2 in G minor: III. Courante

Jean-Henry d'Anglebert: Suite No. 2 in G minor: IV. Seconde courante

Jean-Henry d'Anglebert: Suite No. 2 in G minor: VI. Sarabande

Jean-Henry d'Anglebert: Suite No. 2 in G minor: VIII. Gigue

Jean-Henry d'Anglebert: Suite No. 2 in G minor: X. Gaillarde

Jean-Henry d'Anglebert: Suite No. 2 in G minor: XI. Passacaille
Disk 2
Jean-Henry d'Anglebert: Suite No. 3 in D Minor: I. Prélude

Jean-Henry d'Anglebert: Suite No. 3 in D Minor: II. Allemande

Jean-Henry d'Anglebert: Suite No. 3 in D Minor: III. Courante

Jean-Henry d'Anglebert: Suite No. 3 in D Minor: IV. Double de la courante

Jean-Henry d'Anglebert: Suite No. 3 in D Minor: V. Seconde courante

Jean-Henry d'Anglebert: Suite No. 3 in D Minor: VI. Sarabande. Grave

Jean-Henry d'Anglebert: Suite No. 3 in D Minor: VII. Sarabande

Jean-Henry d'Anglebert: Suite No. 3 in D Minor: VIII. Gigue

Jean-Henry d'Anglebert: Suite No. 3 in D Minor: IX. Gaillarde

Jean-Henry d'Anglebert: Suite No. 3 in D Minor: X. Gavotte

Jean-Henry d'Anglebert: Suite No. 3 in D Minor: XI. Menuet

Jean-Henry d'Anglebert: Suite No. 3 in D Minor: XIII. Variations sur les folies d'Espagne

Jean-Henry d'Anglebert: Suite No. 4 in D Major: I. Allemande

Jean-Henry d'Anglebert: Suite No. 4 in D Major: II. Courante

Jean-Henry d'Anglebert: Suite No. 4 in D Major: III. Seconde courante

Jean-Henry d'Anglebert: Suite No. 4 in D Major: IV. Sarabande

Jean-Henry d'Anglebert: Suite No. 4 in D Major: V. Gigue

Jean-Henry d'Anglebert: Suite No. 4 in D Major: VII. Chaconne rondeau

Jean-Henry d'Anglebert: Suite No. 4 in D Major: VIII. Tombeau de M. de Chambonnières
Disk 3
Jean-Henry d'Anglebert: Suite No. 1 in G Major: XIII. Overture de Cadmus (Arr. D'Anglebert)

Jean-Henry d'Anglebert: Suite No. 1 in G Major: XIV. Ritournelle des fées de Roland (Arr. D'Anglebert)

Jean-Henry d'Anglebert: Suite No. 1 in G Major: XV. Menuet "Dans nos bois" (Arr. D'Anglebert)

Jean-Henry d'Anglebert: Suite No. 1 in G Major: XVI. Chaconne de Phaëton (Arr. D'Anglebert)

Jean-Henry d'Anglebert: Suite No. 2 in G minor: V. Courante de Lully (Arr. D'Anglebert)

Jean-Henry d'Anglebert: Suite No. 3 in D Minor: IV. Double de la Courante de Lully No. 2 (Arr. D'Anglebert)

Jean-Henry d'Anglebert: Suite No. 2 in G minor: VII. Sarabande "Dieu des Enfers"

Jean-Henry d'Anglebert: Suite No. 2 in G minor: IX. Gigue de Lully (Arr. D'Anglebert)

Jean-Henry d'Anglebert: Suite No. 2 in G minor: XII. Menuet "La Jeune Iris"

Jean-Henry d'Anglebert: Suite No. 2 in G minor: XIII. Gavotte "Où estes vous allé" – Air ancien

Jean-Henry d'Anglebert: Suite No. 2 in G minor: XIV. Gavotte "Le Beau Berger Tirsis" – Air ancien

Jean-Henry d'Anglebert: Suite No. 2 in G minor: XV. La Bergère Annette – Vaudeville

Jean-Henry d'Anglebert: Suite No. 2 in G minor: XVI. Ouverture de la Mascarade

Jean-Henry d'Anglebert: Suite No. 2 in G minor: XVII. Les Sourdines d'Armide

Jean-Henry d'Anglebert: Suite No. 2 in G minor: XVIII. Les Songes agréables d'Atys

Jean-Henry d'Anglebert: Suite No. 2 in G minor: XIX. Air d'Apollon du Triomphe de l'Amour

Jean-Henry d'Anglebert: Suite No. 2 in G minor: XX. Menuet de Poitou – Vaudeville

Jean-Henry d'Anglebert: Suite No. 2 in G minor: XXI. Passacaille d'Armidey

Jean-Henry d'Anglebert: Suite No. 3 in D Minor: XII. Ouverture de Proserpine

Jean-Henry d'Anglebert: Suite No. 4 in D Major: VI. Chaconne de Galatée

Jean-Henry d'Anglebert: Pièces in C Major: I. Prélude

Jean-Henry d'Anglebert: Pièces in C Major: II. Allemande

Jean-Henry d'Anglebert: Pièces in C Major: III. Gaillarde

Jean-Henry d'Anglebert: Pièces in C Major: IV. Double

Jean-Henry d'Anglebert: Pièces in C Major: V. Chaconne