Dargomyzhsky: Rusalka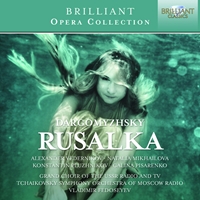 Composer
Alexander Sergeyevich Dargomyzhsky
Artist
Grand Choir of the USSR Radio and TV
Tchaikovsky Symphony Orchestra of Moscow Radio
Vladimir Fedoseyev conductor
Format
2 CD
Cat. number
94718
EAN code
5028421947181
Release
September 2013
About this release
Best known for his final opera, The Stone Guest, Alexander Dargomyzhsky was a 19th-century composer who effectively bridged the gap in Russian national opera between Mikhail Glinka and the later generation of The Five and Tchaikovsky. His Rusalka of 1848–55 predates Dvořák's, and supposedly came about as a result of reading the opening line of Pushkin's incomplete dramatic poem of the same name: 'The Mermaid (Rusalka) sits on the branches'. It is a tale of woe, a confluence of the real and fantastic worlds that results in the Prince entering the underwater kingdom in order to be with his beloved, Natasha.

Such feelings as narrated in the opera – the sufferings of a father, maddened with grief; the pain of a rejected woman; the belated repentance of the Prince – were inherent to the literary works of Fyodor Dostoyevsky and the paintings of Alexander Ivanov of that time, and Dargomyzhsky's heartfelt drama, touching in its simplicity, is most keenly felt in the improvisational style of the work's musical language – particularly in its pioneering application of the musical recitative, later developed by composers such as Mussorgsky. The work was not an instant success with the public, but this astute, rare 1983 recording underlines the eventual (and deserved) admiration it received. Natalia Mikhailova and Konstantin Pluzhnikov take on the two protagonist roles, ably supported by the Tchaikovsky Symphony Orchestra of Moscow Radio under their chief conductor of the time, Vladimir Fedoseyev.

Other information:
- Recorded in 1983 with full Russian forces, conducted by the esteemed Vladimir Fedoseyev.
- Following the success of 'The Stone Guest' (BC 94028) this set presents Dargomizhky's Rusalka (written before Dvorak's opera on the same topic).
- A superb addition to the Brilliant Classics Opera Collection, the treasure trove of the famous and unexpected!
- Dargomizhky bridges the gap in Russian music between Glinka and the 'Mighty Handful' (or 'The Five'). Especially Mussorgsky learned a lot from him: the bold and improvisational style, and the heartfelt romantic language.
- Booklet contains notes on the music and a synopsis of the opera.
Track list
Disk 1
Rusalka: Overture

Rusalka, Act 1, Scene 1: No. 1, Aria "Oh, to-to zhe vi devki molodie" (Miller)

Rusalka, Act 1, Scene 1: No. 2, Recitative "Tehu! Ya slyshy topot ego konya…" (Natasha) - Trio "Ah, proshlo to vremiya, vremiya zolotoe…" (Natasha, Miller, Prince)

Rusalka, Act 1, Scene 1: No. 3, Chorus "Ah ty, sierdze moyo sierdze, retivoe…

Rusalka, Act 1, Scene 1: No. 4, Recitative and Duet "Äh, ne po priezhnemu meneya ty lyubish!" (Prince, Natasha)

Rusalka, Act 1, Scene 1: No. 5, Recitative "Chto za tchudnaya poviyazka…" (Miller) - Duet "Vidish li, Knyaziya ne volny…" (Natasha, Miller)

Rusalka, Act 1, Scene 1: No. 6, Finale "Ty slyshish? Narod idyot syuda…"

Rusalka, Act 2, Scene 1: No. 7, Chorus "Kak vo gomitze – svetlitze…"

Rusalka, Act 2, Scene 1: No. 8, Aria and Duet "Podrugi detstva, podrugi svietlih dnei…" (Princess, Prince)

Rusalka, Act 2, Scene 1: No. 9, Recitative and Chorus "Da zdravstvuiyet nash Knyaz mladoi…"

Rusalka, Act 2, Scene 1: No. 10, Slavonic Dance
Disk 2
Rusalka, Act 2, Scene 1: No. 11, Gipsy Dance

Rusalka, Act 2, Scene 1: No. 12, Finale "Tchto zh, krasniye devitzi, viy primolkli…"

Rusalka, Act 3, Scene 1: No. 13, Introduction - Recitative and Aria "Tchu! Kazhetsya, trubyat!" (Princess)

Rusalka, Act 3, Scene 1: No. 14, Recitative and song "Knyaginya bednaya!" (Olga)

Rusalka, Act 3, Scene 2: No. 15, Chorus of the Mermaids "Svobodnoi tolpoyu, s glubokogo dna…"

Rusalka, Act 3, Scene 2: No. 16, Recitative "Nevolno k etim grustnim beregam…" (Prince) - Cavatina "Mne vsyo zdyes na pamyat privodit byloye…" (Prince)

Rusalka, Act 3, Scene 2: No. 17, Duet with Chorus "Chto eto znatchit?" (Prince, Miller)

Rusalka, Act 4, Scene 1: No. 18, Dance of the Mermaids - No. 19, Recitative "Ostav'te pryazhu, sestry…" (Mermaid) - Aria "Ty nezhnee k nemu prilaskaisya, moi drug…"

Rusalka, Act 4, Scene 2: No. 20, Finale