Dargomyzhsky: The Stone Guest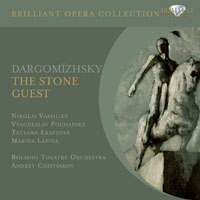 Composer
Alexander Sergeyevich Dargomyzhsky
Artist
Nikolai Vassiliev Don Juan, tenor
Orchestra of the Bolshoi Theatre
Andrey Chistiakov conductor
Format
1 CD
Cat. number
94028
EAN code
5028421940281
Release
May 2010
About this release
Alexander Dargomizhky (1813-69) wrote The Stone Guest at the very end of his life, as he lay dying. He left strict instructions that the unfinished work be completed by Cesar Cui, and orchestrated by Rimsky-Korsakov.

Based on Pushkin's version of the Don Juan story ( Mozart's Don Giovanni is the most famous setting of the story), Dargomizhky had to be coerced into composing this opera by Borodin, Balakirev, Cui, Rimsky and Mussorgsky. He was deeply hurt by the failure of his earlier operas Rusalka and Esmerelda, and had given up writing for the stage.

The Stone Guest has exerted a considerable influence over Russian music and opera in particular due to the innovative use of melodic recitative. In this work Dargomizhky's use of this new technique succeeded and lay the foundation stone for many of the Russian operas that followed. He is a minor composer but an influential figure in the development of the Russian nationalist musical style in the period between Glinka and 'The Five'.

Other information:
- Unusual repertoire, recorded in 1995.
Track list
Disk 1
The Stone Guest: Introduction

The Stone Guest: Scene 1: in the precincts of a monastery

The Stone Guest: Scene 2: Dinner at Laura's house

The Stone Guest: Act 2: The mausoleum of the Commander

The Stone Guest: Act 3: A room in Donna Anna's house