De Falla Collection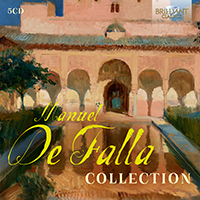 | | |
| --- | --- |
| Composer | Manuel de Falla |
| Artist | Various artists |
| Format | 5 CD |
| Cat. number | 96353 |
| EAN code | 5028421963532 |
| Release | September 2021 |
About this release
With its super-budget-priced boxes of Bach, Mozart, Haydn, Beethoven, Brahms, Tchaikovsky and Shostakovich among many others, Brilliant Classics cornered the market in definitive composer editions long before other labels began to follow their lead. Music-lovers can now add a one-stop guide to the thrilling and colourful world of Manuel de Falla to their libraries with this comprehensive collection of his greatest masterpieces in modern digital recordings.

As the central figure of Spanish music in the first half of the last century, de Falla (1876-1946) came to define the sound of Spain for listeners beyond its borders. Folk music, romanticism, neoclassicism, modernism: all the prevalent styles of his time were assimilated and absorbed within a personal idiom that advanced the work of notable predecessors such as Albeniz and Granados in establishing a distinctively Spanish idiom for art music, making him a worthy contemporary of other composers outside the central European mainstream from Vaughan Williams in England to Bartók in Hungary and Sibelius in Finland.

Falla's cycle of Seven Popular Spanish Songs is a perfect synthesis of artsong and folksong, performed here in Luciano Berio's orchestration by Marta Senn and the Simon Bolivar Orchestra of Venezuela under the baton of Eduardo Mata, the Mexican conductor renowned for his dynamic interpretations of Hispanic repertoire. The songs return in their instrumental guise as the Suite populaire espagnole, with the cellist Timora Rosler accompanied by Klára Würtz. Rafael Puyana is a uniquely sympathetic soloist in the Harpsichord Concerto which gave the instrument new life beyond its Baroque associations. Benita Meshulam is widely recognised as the inheritor of Alicia de Larrocha's mantle with her superbly atmospheric recordings of Spanish piano music.
But Falla's genius lies first and foremost in his work for the stage, bringing the blood-red passions and dark intensity of Spanish folk culture to opera and ballet as if translating the canvases of Goya into score. La vida breve masterfully integrates native gypsy cante jondo with verismo influences from Italy, while his sensitivity to the innovations of French musical impressionism resulted in the original and much imitated soundworld of Love the Magician before The Three-Cornered Hat pioneered a liberating portrait of Spanish culture in complement to Picasso's cubist sets. More subtly ironic in tone, Master Peter's Puppet Show is the little-known jewel of Falla's scores for the theatre, presented here in another superbly idiomatic Mexican recording masterminded by Eduardo Mata.

For a definitive guide to the refined, multifaceted world of Manuel de Falla, look no further.

- Regarded as the greatest Spanish composer of the twentieth century, Manuel de Falla developed an interest in native Spanish music - in particular Andalusian flamenco - while studying with Felipe Pedrell in Madrid in the late 1890s. From 1907 to 1914 he lived in Paris where he met, and was influenced by, Ravel, Debussy and Dukas. Together with his compatriots Isaac Albéniz and Enrique Granados he established the Spanish national school, integrating the rich Spanish folklore and music tradition in their own personal language.
- This 5-CD set presents the most important works by De Falla: the ballet El Amor Brujo, the Dances from El Sombrero de Tres Picos, Master Peter's Puppet Show, La Vida Breve, the piano concerto Nights in the Gardens of Spain, the Harpsichord Concerto, the popular Seven Spanish Folksongs and the complete piano music.
- Excellent performances by the Simón Bolívar Symphony Orchestra of Venezuela/Eduardo Mata, Martha Senn (mezzo soprano), and pianist Benita Meshulam.
Listening
Track list
Disk 1
Manuel de Falla: El amor brujo: I. Introduccion y escena

Manuel de Falla: El amor brujo: II. En la Cueva

Manuel de Falla: El amor brujo: III. Canción del amor dolido

Manuel de Falla: El amor brujo: IV. El aparecido

Manuel de Falla: El amor brujo: V. Danza del terror

Manuel de Falla: El amor brujo: VI. El circulo mágico

Manuel de Falla: El amor brujo: VII. A media noche

Manuel de Falla: El amor brujo: VIII. Danza ritual del fuego

Manuel de Falla: El amor brujo: IX. Escena

Manuel de Falla: El amor brujo: X. Canción del fuego fatuo

Manuel de Falla: El amor brujo: XI. Pantomima

Manuel de Falla: El amor brujo: XII. Danza del juego de amor

Manuel de Falla: El amor brujo: XIII. Final. Las campanas del amanecer

Manuel de Falla: 7 Canciones populares españolas: I. El paño moruno

Manuel de Falla: 7 Canciones populares españolas: II. Seguidilla musciana

Manuel de Falla: 7 Canciones populares españolas: III. Asturiana

Manuel de Falla: 7 Canciones populares españolas: IV. Jota

Manuel de Falla: 7 Canciones populares españolas: V. Nana

Manuel de Falla: 7 Canciones populares españolas: VI. Canción

Manuel de Falla: 7 Canciones populares españolas: VII. Polo

Manuel de Falla: Homenajas: I. Fanfare

Manuel de Falla: Homenajas: II. Á Claude Debussy

Manuel de Falla: Homenajas: III. Rappel de la fanfare

Manuel de Falla: Homenajas: IV. Á Paul Dukas

Manuel de Falla: Homenajas: V. Pedrelliana

Manuel de Falla: Dances from the Three-Cornered Hat, Suite No. 2: I. The Neighbour's Dance

Manuel de Falla: Dances from the Three-Cornered Hat, Suite No. 2: II. The Miller's Dance

Manuel de Falla: Dances from the Three-Cornered Hat, Suite No. 2: III. Final Dance
Disk 2
Manuel de Falla: La vida breve, Pt. 1: I. 1st Tableau. Scene 1

Manuel de Falla: La vida breve, Pt. 1: II. Scene 2

Manuel de Falla: La vida breve, Pt. 1: III. Scene 3

Manuel de Falla: La vida breve, Pt. 1: IV. Scene 4

Manuel de Falla: La vida breve, Pt. 1: V. Scene 5

Manuel de Falla: La vida breve, Pt. 1: VI. Scene 6

Manuel de Falla: La vida breve, Pt. 1: VII. 2nd Tableau. Intermezzo

Manuel de Falla: La vida breve, Pt. 2: I. 1st tableau. Scene I

Manuel de Falla: La vida breve, Pt. 2: II. Spanish Dance

Manuel de Falla: La vida breve, Pt. 2: III. Scene 2

Manuel de Falla: La vida breve, Pt. 2: IV. Scene 3

Manuel de Falla: La vida breve, Pt. 2: V. Orchestral Interlude

Manuel de Falla: La vida breve, Pt. 2: VI. 2nd Tableau. Dance

Manuel de Falla: La vida breve, Pt. 2: VII. Final Scene
Disk 3
Manuel de Falla: Master Peter's Puppet Show: I. The Proclamation

Manuel de Falla: Master Peter's Puppet Show: II. Master Peter's Symphony

Manuel de Falla: Master Peter's Puppet Show: III. The Court of Charlemagne

Manuel de Falla: Master Peter's Puppet Show: IV. Entrance of Charlemagne

Manuel de Falla: Master Peter's Puppet Show: V. Melisandra

Manuel de Falla: Master Peter's Puppet Show: VI. The Moor's Punishment

Manuel de Falla: Master Peter's Puppet Show: VII. The Pyrenees

Manuel de Falla: Master Peter's Puppet Show: VIII. The Escape

Manuel de Falla: Master Peter's Puppet Show: IX. Finale

Manuel de Falla: Psyché

Manuel de Falla: Concerto for Harpsichord: I. Allegro

Manuel de Falla: Concerto for Harpsichord: II. Lento

Manuel de Falla: Concerto for Harpsichord: III. Vivace
Disk 4
Manuel de Falla: Dances from el sombrero de tres picos: I. Danza del molinero

Manuel de Falla: Dances from el sombrero de tres picos: II. Danza de la molinera

Manuel de Falla: Dances from el sombrero de tres picos: III. Danza de los vecinos

Manuel de Falla: Dances from el sombrero de tres picos: IV. Danza de la vida breve

Manuel de Falla: Dances from el sombrero de tres picos: V. Homenaje de Claude Debussy

Manuel de Falla: Dances from el sombrero de tres picos: VI. Serenata

Manuel de Falla: Dances from el sombrero de tres picos: VII. Mazurka

Manuel de Falla: Dances from el sombrero de tres picos: VIII. Serenata Andaluza

Manuel de Falla: Dances from el sombrero de tres picos: IX. Nocturno

Manuel de Falla: Dances from el sombrero de tres picos: X. Cancion

Manuel de Falla: Dances from el sombrero de tres picos: XI. Fantasia baetica

Manuel de Falla: Noches en los jardines de España, G.49: I. En el generalife

Manuel de Falla: Noches en los jardines de España, G.49: II. Danza lejana

Manuel de Falla: Noches en los jardines de España, G.49: III. En los jardines de la sierra de Córdoba
Disk 5
Manuel de Falla: 4 Piezas Españolas: I. Aragonesa

Manuel de Falla: 4 Piezas Españolas: II. Cubana

Manuel de Falla: 4 Piezas Españolas: III. Montanesa

Manuel de Falla: 4 Piezas Españolas: IV. Andaluza

Manuel de Falla: El amor brujo: XV. Ritual Fire Dance

Manuel de Falla: Cortejo de gnomos

Manuel de Falla: Vals capricho

Manuel de Falla: Allegro de concierto

Manuel de Falla: Canto de los remeros del volga

Manuel de Falla: Pour le tombeau de Paul Dukas

Manuel de Falla: Suite populaire Espagnole: I. El paño moruno

Manuel de Falla: Suite populaire Espagnole: II. Nana

Manuel de Falla: Suite populaire Espagnole: III. Canción

Manuel de Falla: Suite populaire Espagnole: IV. Polo

Manuel de Falla: Suite populaire Espagnole: V. Asturiana

Manuel de Falla: Suite populaire Espagnole: VI. Jota