De Freitas: Complete Music for Violin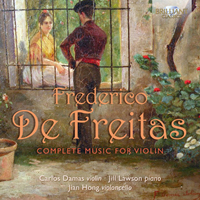 Composer
Frederico De Freitas
Artist
Carlos Damas violin
Jill Lawson violin
Jian Hong violoncello
Format
1 CD
Cat. number
94734
EAN code
5028421947341
Release
October 2015
About this release
Until the last couple of decades, the art-music of Portugal was relatively little known outside its home country, but with releases dedicated to Jose Fernandes (1906-1983) (BC94746) and Antonio Fragoso (1897-1918) (BC94158), Brilliant Classics has been in the vanguard of those record labels who have introduced a vital musical culture on the edge of the European mainstream to an international audience. Both albums featured the Portuguese violinist Carlos Damas and his colleagues Jill Lawson and Jian Hong; they partner each other once again in music by Frederico de Freitas (1902-1980).

A contemporary of Fernandes and Fragoso, de Freitas wrote in the same Romantic and then post-Romantic vein, somewhat removed from the upheavals of 20th-century musical culture that took place in the centre of Europe, writing charming and melodic music with a folkloric character after the manner of de Falla's ballets. This recording, which surveys Freitas's output for violin, includes two works that stand almost at opposite ends of his career: the Berceuse from 1922 and the Dança do Palhaço ("Dance of the Clown") from 1964. However, the Nocturne for violin and piano and Sonata for violin and cello, both composed in 1923, were perceived at the time as highly innovative and modern, especially on account of the use of bitonality and polyrhythms. His outstanding ability as a contrapuntist is is clearly evident in a work such as the Sonata, which is the most extensive work on the disc. The detailed booklet notes are written by the English scholar of Portuguese music (and much else) Ivan Moody, who is also a critic for Gramophone. Of the Fragoso album, Musicweb International noted that 'the label's recordings are nowadays reliably among the best - this one is no different'.

Frederico de Freitas (1902-1980) was one of the most important musical figures of 20th century Portugal: a composer, conductor (founder of the Portuguese radio orchestra), writer, teacher and instrumentalist (piano, violin).
His early compositions are inspired by the musical trends of the time (polyrhythms and polytonality), later he developed a more classical style, in which his own harmonic language (augmented modality) and the inspiration of his country's rich folk music tradition are the most important elements.
This CD contains De Freitas' complete works for violin and piano, music of a rich originality, worthy to discover and cherish.
Portuguese violinist Carlos Damas is a strong advocate of this music: sensuous tone, intimacy and passion, perfectly suited to the music's mood. Pianist Jill Lawson is an excellent partner, the duo having successfully recorded for Brilliant Classics already (Antonio Fragoso, works for violin and piano, BC 94158).
Booklet contains excellent liner notes by Ivan Moody.
Listening
Track list
Disk 1
Frederico De Freitas: Allegro appassionato for Violin and Piano

Frederico De Freitas: Notturno for Violin and Piano

Frederico De Freitas: Sonata for Violin and Piano: I. Allegro moderato

Frederico De Freitas: Sonata for Violin and Piano: II. Adagio con molto espressione e sentiment

Frederico De Freitas: Sonata for Violin and Piano: III. Allegro con spirit

Frederico De Freitas: Berceuse for Violin and Piano

Frederico De Freitas: Clown Dance for Violin and Piano

Frederico De Freitas: 3 Short Pieces: I. Serenata perdida

Frederico De Freitas: 3 Short Pieces: II. Música para funerais

Frederico De Freitas: 3 Short Pieces: III. Alla zingarese

Frederico De Freitas: Sonata for Violin and Violoncello: I. Andante quasi moderato

Frederico De Freitas: Sonata for Violin and Violoncello: II. Scherzo pittoresco

Frederico De Freitas: Sonata for Violin and Violoncello: III. Adagio non tanto

Frederico De Freitas: Sonata for Violin and Violoncello: IV. Allegro appassionato