De Macque: The keyboard school at Gesualdo's Court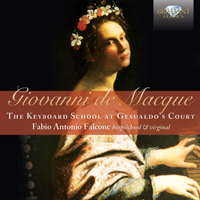 | | |
| --- | --- |
| Composer | Giovanni de Macque |
| Artist | Fabio Antonio Falcone |
| Format | 1 CD |
| Cat. number | 94998 |
| EAN code | 5028421949987 |
| Release | December 2014 |
About this release
Comprised of 25 tracks and featuring eight different composers, this release celebrates the best of Giovanni de Macque and his contemporaries in late‐16th‐century Naples. Each piece hails from the 'Luigi Rossi' manuscript, a collection compiled in 1617 that survives to this day, giving us an extraordinary overview of the keyboard compositions written for the aristocrats who ruled the Kingdom of Naples at the time. Indeed, at a time when wealthy families were striving to retain their power and influence as the lower classes benefitted from a sharp economic upturn, the music of this period was highly complex, still exclusively aimed at the cultivated upper classes: extreme chromaticism as well as extensive use of polyphony and harmonic audacity are common traits of these works. On his arrival in Naples, De Macque made sure to curry favour with the right people, including Fabrizio Gesualdo, whose son Carlo became a famous composer in his own right. Works by both men, along with other renowned composers of their day, are included on this release, and the connection between De Macque and Gesualdo is clear to see. De Macque was far ahead of his time, and became the forerunner of the Neapolitan keyboard school, counting Mayone, Trabaci and Rossi among his pupils, all of whom feature on this disc. This release is a testament to the close artistic circle operating at Gesualdo's court at the time: the stylistic unity between these composers and homogenous character of the pieces is by no means incidental. Fabio Antonio Falcone, a passionate performer of Renaissance and early Baroque music, has carefully selected the period instruments for this recording, leading to a highly authentic performance of these historical works. Having studied in The Netherlands with renowned harpsichordist Bob van Asperen, he has already made a name for himself, winning the special prize for Outstanding Performance of a 17th‐century Italian Composition at the National Harpsichord Competition in Pesaro in 2007. He is regularly invited to perform internationally and is often heard in conjunction with his ensemble Pizzicar Galante. This is his first release for Brilliant Classics.

This release presents a fascinating view of the cultural life of early 17th century Naples. The aristocracy surrounded themselves with artists of the highest calibre, and music was an essential part of the entertainment of the happy few.
The 25 works by 8 different composers on this CD are drawn from the famous 'Luigi Rossi Manuscript' from 1617. The most influential figure was Giovanni de Macque, whose complex polyphonic works full of daring chromatism had great influence on composers around and after him: Trabaci, Dall'Arpa, Lambardo, Stella and Gesualdo. Fabio Antonio Falcone, a passionate musician and scholar, selected several historical instruments to perform these keyboard works: the harpsichord and virginal, described in detail in the highly informative booklet notes, written by the artist.
Released to coincide with 400th anniversary of De Macque's death.

Other information:
Recorded in 2013 at the Cavalli Musica store in Castrezzato, Italy.
Notes on the 'Luigi Rossi' manuscript.
Extensive notes on De Macque and the Neapolitan school.
Notes on the performer and the instruments.
Track list
Disk 1
Giovanni de Macque: Partite sopra 'La Romanesca'

Giovanni de Macque: Partite sopra 'Il Ruggiero'

Giovanni de Macque: Partite sopra 'Zefiro'

Giovanni de Macque: Capriccietto

Giovanni de Macque: Toccata

Giovanni de Macque: Canzon

Giovanni de Macque: Canzon sopra 'Susanna'

Giovanni de Macque: Canzon

Giovanni de Macque: Canzone 'Cromatica'

Giovanni de Macque: Canzone chiamata 'Le due sorelle'

Giovanni de Macque: Prime stravaganze

Giovanni de Macque: Seconda breve canzon

Giovanni de Macque: Prima gagliarda

Giovanni de Macque: Gagliarda

Giovanni de Macque: Gagliarda

Giovanni de Macque: Seconda gagliarda

Giovanni de Macque: Gagliarda

Giovanni de Macque: Capriccio sopra 'rè, fà, mi, sol'

Giovanni de Macque: Canzon

Giovanni de Macque: Prima Canzon

Giovanni de Macque: Seconda Canzon

Giovanni de Macque: Toccata a modo di trombette

Giovanni de Macque: Seconde stravaganze

Giovanni de Macque: Canzon francese del principe

Giovanni de Macque: Partite sopra 'Fidele'