De Murcia: Guitar Music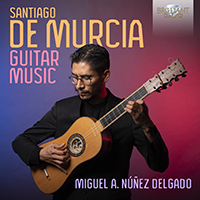 | | |
| --- | --- |
| Composer | Santiago de Murcia |
| Artist | Miguel Alejandro Núñez Delgado guitar |
| Format | 1 CD |
| Cat. number | 96768 |
| EAN code | 5028421967684 |
| Release | June 2023 |
About this release
In the 16th century, the 'discovery' of the Indies finally completed the human universe; it marked the beginning of a meeting between two worlds which, though violent, produced an unprecedented cultural wealth in their merging. However, the numerous historical, musicological and archaeological investigations of the sound cultures from this time have yielded few certainties. We do know, however, that this sound universe was interwoven in the baroque music of various composers, like that of Santiago de Murcia (1673–1739), an iconic figure of the late Spanish Baroque period whose work was the crucible where the sounds of both worlds, the New and the Old, were forged.

The lack of sources relating to Murcia's life has given rise to much conjecture. We know, however, that he taught guitar to Marie Louise of Savoy, the first wife of Philip V and great-niece of Louis XIV, around 1704. The Queen of Spain's French tastes may have led Murcia to take an interest in foreign music, as he is considered 'the first important Spanish guitarist to abandon the native style and adopt French and Italian models.

Santiago de Murcia wrote three notable collections of music, the Resumen de acompañar la parte con la guitarra (1714), Passacalles y obras de guitarra por todos los tonos naturales y acidentales (1732) and the so-called Códice Saldívar No. 4 (c.1732).

The Resumen de acompañar la parte con la guitarra, the only known anthology of pieces by Murcia that was printed, brings together for the first time in Spanish Baroque guitar composition numerous French dances, such as bourrée, courante, gigue, passepied and rigaudon, as well as 26 minuets and three suites in French style. Murcia's work Pasacalles y Obras de Guitarra Por Todos los Tonos Naturales y Acidentales constitutes an essential compendium of some of the most popular instrumental musical genres of the 17th century, in particular, the passacaglia, a musical form of continuous variation in ¾ time. At first this type of music had a bad reputation due to its popular or 'street song'3 character, but by the middle of the 18th century the passacaglia was known for its noble, courtly character. Of a totally different character, Códice Saldívar No. 4 contains some of the most representative popular music of the Baroque period, the fruit of the meeting between the New and the Old World.

This album incorporates works that come from one [now two?] of the most fascinating collections of popular music of the 18th century, a product of the exchange and syncretism of the New World and the Old World, where African-American roots are undoubtedly present. By interspersing a pasacalle with a cumbee, a fandango with a zarambeque, this recording invites you to stroll along the streets of an imaginary 18th-century Novo Hispanic city and listen to its music.

Other information:
- Recorded July–August 2022 in Xalapa, Mexico
- Booklet in English contains liner notes and a profile on the artist

- Not much is known about Santiago De Murcia's (1673-1739) life. In his work Resumen de acompañar la parte con la guitarra, he writes that he is 'el maestro de guitarra' of the Spanish queen María Luisa de Saboya (wife of Philip V). Presumably he was so from 1702 to 1714. Original works by him have turned up in Central and South America, suggesting that he composed works for wealthy Spaniards with trading contacts in the New World.
- Resumen de acompañar la parte con la guitarra is a collection of compositions for the baroque guitar (a double-choired stringed instrument, considered the successor of the lute). One of the important aspects of Murcia's music is his interest in a wide range of music for guitar written by his contemporaries, including that of Spanish, French and Italian composers, and in popular dance forms that probably originated in Africa. Thus, his collections offer works of different styles grouped side by side, providing a rich and varied panorama of the Baroque repertoire for guitar.
- Miguel A. Núñez Delgado was born in 1988 in Puebla, Mexico. In 2010 has attended the famous international summer course at the Chigiana Music Academy in Siena Italy under the teaching of Oscar Ghiglia. His first approach to early instruments was thanks to Javier Hinojosa who was a pupil of Emilio Pujol.
Listening
Track list
Disk 1
Santiago de Murcia: Canarios

Santiago de Murcia: Pasacalles por la cruz

Santiago de Murcia: Cumbees

Santiago de Murcia: Jácaras por la E Major

Santiago de Murcia: Pasacalles por la A Major – a compasillo

Santiago de Murcia: Fandango

Santiago de Murcia: La Jotta

Santiago de Murcia: Pasacalles por la B Major – a compasillo

Santiago de Murcia: Zarambeques o muecas

Santiago de Murcia: Españoletas

Santiago de Murcia: Pasacalles por la C Major – a clarinados

Santiago de Murcia: Tarantellas

Santiago de Murcia: Folías gallegas

Santiago de Murcia: Giga after Corellio

Santiago de Murcia: Folías italianas

Santiago de Murcia: Gaitas

Santiago de Murcia: Marionas por la B Major