De Ribera & Navarro: Masters of the Spanish Renaissance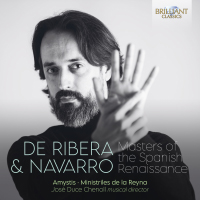 Download booklet
Composer
Bernardino De Ribera, Juan Navarro, Sebastián De Vivanco, Tomás Luis De Victoria
Artist
Amystis
Ministriles de la Reyna
José Duce Chenoll musical director
Format
1 CD
Cat. number
96409
EAN code
5028421964096
Release
March 2022
About this release
With their previous albums for Brilliant Classics, the Amystis ensemble of singers and instrumentalists have won a following for their exploration of lesser-known sacred and secular masterpieces from the Spanish Golden Age of the 16th century.

Tomás Luis de Victoria is the acknowledged master of that period, but relatively little attention has been paid to his childhood and youth, growing up as a chorister in Avila. The music directors of the cathedral at that time, instructing the boy Victoria, were Bernardino de Ribera and his successor Juan Navarro, and so it is especially original and enlightening to hear their music alongside that of their student and one of his contemporaries from Avila, Sebastian de Vivanco, building up a picture of devotional culture in the city from the second half of the 16th century.

The album is launched in splendid style by a trio of motets by Ribera, including the Palm Sunday introit Vox in Rama. Five works by Navarro receive world-premiere recordings, including his intensely expressive setting of the penitential text Laboravi in gemitu meo. As well as a Magnificat by Vivanco there is also a first recording for his Sanctorum meritis, and the album's climax arrives with the familiar mastery of the Salve Regina by Victoria.

Under their founder-director José Duce Chenoll, the members of Amystis sing with a single voice to a part, producing consort performances which are acutely sensitive to the ebb and flow of the polyphony and the meaning of the text. The booklet includes an essay by Chenoll on the theme and historical context of the album, as well as sung texts and translations.

'I wanted to opt for the most realistic sound possible, unsweetened, raw,' says Chenoll: 'I wanted to make the listener perceive the polyphony not only in its structural component but also in its spiritual one. Those who listen to this recording will be able to feel what I felt during its performance, they will be able to experience the music as it resounded in the space where it was recorded and will perceive a spatial, almost spiritual sensation beyond the music itself.'

Critical praise for previous Amystis albums
'The singing and playing are delicate… Specialists will find this fine production of an unknown body of work irresistible.' Cabanilles, Fanfare, September 2014
'Chenoll has an endearing way of letting his singers express the music with a natural flow free of effects.' Comes, Fanfare, January 2017
'an essential addition to any serious collection. You will know if this lovely disc is for you.' 'Ecos del Parnaso', Fanfare, January 2020.

This new recording presents two composers who stood at the cradle of the Golden Age of Spanish Renaissance, Bernardino de Ribera (c.1520- c.1580) and Juan Navarro (c.1530-1580). Both were connected to the Cathedral of Avila and in their musical capacity they were the teachers of several masters-to be, among them the great Tomas Luis de Victoria. During his early musical years, Victoria sang the music of Ribera and Navarro on a daily basis, and they taught him everything he needed to know about polyphony, singing, counterpoint and organ playing. This disc presents also works by de Victoria and Sebastian de Vivanco.
Superb performances by the Spanish vocal ensemble Amystis, specialized in presenting hidden gems from the Spanish Renaissance and Baroque. Their previous recordings for Brilliant Classics with works by Cabanilles and Comes gained excellent critical acclaim in the international press. Early Music Review: 'Amystis are worthy exponents of this glorious music, negotiating its considerable complexity with aplomb.
Listening
Track list
Disk 1
Bernardino De Ribera: Vox in rama

Bernardino De Ribera: Beata mater

Bernardino De Ribera: Dimitte me ergo

Juan Navarro: Laboravi in gemitu meo

Juan Navarro: Ave regina

Juan Navarro: Codex Santiago, Work Without Text

Juan Navarro: Ecce ascendimus hierosolimam

Juan Navarro: Erat Iesus eiiciens daemonium

Juan Navarro: Simile est regnum caelorum

Sebastián De Vivanco: Magnificat 1º tono

Sebastián De Vivanco: Sanctorum meritis

Tomás Luis De Victoria: Salve regina a 8