De Torres: Complete Organ Music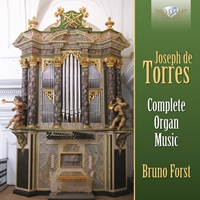 | | |
| --- | --- |
| Composer | José de Torres |
| Artist | Bruno Forst organ |
| Format | 1 CD |
| Cat. number | 94715 |
| EAN code | 5028421947150 |
| Release | February 2014 |
About this release
Joseph de Torres was something of a multifaceted character, for not only was he appointed organist of the Spanish Royal Chapel, later becoming its maestro di capilla in 1718, but he was also responsible for founding a publishing house – where, exercising a virtual monopoly, he promoted many of the most important theoretical works of the time, in addition to the publishing of scores and incidental music.

De Torres was first and foremost, however, a composer of the upmost talent, and the fact that he achieved renown beyond the borders of his native Spain, receiving commissions from as far afield as Latin America (something highly unusual for the time), is a testament to the fine quality of his music. As for his small collection of organ works, they reflect the best of Spanish Baroque keyboard writing, especially that of the Daroca school (a tradition passed on directly to Torres by his teachers). Now preserved in manuscripts housed in Portugal and Mexico, they have been transcribed by the artist on this recording, Bruno Forst, who, as a devotee of the Iberian organ, has dedicated himself to studying tablature and to building up as accurate a picture as possible of 16th- to 18th-century keyboard performance practice – from a player's rather than a scholar's perspective. The pieces, which include a fugue, batalla as well as canción, make the most of the technical innovations introduced by the greatest Iberian organ-builders during the last decades of the 17th century and commonplace by the beginning of the 18th – including the frequent use of light-and-shade echo effects, splendidly illustrated by Forst in this recording.

Other information:
- Recorded 28–29 August 2009, Parish Church of Santa Quiteria, Elche de la Sierra (Albacete), Spain.
- Joseph de Torres was an important and famous composer and organist in Spain during the Baroque period. His fame spread beyond the borders of his country, and the manuscripts of his organ works were eventually found in a library in Mexico, where Bruno Forst found and transcribed them. On this new recording they can be heard for the first time.
- The organ works make full use of the innovations of the Spanish organ in his time, and to hear them played on the magnificent organ of the Organ of the Parish Church of Santa Quiteria, Elche de la Sierra (Albacete) is a thrilling experience!
- New recording, excellent liner notes by the artist and full specifications of the organ in the booklet.
Track list
Disk 1
José de Torres: Libro que contiene onze partidos: No. 1, Batalla

José de Torres: Libro que contiene onze partidos: No. 2, Partido de Segundo

José de Torres: Libro que contiene onze partidos: No. 3, Obra de Mano Derecha

José de Torres: Libro que contiene onze partidos: No. 4, Obra de Séptimo Tono Bajo

José de Torres: Libro que contiene onze partidos: No. 5, Obra de Lleno de Séptimo Tono

José de Torres: Libro que contiene onze partidos: No. 6, Obra de Primer Tono Bajo

José de Torres: Libro que contiene onze partidos: No. 7, Partido de Primero Alto

José de Torres: Libro que contiene onze partidos: No. 8, Fuga

José de Torres: Libro que contiene onze partidos: No. 9, Obra

José de Torres: Libro que contiene onze partidos: No. 10, Partido de Sexto Tono

José de Torres: Libro que contiene onze partidos: No. 11, Canción