De Wert: Motets, Book I (1566)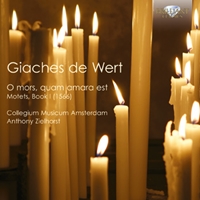 Download booklet
Composer
Giaches de Wert
Artist
Collegium Musicum Amsterdam
Anthony Zielhorst conductor
Format
1 CD
Cat. number
94684
EAN code
5028421946849
Release
January 2014
About this release
Born in 1536, Giaches de Wert represents the fifth and last generation of Franco-Flemish composers – although he in fact spent most of his working life in Mantua, where Duke Guglielmo di Gonzaga had appointed him maestro di cappella of the city's newly built basilica. Gonzaga was himself a talented composer, and his reason for commissioning this church was to do full justice both to liturgy and music, inspired by the ideals of the Counter-Reformation.

Unsurprisingly, given the location of his career, De Wert's style is highly Italianiate, but it is also firmly rooted in the stately Franco-Flemish polyphonic tradition, and it is this combination of 'old' and 'new' (often within a single piece) that makes his 1566 motet collection Motectorum liber primus – the subject of this release – so fascinating. Written for five or six (Adesto solori meo) voices, the set ranges from the 'oldest', almost entirely polyphonic, compositions to works in which there is a constant alternation between sections of counterpoint and choir en bloc, and pieces which are firmly rooted in the style of the Italian genre of the madrigal. All throughout the release, which is divided into three groups (prayers and admonitions; Old Testament texts; gospel narratives), word painting, harmony and structure coalesce to provide a programmatic backdrop to the text; motets such as Transeunte Domino and Intravit Jesus, for example, are veritable historiae sacrae in which the music tells every small detail of the gospel story.

Performing this music is Dutch vocal group Collegium Musicum Amsterdam, one of Europe's leading choirs and which recently marked its 75th anniversary. The ensemble's original focus was on 15th- and 16th-century repertoire of The Netherlands, but in recent years it has branched out to cover all manners of styles – including new music by composers such as Hendrik Andriessen. Here it appears under the directorship of Anthony Zielhorst, one of Netherlands ' leading choral conductors.

Other information:
- Recorded 13, 14 & 21 April 2013, O.L. Vrouw Geboortekerk, Gellicum, The Netherlands.
- Giaches de Wert (1536-1595) was born in Flanders. He became one of the foremost composers of the Golden Age of Renaissance vocal polyphony, together with other illustrious composers: Dufay, Ockeghem, Obrecht, Josquin and Lassus. At an early age he went to Italy, where he became Maestro di Cappella of the Santa Barbara Basilica of Mantua, built by Guglielmo Gonzaga, head of the ruling family who were central in the development of the high cultural climate of Mantua.
- De Wert's music is firmly rooted in the stately Franco-Flemish polyphonic tradition, in which he introduced "Italian" elements expressing the emotional content of the text, such as sadness, sorrow, joy and exaltation.
- This new recording contains the First Book of Motets, a first recording, sung by one of the foremost Early Music Choirs of The Netherlands, the Collegium Musicum Amsterdam, conducted by Anthony Zielhorst.
- Booklet contains notes on the music and biographies of the orchestra and conductor. Sung texts available by clicking 'DOWNLOAD BOOKLET' (on release).
Track list
Disk 1
Giaches de Wert: Motets, Book 1: No. 1, O sacrum convivium

Giaches de Wert: Motets, Book 1: No. 2, O mors, quam amara est

Giaches de Wert: Motets, Book 1: No. 3, Deus, tu scis insipientiam

Giaches de Wert: Motets, Book 1: No. 4, Omnia in vero iudicio

Giaches de Wert: Motets, Book 1: No. 5, Nolite esse prudentes

Giaches de Wert: Motets, Book 1: No. 6, Ego autem in Domino sperabo

Giaches de Wert: Motets, Book 1: No. 7, Adesto dolori meo

Giaches de Wert: Motets, Book 1: No. 8, Clama ne cesses

Giaches de Wert: Motets, Book 1: No. 9, Qui vindicari vult

Giaches de Wert: Motets, Book 1: No. 10, Tu Deus clemens

Giaches de Wert: Motets, Book 1: No. 11, Cum intrasset Jesus

Giaches de Wert: Motets, Book 1: No. 12, Omnis homo

Giaches de Wert: Motets, Book 1: No. 13, Domine si tu es

Giaches de Wert: Motets, Book 1: No. 14, Paraclitus autem spiritus

Giaches de Wert: Motets, Book 1: No. 15, Intravit Jesus

Giaches de Wert: Motets, Book 1: No. 16, Transeunte Domino