Debussy: Etudes, Estampes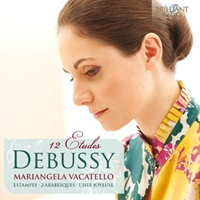 | | |
| --- | --- |
| Composer | Claude Debussy |
| Artist | Mariangela Vacatello piano |
| Format | 1 CD |
| Cat. number | 94371 |
| EAN code | 5028421943718 |
| Release | September 2012 |
About this release
The Debussy-year 2012 brought a wealth of reissues on the market, but surprisingly few new recordings. Reason the more to welcome this new recording of a generous selection of Debussy piano works, centred around the substantial "12 Etudes".These works, written in the later stage of Debussy's creative life, form the apotheosis of his style. Far from any evocative "impressionistic" Tonmalerei or picturesque
atmosphere painting they are Debussy's answer to the Etudes of Chopin, purely abstract creations of melody, harmony and rhythm. Fiercely uncompromising and difficult, they form the summit of Debussy's piano oeuvre, and one of the highest challenges to any performing pianist.

The exciting young Italian pianist Mariangela Vacatello is a Liszt specialist, renowned for her passionate performances and technical ability. She has given concerts at prestigious venues across the USA and Europe, and she has won many awards. These include second prize at the Franz Liszt International Piano Competition in 1999, and the Internet Audience Award at the 2009 Van Cliburn International Piano Competition. 'A very exciting player' Musical Opinion, 2008.

Vacatello's previous disc of the Transcendental Studies on Brilliant Classics won golden opinions; now she turns to a no less challenging but somewhat more elliptical aesthetic with the late piano music of Debussy. The 12 Etudes move from ironic instruction to fiendish complexity; part satire, part evocation of a lost world. Complementing the Etudes are the more immediately assimilable sets of Estampes and early Arabesques as well as the delightful glitter of L'Isle Joyeuse.

Other information:
- Recorded in 2012.
- Includes booklet notes and biography.
- The young Italian pianist Mariangela Vacatello likes challenges, as was convincingly proven by her excellent recording of the Liszt Transcendental Studies (Brilliant Classics): "…poetic and playful, her technique knows no limits..a remarkable artist.." (Piano News) and a "5 Star" review in the German magazine Fono Forum.
- Liner notes in English and Italian.
Track list
Disk 1
Claude Debussy: 12 Etudes: I. Pour les cinq doigts (d'après Monsieur Czerny)

Claude Debussy: 12 Etudes: II. Pour les tierces

Claude Debussy: 12 Etudes: III. Pour les quartes

Claude Debussy: 12 Etudes: IV. Pour les sixtes

Claude Debussy: 12 Etudes: V. Pour les octaves

Claude Debussy: 12 Etudes: VI. Pour les huit doigts

Claude Debussy: 12 Etudes: VII. Pour les degrés chromatiques

Claude Debussy: 12 Etudes: VIII. Pour les agréments

Claude Debussy: 12 Etudes: IX. Pour les notes répétées

Claude Debussy: 12 Etudes: X. Pour les sonorités opposées

Claude Debussy: 12 Etudes: XI. Pour les arpèges composés

Claude Debussy: 12 Etudes: XII. Pour les accords

Claude Debussy: Estampes: I. Pagodes

Claude Debussy: Estampes: II. La soirée dans Grenade

Claude Debussy: Estampes: III. Jardins sous la pluie

Claude Debussy: Deux Arabesques: No. 1 Andantino con moto

Claude Debussy: Deux Arabesques: No.2 Allegretto scherzando

Claude Debussy: L'Isle joyeuse