Debussy, Ravel, Franck: French Violin Sonatas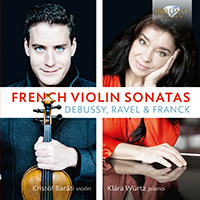 Download booklet
Composer
César Auguste Franck, Claude Debussy, Maurice Ravel
Artist
Kristóf Baráti violin
Klára Würtz piano
Format
1 CD
Cat. number
95576
EAN code
5028421955766
Release
January 2020
About this release
Among the most talented violinists of his generation, Kristóf Baráti has made a string of recordings for Brilliant Classics that have been highly recommended across the board. Fanfare magazine's reviewers have favourably compared his recordings of Korngold (BC95006) to that of Heifetz and Beethoven (BC94310) to that of Mutter, lavishing praise on his long-standing artistic partnership with his fellow Hungarian Klára Würtz. 'For those who don't equate depth with unattractive mannerisms, Baráti and Würtz will seem to make a journey that traces Beethoven's development more successfully than do, say, Mutter with Lambert Orkis… Their geniality makes listening to the whole set highly palatable as well as instructive. Urgently recommended.'

Baráti and Würtz now turn their attention to a classic trio of Francophone violin sonatas from the turn of the last century. César Franck's Belgian origins and Wagnerian leanings hardly obscure the French accent of the Violin Sonata which he composed towards the end of his life, and in it distilled the essence of his long-range harmonic thinking. The sonata's lucid cyclical form leads the listener on a journey of restrained passions, yet still far more overt in its passions than the sonata composed by the ailing Debussy in the middle of the First World War. This is a work riven by outer sickness and conflict, yet sustained from within by an enduring love for another age of French composers such as Rameau and Couperin.

Debussy's Sonata breathes with the spirit of another age, whereas Ravel's contribution to the genre is bang up to date – the date in question being the mid-1920s – with its flavours of jazz and blues. The second movement is 'stylised jazz, more French than American,' according to the composer, while the frantic perpetuum mobile finale continues his fascination with intricate, machine-like structures, in which the violinist plays for 180 consecutive bars. All three sonatas require the most assured technique and refined musicianship, which they receive in this new recording from Kristóf Baráti.

After their acclaimed recordings of the violin sonatas by Beethoven and Brahms Kristóf Baráti and Klára Würtz turn their attention towards France, presenting the three famous violin sonatas by Debussy, Ravel and Franck. All three sonatas are masterpieces in their genre, their passionate, tender and witty character has made them audience favourites all over the world.
An eloquent and deeply musical performance by two Hungarians: Kristóf Baráti and Klára Würtz, who already received rave reviews for their recording of the complete violin sonatas by Beethoven on Brilliant Classics (BC 94310): "reference recording" (the leading German daily newspaper), 5 Stars (Diapason), "Amazing..once you've heard Baráti and Würtz you'll never listen to anyone else again" (Fanfare), "Truly exceptional..dazzling range of bow strokes and ear-ringing intonations…deeply compelling emotional narratives…a highly distinguished release " (The Strad on Baráti's Ysaye recording, BC 94678).
Listening
Track list
Disk 1
Claude Debussy: Violin Sonata, L.140: I. Allegro vivo

Claude Debussy: Violin Sonata, L.140: II. Intermède, fantasque et léger

Claude Debussy: Violin Sonata, L.140: III. Finale, très animé

Maurice Ravel: Violin Sonata No. 2 in G Major, M.77: I. Allegretto

Maurice Ravel: Violin Sonata No. 2 in G Major, M.77: II. Blues. Moderato

Maurice Ravel: Violin Sonata No. 2 in G Major, M.77: III. Perpetuum mobile, allegro

César Auguste Franck: Violin Sonata in A Major, FWV 8: I. Allegretto ben moderato

César Auguste Franck: Violin Sonata in A Major, FWV 8: II. Allegro

César Auguste Franck: Violin Sonata in A Major, FWV 8: III. Recitativo-Fantasia, ben moderato

César Auguste Franck: Violin Sonata in A Major, FWV 8: IV. Allegretto poco mosso