Debussy: Reveries de Bilitis Music for Two Harps and Voice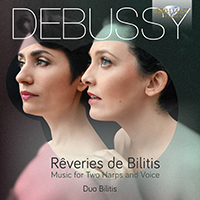 | | |
| --- | --- |
| Composer | Claude Debussy |
| Artist | Duo Bilitis |
| Format | 1 CD |
| Cat. number | 95657 |
| EAN code | 5028421956572 |
| Release | April 2018 |
About this release
A sensuous recital of rare repertoire by an anniversary composer for the unusual combination of female voice and two harps.

Writing in the booklet about this unique recital on record, Eva Tebbe and Ekaterina Levental remark that Debussy makes the invisible visible and turns the unspeakable into a musical world full of mysticism, layers of ambiguity and evocative meanings. A century after his death, he is being celebrated across the world in 2018, and this album promises to make a special contribution on record with arrangements of works, most of them relatively unfamiliar, which particularly lend themselves to the ethereal and exquisite combination of voice and harps.

Much of the music here was written while Debussy was composing his only opera Pelléas et Mélisande, a Symbolist drama based on the play by Maurice Maeterlinck, who recognised that in many ways Debussy had not only set his play to music but even outstripped and further enriched his original. There is the early and peaceful Ballade from 1890, then the Proses lyriques from 1892-3 (when the very epitome of musical Impressionism, the Prélude a l'après-midi d'un faune, was in gestation) and the seductive Trois Chansons de Bilitis (1897), from which this musical partnership takes its name. Bilitis is the fictional poet of Classical antiquity invented by Pierre Louÿs, writing in an erotic, symbolist vein after the fashion of Sappho: and when in 1900 Debussy came to use the texts of Louÿs again for the Musique de Scène pour les chansons de Bilitis, the music accompanied a tableau vivant in pre-Raphaelite style of winsome and scantily clothed young women.

The recital is completed by the Danse sacrée et danse profane – originally composed for harp and orchestra in 1904, here with the orchestral parts arranged for a second harp – and the six Epigraphes Antiques from 1914, which return to the musical material of the Bilitis works but in the composer's more allusive late style which would lead to his final masterpiece written for Serge Diaghilev, Jeux.

To celebrate the Debussy-year 2018 (100 years after his death) the Duo Bilitis presents a highly original and attractive program: arrangements for two harps and voice of some very intimate and atmospheric works by the French master: the Danse sacrée et danse profane (originally for harp and ensemble), the Six Epigraphes antiques, the early romantic Ballade, the Proses lyriques and the famous Chansons de Bilitis, which gives the CD its title: Rêveries de Bilitis (Dreams of Bilitis).
The Duo Bilitis consist of mezzo-soprano/harpist Ekaterina Levental and harpist Eva Tebbe, already a duo for many years and with two highly successful CD's to their name: L'Heure Espagnol (works by Ravel, Granados, De Falla) and Le jardin féerique (works by Debussy, Franck, Ravel and Fauré). They perfectly catch the dreamlike world of Debussy's language, finding unheard sonorities and timbres in their enchanting arrangements.
The booklet contains liner notes in English and Dutch.
Listening
Track list
Disk 1
Claude Debussy: Danse sacrée et danse profane, L. 103: I. Danse sacrée

Claude Debussy: Danse sacrée et danse profane, L. 103: II. Danse profane

Claude Debussy: Proses lyriques, L. 84: I. De rêve

Claude Debussy: Proses lyriques, L. 84: II. De grêve

Claude Debussy: Proses lyriques, L. 84: III. De fleurs

Claude Debussy: Proses lyriques, L. 84: IV. De soir

Claude Debussy: Ballade, L. 70

Claude Debussy: Trois chansons de bilitis, L. 90: I. La flûte de pan

Claude Debussy: Trois chansons de bilitis, L. 90: II. La chevelure

Claude Debussy: Trois chansons de bilitis, L. 90: III. Le tombeau des naïades

Claude Debussy: 6 Epigraphes antiques, L. 131: I. Pour invoquer pan, dieu du vent d'été

Claude Debussy: 6 Epigraphes antiques, L. 131: II. Pour un tombeau sans nom

Claude Debussy: 6 Epigraphes antiques, L. 131: III. Pour que la nuit soit propice

Claude Debussy: 6 Epigraphes antiques, L. 131: IV. Pour la danseuse aux crotales

Claude Debussy: 6 Epigraphes antiques, L. 131: V. Pour L'Égyptienne

Claude Debussy: 6 Epigraphes antiques, L. 131: VI. Pour remercier la pluie au matin