Delight in Musicke: English Songs and Instrumental Music of the 16th and 17th Century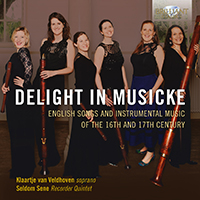 Composer
Henry Purcell, John Dowland, William Byrd
Artist
Seldom Sene
Klaartje van Veldhoven soprano
Format
1 CD
Cat. number
95654
EAN code
5028421956541
Release
March 2018
About this release
The increasing popularity of consort music and lute songs at the 16th-century English court gave rise to a specific type of song, usually sung by a boy soprano together with a consort of 3 to 5 viols. These 'consort songs' flourished particularly during the reigns of Elizabeth I (1558–1603) and her son James I (1603–1625). Especially attractive examples of such songs are gathered and arranged here, and sung by the Dutch soprano Klaartje van Veldhoven, who specialises in early and Baroque music, having regularly sung as a soloist with many of Europe's foremost early-music ensembles and conductors such as Sigiswald Kuijken and Ton Koopman.

This is the fourth album on Brilliant Classics by the Dutch-based recorder quintet Seldom Sene. Having come from all over Europe to study at the Amsterdam Conservatoire, they draw upon the particularly rich performing tradition for recorder music established in that country during the 1960s by the late Frans Bruggen. In fact they take their name from the last track on this album, Seldom Sene by Tye: a short work full of beauty, precision and striking rhythmic complexity that the musicians felt captured the essence of their vision, which is to perform unique and compelling repertoire at a standard that is seldom seen and heard.

Their previous albums have attracted international attention and critical acclaim. Regarding their beguiling arrangement of Bach's Goldberg Variations (BC95591), the Dutch OpusKlassiek magazine noted: 'Seldom Sene has an extensive and high-quality range of instruments and, above all, excellent musicians… there is a lot of variety and contrast, with the five ladies in
full command of their virtuosity… this performance is far too interesting and attractive to fall asleep to.'

The Bach was preceded by two inventive compilations, 'El Aire Se Serena' (BC95304) and 'Taracea: A Mosaic of Ingenious Music Spanning Five Centuries' (BC94871), given an enthusiastic welcome by Gramophone: 'The range of styles in this enterprising recital is only the most striking of several distinctive features. The programme is carefully chosen, the passage between styles cleverly judged on the whole, the contemporary works included here being especially well integrated… [there is] commitment, technical versatility, unanimity of ensemble and near-immaculate tuning on display.'

This new recording presents an overview of the rich musical life of 16th century England, centered around the court of Henry VIII, who was himself a keen composer, singer and instrumentalist, giving music a prominent role in ceremonies, celebrations and entertainment at court. He gathered around him the best musicians and composers of his time. Featured on this CD are John Dowland, Christopher Tye, William Byrd, Edward Gibbons, John Baldwine, Thomas Weelkes, John Bennet, Nathaniel Patrick and Henry Purcell.
The performances are by Dutch soprano Klaartje van Veldhoven en Seldom Sene Recorder Ensemble, the arrangements are by the ensemble and they wonderfully capture the atmosphere and style of this "Delightful Musicke"!
The booklet contains excellent liner notes and the full sung texts.
Track list
Disk 1
Lachrimæ antiquæ

Sir Iohn Souch his Galiard

M. George Whitehead his Almand

I Shame at Mine Unworthiness

Ah Silly Soul

What Strikes the Clocke?

Cockoow as I me Walked

In nomine Seldom Sene

Send Forth Thy Sighs

Climb not too High

Sweet was the Song the Virgin Sung

Fantazia 5 Parts Upon One Note in F Major, Z.745

Browning

Venus' Birds

Cuckoo

The Nightingale, the Organ of Delight

Farewell the Bliss

If Women Could be Faire

In nomine of 5 Parts

In nomine of 6 Parts in G Minor, Z.746

In nomine Seldom Sene, Reprise