Der Makabere Zirkus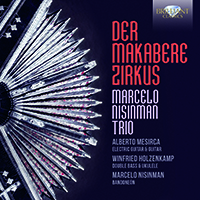 Composer
Johann Sebastian Bach, Marcelo Nisinman, Vincente Greco
Artist
Marcelo Nisinman bandoneón
Alberto Mesirca electric guitar & guitar
Winfried Holzenkamp double bass & ukulele
Format
1 CD
Cat. number
96088
EAN code
5028421960883
Release
November 2020
About this release
Argentinian bandoneonist, composer and arranger Marcelo Nisinman is one of the most remarkable musicians active in the field of post-Piazzolla Buenos Aires tango. Without adhering too closely to Piazzolla or falling in with the vintage trappings of revivalist tango, Nisinman has forged his own personal, compelling path, in a direction that challenges tradition, embraces modernism, and establishes an intelligent link between Argentinian tango and a particularly European form of the genre, a reflection of the duality of Nisinman's roots and the cultural sphere of his adopted home.

A reflection, as well, of his inspired choice of colleagues. Joining him in the Nisinman Trio are Europeans Alberto Mesirca on classical and electric guitars and Winfried Holzenkamp on bass and ukulele. Holzenkamp went to Buenos Aires to study tango bass with Horacio Cabarcos and Heìctor Console, while the Italian-born Mesirca is a classical guitarist by training and in style, but with a knowledge of Sephardic music and of the Baroque lute and guitar repertoire.

The Baroque era is represented on this album, in fact, in two non-tango arrangements: Bach's Adagio and 17th-century organist–composer Dietrich Buxtehude's Prelude in D. While respecting the original contrapuntal wealth of these pieces, Nisinman takes them into very different tonal territory. A formidable and innovative composer in the genre, his relationship with the tango tradition is mediated by an acute sense of the contemporary, as is evidenced by the three originals on the album. But Nisinman's approach to arranging is aptly defined by the German term Bearbeitung, implying recomposition and reinvention of the various musical parameters involved. His own compositions and those of the two giants of the Baroque stand in evocative relief against forward-thinking arrangements of tango standards, with recognisable elements displaced, slowed, and restarted in new zones on the palette of instrumental colour. The bandoneoìn alternates between legato and staccato, its variety of touch and intensity representing the coexistence – peaceful or otherwise – of the sacred and profane within the tango idiom.

Marcelo Nisinman is one of the most remarkable bandeonists of today. He created a post-Piazzolla Buenos Aires tango style, completely personalized, fusing elements of traditional tango, the inevitable inspiration from Piazzolla and the current modernist (jazz) styles.
On this new recording Marcelo Nisinman is joined by Alberto Mesirca (classical and electric guitars) and Winfried Holzenkamp (bass and ukulele). They play a wildly varying program, ranging from arrangements of Bach and Buxtehude, through traditionals like La Cumparsita and Ojos Negros, to Nisinman's own compositions, notably the extravagant Der Makabere Zirkus.
An irresistible recording, brimming with joy, passion and virtuosity!
Listening
Track list
Disk 1
Marcelo Nisinman: Der makabere Zirkus

Johann Sebastian Bach: Adagio in C Major, BWV 564

Gerardo Matos Rodriguez: La cumparsita

Vincente Greco: Ojos negros

Marcelo Nisinman: Humans & Insects

Dietrich Buxtehude: Prelude and Fugue in D Major, BuxWV. 139

Enrique Delfino: Griseta

Jose Pascual: Arrabal

Juan Carlos Cobian: Los mareados

Marcelo Nisinman: Alberto's Tango