Devienne: 6 Trios for Flute, Viola & Cello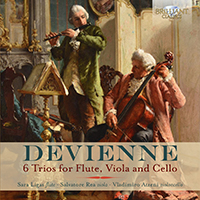 Composer
François Devienne
Artist
Sara Ligas flute
Salvatore Rea viola
Vladimiro Atzeni violoncello
Format
1 CD
Cat. number
95686
EAN code
5028421956862
Release
July 2018
About this release
Bewitching chamber music from a virtuoso flautist and French contemporary of Mozart.

This set of divertimento-like sonatas belongs to Devienne's period in service to Cardinal de Rohan during the first half of the 1780s, though the manuscript is dedicated to another French nobleman. It is the work of a highly accomplished musician in his early 20s: already the master of his art as a performer on the flute, providing for himself and his patrons music to delight the imagination without straining for depth and profundity. Unlike Devienne's concertos, which naturally featured virtuoso solo parts, his chamber music tended to avoid excessive technical difficulties because it was largely intended for an audience of aristocratic amateur musicians.

The sonatas are all cast in two movements, none of them especially slow except for a melancholy Siciliano to open the Third, which is the only one of the set written in a minor key. Gracefulness is the quality enshrined both by Devienne's expressive markings and by the fluid charm of his melodies. The scoring for an ensemble resembling that of the Baroque trio sonata makes this music more accessible to a wider audience than the trios for three flutes with which the composer is more fully represented on record: there are no comparable versions of these works presently available, making this disc a highly appealing acquisition for anyone curious about the byways of Classical-era chamber music.

Leading an all-Italian line-up of performers, flautist Sara Ligas has made several well-received recordings for Brilliant Classics, all of them in out-of-the-way repertoire from Legnani (BC95141) to Karg-Elert (BC94976) and Jules Mouquet (BC95505).

Francois Devienne (1759-1803) was a "minor master" but of major importance for the development of woodwind instruments, and the writing for these. A virtuoso himself on the bassoon, oboe and flute, he wrote a wealth of concertos and chamber music for these instruments, music of great charm, elegance and brilliant instrumental virtuosity.
This new recording presents his 6 Trios for Flute, Viola and Cello, music of grace, intelligence and wit, intended for the entertainment of an audience of aristocratic amateur musicians.
Beautifully performed by Sara Ligas, Salvatore Rea and Vladimiro Atzeni.
Track list
Disk 1
Trio I in D Major: I. Moderato

Trio I in D Major: II. Rondo allegretto

Trio II in C Major: I. Allegro assai

Trio II in C Major: II. Presto

Trio III in D minor: I. Siciliano

Trio III in D minor: II. Allegro

Trio IV in F Major: I. Allegro

Trio IV in F Major: II. Rondo grazioso

Trio V in G Major: I. Allegro

Trio V in G Major: II. Grazioso

Trio VI in E-Flat Major: I. Allegro moderato

Trio VI in E-Flat Major: II. Rondo