Diabelli: Complete Guitar Sonatas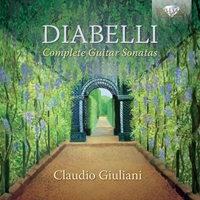 | | |
| --- | --- |
| Composer | Anton Diabelli |
| Artist | Claudio Giuliani guitar |
| Format | 1 CD |
| Cat. number | 94614 |
| EAN code | 5028421946146 |
| Release | May 2013 |
About this release
Perhaps best known for writing the waltz on which Beethoven based his Diabelli Variations, Anton Diabelli was also an established composer and musician in his own right. Resident in Vienna in the late 18th and early 19th centuries, Diabelli was a good friend of Franz Schubert.

Thanks to the emergence of an educated middle class, there was less and less dependence on religious or royal patronage. Diabelli's sonatas for guitar, widely considered to be masterpieces of the guitar repertoire, reflect Viennese musical taste at this time. They were his only foray into sonata form, and document the evolution of the composer's style. The first sonata includes so-called 'Italianisms' while the second has a distinctly Schubertian flavour, no doubt due to his close friendship with the composer. The third sonata shows a more revolutionary take on the principles of sonata form where many of the ideas are challenged. The second part of the first movement contains such drama and skill in the development of the themes that it is considered one of the finest passages in the guitar sonata repertoire.

Acclaimed Italian guitarist Claudio Giuliani trained at the Santa Cecilia Conservatory in Rome. He has published transcriptions of 82 sonatas by Domenico Scarlatti, and has previously recorded 30 sonatas by Domenico Cimarosa for Brilliant Classics in 2011.

Other information:
- Recorded on 10 April (No.1), 30 April (No.2) & 8 June 2012 (No.3), Sound Makers Studio, Rome.
- Anton Diabelli was a prominent figure in the musical circles of early 19th century Vienna. An accomplished keyboard virtuoso and music publisher he wrote 3 substantial sonatas for the instrument which was gaining in popularity at that time, the guitar. Written in true Viennese style, with some Italianism, these are mature works appealing to a wide audience.
- Excellent performances, a new recording by master guitarist Claudio Giuliani who already recorded guitar sonatas by Cimarosa for Brilliant Classics (94172).
- Contains liner notes on the composer and pieces and a biography of the artist.
Track list
Disk 1
Anton Diabelli: Sonata No. 1 in C Major: I. Allegro

Anton Diabelli: Sonata No. 1 in C Major: II. Andante cantabile

Anton Diabelli: Sonata No. 1 in C Major: III. Menuetto: Allegro

Anton Diabelli: Sonata No. 1 in C Major: IV. Rondo: Allegretto

Anton Diabelli: Sonata No. 2 in A Major: I. Allegro risoluto

Anton Diabelli: Sonata No. 2 in A Major: II. Adagio

Anton Diabelli: Sonata No. 2 in A Major: III. Menuetto: Allegro

Anton Diabelli: Sonata No. 2 in A Major: IV. Rondo: Allegretto

Anton Diabelli: Sonata No. 3 in F Major: I. Allegro moderato

Anton Diabelli: Sonata No. 3 in F Major: II. Andante sostenuto

Anton Diabelli: Sonata No. 3 in F Major: III. Finale: Adagio – Presto