Diepenbrock: Complete Songs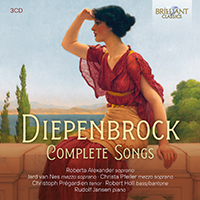 Download booklet
Composer
Alphons Diepenbrock
Artist
Roberta Alexander soprano
Jard van Nes mezzo soprano
Christa Pfeiler mezzo soprano
Christoph Prégardien tenor
Robert Holl bass/baritone
Rudolf Jansen piano
Format
3 CD
Cat. number
96103
EAN code
5028421961033
Release
January 2021
About this release
An all-star vocal line-up draws every nuance from the lush harmonies and word-setting of this late-Romantic Dutch master: the first time that his complete songs have been released in a single set.
Now best known for his 'symphonic songs' such as the Hymne an die Nacht, Alphons Diepenbrock won the admiration of his contemporaries Mahler and Strauss for the confident, post-Wagnerian handling of large orchestral forces in support of vocal lines soaked in passion and grief. Unlike them, however, he was chiefly inspired by poetry, and his output is dominated by vocal works, which are particularly fine in atmospheric evocation. Even when writing for the sparer medium of voice and piano, Diepenbrock laid his songs out expansively, underscored with yearning Wagnerian harmonies, and any listener in search of repertoire beyond the songs of Mahler and Strauss is in for a treat.

Diepenbrock read widely, and drew on many sources for his songs: classical antiquity, religious texts from the Middle Ages, old Dutch poems, German Romantic choruses, modern French poetry and contemporary Dutch writers. The shared theme of these very different styles in his hands was a tendency towards mysticism and spiritual rapture. Little satisfied with mundane reality and the development of society, he found himself peculiarly attracted to poems which exalted the night and her mysteries.

In the song output, this attraction is delicately handled in Der Abend and then much more erotically treated in Kann ich in Musen heisse Wünsche tragen, both on CD1. CD2 is entirely dedicated to French lyrics by the likes of Verlaine and Rimbaud, full of Debussyan nocturne-like character. CD3 gathers up the songs to Latin, Italian and Dutch lyrics, reaching a powerful climax with Bejaard, composed in 1917, as an expression of Diepenbrock's indignation towards the German invasion of Belgium in August 1914.

When first released, these recordings, made in the mid-90s by some of the most acclaimed Lieder-singers of the day, attracted high praise. 'Diepenbrock was a song composer of real stature; all the singers here seem convinced of that, and their performances are admirable… The recordings are first-class.' Gramophone

Alphons Diepenbrock (1862-1921) is one of the most important Late-Romantic composers of The Netherlands. Despite is exceptional musical talents he became a teacher in classical languages.
In Diepenbrock's works three influences are traceable: Wagner (a nearly inevitable influence for his generation..), Debussy (who actually also was influenced by Wagner, but later turned on him) and the Palestrina counterpoint.
Most of Diepenbrock's works are vocals: songs, vocal ensembles and sacred works for choir and orchestra. This set presents his complete songs. The early songs are on Dutch and German texts, from 1910 on however all his songs were in the French language, mainly featuring Baudelaire and Verlaine.
Excellent performers: Christoph Prégardien, Christa Pfeiler, Jard van Nes, Robert Holl are partnered on the piano by the eminent Rudolf Jansen.
Another gem from the excellent back-catalogue of the NM Classics label, the label for Dutch music.
Listening
Track list
Disk 1
Alphons Diepenbrock: Drie Ballades, Op. 1: I. Entsagung

Alphons Diepenbrock: Drie Ballades, Op. 1: II. Der Fischer

Alphons Diepenbrock: Drie Ballades, Op. 1: III. Der Aend kommt gezogen

Alphons Diepenbrock: 2 Gesänge nach Dichtungen von Goethe, Op. 2: I. Mignon

Alphons Diepenbrock: 2 Gesänge nach Dichtungen von Goethe, Op. 2: II. Der König in Thule

Alphons Diepenbrock: Die Liebende schreibt

Alphons Diepenbrock: Hinüber wall'ich

Alphons Diepenbrock: Es war ein alter König

Alphons Diepenbrock: Lied der Spinnerin

Alphons Diepenbrock: Der Abend

Alphons Diepenbrock: Kann ich im Busen heisse Wünsche tragen?

Alphons Diepenbrock: Liebesklage

Alphons Diepenbrock: Celebrität
Disk 2
Alphons Diepenbrock: Recueillement

Alphons Diepenbrock: Les chats

Alphons Diepenbrock: L'invitation au voyage

Alphons Diepenbrock: En sourdine

Alphons Diepenbrock: Claire de lune

Alphons Diepenbrock: Mandoline

Alphons Diepenbrock: Écoutez la chanson bien douce

Alphons Diepenbrock: Puisque l'aube grandit

Alphons Diepenbrock: La chanson de l'hypertrophique

Alphons Diepenbrock: Incantation

Alphons Diepenbrock: Berceuse
Disk 3
Alphons Diepenbrock: Ave Maria

Alphons Diepenbrock: Simeon's Lofzang

Alphons Diepenbrock: Preghiera alla Madonna

Alphons Diepenbrock: Come raggio di sol

Alphons Diepenbrock: De klare dag

Alphons Diepenbrock: Maanlicht

Alphons Diepenbrock: Meinacht

Alphons Diepenbrock: Ik ben eenzaamheid niet meer alleen

Alphons Diepenbrock: Avondzang

Alphons Diepenbrock: Zij sluimert

Alphons Diepenbrock: Bejaard