Dieupart: Six Suites de Clavecin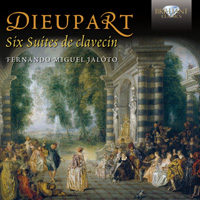 | | |
| --- | --- |
| Composer | Charles Dieupart |
| Artist | Miguel Jalôto Fernando |
| Format | 2 CD |
| Cat. number | 95026 |
| EAN code | 5028421950266 |
| Release | February 2015 |
About this release
French composer and harpsichordist Charles Dieupart spent much of his life in London, founding the opera season at the Queen's Theatre in the Haymarket that was designed to rival that of Drury Lane. It was in London that he became especially famous for his performances of music by Corelli and was also held in high regard as a harpsichord teacher. However, Dieupart's most enduring legacy is his Six Suittes de clavessin, published in Amsterdam by Estienne Roger and dedicated to his former pupil the Countess of Sandwich, Elizabeth Wilmot. These suites were so renowned in Europe that they were heavily drawn on by J.S. Bach, influencing his English Suites and establishing a link between French 7thcentury harpsichord music and the early German 18th‐century keyboard style. In general, the works follow the standard order of a Baroque suite: only one, Suite No.2, replaces a Menuet with a Passepied, an unusual practice for the time. Although clearly French in character, the pieces also reveal Italian and even German influences. Tender and delicate in expression, they display some lively moments in the animated Gigues and Ouvertures, in the latter of which the composer strives to recreate the fullness of the orchestra with the solo instrument and capture the variety and richness of their operatic models. Dieupart reveals a penchant for beautifully cantabile melodies, sophisticated harmonies and most of all some highly elaborate ornamentation, skillfully interpreted here by Portuguese harpsichordist Fernando Miguel Jalôto.
Jalôto's playing is based heavily on research; having studied with renowned musician Jacques Ogg, he completed his
Masters degree before going on to study for a PhD in Historical Musicology, which greatly informs his approach to performance. Before starting on Dieupart's music, he carefully consulted contemporary treatises, thereafter taking the decision to vary the ornamentation, fill out the harmonies and adjust the inner parts. Performing these suites in their harpsichord only version (as opposed to the version with recorder, which is more frequently recorded), this is Jalôto's first release with Brilliant Classics.
French composer Charles Dieupart spent most of his active life in London, where he became famous as the founder of the Opera Season of the Queen Theatre of Haymarket. He was much sought after as a harpsichord teacher, and no wonder his most famous work was the "Six Suittes de Clavessin" (original spelling), a highly original work which formed the bridge between the flourishing French style and the contrapuntal German style of keyboard writing. Also the great Johann
Sebastian Bach was influenced by this work, as traces can be found in his English Suites.
As a PhD in Historical Musicology Portuguese harpsichordist Fernando Jaloto did extensive research into Dieupart's work, and the performance practice of its time. Despite its historical research Joloto's playing is as free and inspired as if he improvised these works on the spot.
Booklet contains extensive liner notes on the composer, the instrument, the music and the artists approach.

Other information:
Recorded in Belgium in 2012.
Contains a biography of the artist.
Track list
Disk 1
Charles Dieupart: Suite No. 6 in F Minor: I. Ouverture

Charles Dieupart: Suite No. 6 in F Minor: II. Allemande

Charles Dieupart: Suite No. 6 in F Minor: III. Courante

Charles Dieupart: Suite No. 6 in F Minor: IV. Sarabande

Charles Dieupart: Suite No. 6 in F Minor: V. Gavotte

Charles Dieupart: Suite No. 6 in F Minor: VI. Menuet

Charles Dieupart: Suite No. 6 in F Minor: VII. Gigue

Charles Dieupart: Suite No. 5 in F Major: I. Ouverture

Charles Dieupart: Suite No. 5 in F Major: II. Allemande

Charles Dieupart: Suite No. 5 in F Major: III. Courante

Charles Dieupart: Suite No. 5 in F Major: IV. Sarabande

Charles Dieupart: Suite No. 5 in F Major: V. Gavotte

Charles Dieupart: Suite No. 5 in F Major: VI. Menuet en rondeau

Charles Dieupart: Suite No. 5 in F Major: VII. Gigue

Charles Dieupart: Suite No. 3 in B Minor: I. Ouverture

Charles Dieupart: Suite No. 3 in B Minor: II. Allemande

Charles Dieupart: Suite No. 3 in B Minor: III. Courante

Charles Dieupart: Suite No. 3 in B Minor: IV. Sarabande

Charles Dieupart: Suite No. 3 in B Minor: V. Gavotte

Charles Dieupart: Suite No. 3 in B Minor: VI. Menuet

Charles Dieupart: Suite No. 3 in B Minor: VII. Gigue
Disk 2
Charles Dieupart: Suite No. 2 in D Major: I. Ouverture

Charles Dieupart: Suite No. 2 in D Major: II. Allemande

Charles Dieupart: Suite No. 2 in D Major: III. Courante

Charles Dieupart: Suite No. 2 in D Major: IV. Sarabande

Charles Dieupart: Suite No. 2 in D Major: V. Gavotte

Charles Dieupart: Suite No. 2 in D Major: VI. Passepied

Charles Dieupart: Suite No. 2 in D Major: VII. Gigue

Charles Dieupart: Suite No. 4 in E Minor: I. Ouverture

Charles Dieupart: Suite No. 4 in E Minor: II. Allemande

Charles Dieupart: Suite No. 4 in E Minor: III. Courante

Charles Dieupart: Suite No. 4 in E Minor: IV. Sarabande

Charles Dieupart: Suite No. 4 in E Minor: V. Gavotte

Charles Dieupart: Suite No. 4 in E Minor: VI. Menuet

Charles Dieupart: Suite No. 4 in E Minor: VII. Gigue

Charles Dieupart: Suite No. 1 in A Major: I. Ouverture

Charles Dieupart: Suite No. 1 in A Major: II. Allemande

Charles Dieupart: Suite No. 1 in A Major: III. Courante

Charles Dieupart: Suite No. 1 in A Major: IV. Sarabande

Charles Dieupart: Suite No. 1 in A Major: V. Gavotte

Charles Dieupart: Suite No. 1 in A Major: VI. Menuet

Charles Dieupart: Suite No. 1 in A Major: VII. Gigue