Dohnányi: Complete Music for Cello & Piano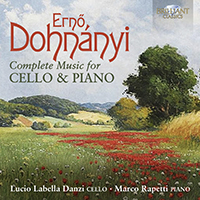 Composer
Ernő Dohnányi
Artist
Marco Rapetti piano
Lucio Labella Danzi cello
Format
1 CD
Cat. number
96225
EAN code
5028421962252
Release
September 2021
About this release
"I could not have written it better myself!", remarked an astonished Brahms on hearing the 18-year-old Ernő Dohnányi's Opus One (the First Piano Quintet) in the summer of 1895. Often hypercritical and disparaging of other composers, Brahms was so impressed by Dohnányi that he promoted his music in Vienna. Just two years later the elder composer passed away, but he might have remarked similarly about Dohnaìny's Cello Sonata in B flat of 1899. This magnificent composition sounds undeniably like an affectionate homage to him.

In 1902, Dohnányi performed the Cello Sonata in Frankfurt with Hugo Becker, one of the most famous cellists and pedagogues of his time, and a few years later Becker would be the dedicatee of Dohnányi's Konzertstück in D Op.12 for cello and orchestra, which the composer also arranged for cello and piano.

Dohnányi and his friend Béla Bartók, three years his junior, always admired each other, though they could not have differed more in terms of style and character, their diametrically opposed approaches particularly apparent in their use of Hungarian folksongs. By contrast to Bartók's innovative ethnomusicological perspective, Dohnányi continued presenting gypsy melodies in the Romantic fashion of Liszt and Brahms, as evidenced in his Ruralia Hungarica Op.32, a cycle of seven pieces scored for various forces, one of them (Op.32d) being for cello and piano.

Other information:
- Recorded in July 2020 in Poggibonsi (Florence), Italy
- The trilingual booklet contains information about the music and biographies of the composer and performers in English, French and German

- Ernö Dohnányi (or Ernst von Dohnányi as he called himself internationally) lived from 1877 till 1960, he was one of the most important and influential Hungarian composers and pianists of the 20th century. As a piano virtuoso he maintained an active career which brought him to many European countries as well as the United States. After teaching at the Berlin Hochschule he returned to Budapest, where he became the driving force of the musical life, promoting the works of his compatriots Béla Bartók and Zoltán Kodály, and teaching a new generation of Hungarian musicians.
- Dohnányi's musical style is deeply rooted in German Romanticism, notably the works of Brahms, who exclaimed after hearing his first piano quintet: "I could not have written it better myself!". The great Cello Sonata Op.8, featured on this new recording, is indeed heavily indebted to Brahms, but can firmly stand on his own in its bold harmonic language, sweeping melodies and instrumental brilliance of both cello and piano. Apart from this masterwork we hear the substantial Konzertstück Op.12 and Ruralia Hungarica, a tribute to his native country and its rich folklore.
- Played with passion and dedication by cellist Lucio Labella Danzi and pianist Marco Rapetti.
Listening
Track list
Disk 1
Ernő Dohnányi: Sonata in B-Flat Major, Op. 8: I. Allegro, ma non troppo

Ernő Dohnányi: Sonata in B-Flat Major, Op. 8: II. Scherzo e trio, vivace assai

Ernő Dohnányi: Sonata in B-Flat Major, Op. 8: III. Adagio non troppo

Ernő Dohnányi: Sonata in B-Flat Major, Op. 8: IV. Tema con variazioni

Ernő Dohnányi: Konzerstück in D Major, Op. 12: I. Allegro non troppo-Adagio-Tempo I

Ernő Dohnányi: Ruralia Hungarica, Op. 32d: I. Andante rubato, alla zingaresca