Doles: 6 Keyboard Sonatas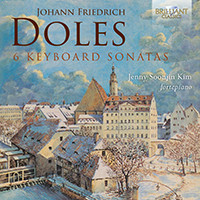 | | |
| --- | --- |
| Composer | Johann Friedrich Doles Jr. |
| Artist | Jenny Soonjin Kim fortepiano |
| Format | 1 CD |
| Cat. number | 95454 |
| EAN code | 5028421954547 |
| Release | July 2018 |
About this release
A world premiere recording of stylish, 'galant' keyboard sonatas by a contemporary of CPE Bach.

The six keyboard sonatas played here by Jenny Soonjin Kim are the only known instrumental works by the German composer Johann Friedrich Doles, Jr., as well as the only compositions of his ever to be published. Born in Freiberg near Dresden in 1746, Doles was a musical prodigy who studied and then practised law in Leipzig. His father was Cantor at the Thomaskirche following the death of Bach's successor, and there is a recorded meeting between Doles father and son and Mozart, during the latter's visit to Leipzig in 1789. Doles Jr. himself died in 1796, five years after Mozart, and a year before his father, leaving extant only these sonatas and three vocal pieces.

The set of six sonatas shares the fashionable galant style of the period, brought to fulfilment by the most musically innovative of Bach's sons, Carl Philipp Emanuel. Four of the six sonatas are cast in minor keys, and their movements are brief and vivid in character, including exuberant minuets, flamboyant scherzos, lightning-quick finales and even a quirky 'polacca' of the kind that JS Bach composed in his First Brandenburg Concerto.

This is Jenny Soonjin Kim's third recording for Brilliant Classics, following two well-received albums of keyboard sonatas by another little-known contemporary of Mozart, Leopold Koželuch. Volume 1 of the series (BC94770) is 'an inspired and inspiring collection,' according to the All About Jazz reviewer: 'Pianist Jenny Soonjin Kim plays with an almost Baroque flair well-fitting of the music… The period treatment that Kim brings to the Koželuch sonatas gives them a crisp texture and very nearly tactile character… Kim's performance is commanding and authoritative. The sonics are superb.'

Johann Friedrich Doles (1746-1796) received his musical education from his father, himself a musician of high rank, Cantor of the Thomaskirche in Leipzig (as successor of the successor of the great Johann Sebastian Bach). Doles Jr. met Wolfgang Amadeus Mozart in Leipzig, who wrote a 3-part canon for him.
Doles was a child of his time and composed in the fashionable "Galante Stil": fanciful, charming, witty, elegant and a considerable challenge for the technical skills of the performer. The usually three movements of his sonatas follow the pattern allegro (or allegretto)-Minuetto-Presto.
This is the first recording of Doles' complete 6 keyboard sonatas, brilliantly played by Jenny Kim on a period instrument, a fortepiano after Walter, built by Michael Walker. Jenny Kim is also recording a complete cycle of Sonatas by Kozeluch for Brilliant Classics, she pairs a thorough historical knowledge to an infectious musicality and "Spielfreude".
Listening
Track list
Disk 1
Johann Friedrich Doles Jr.: Keyboard Sonata I: I. Allegro con brio

Johann Friedrich Doles Jr.: Keyboard Sonata I: II. Adagio con espressione

Johann Friedrich Doles Jr.: Keyboard Sonata I: III. Scherzando prestissimo

Johann Friedrich Doles Jr.: Keyboard Sonata II: I. Allegretto pastorale

Johann Friedrich Doles Jr.: Keyboard Sonata II: II. Minuetto

Johann Friedrich Doles Jr.: Keyboard Sonata II: III. Presto

Johann Friedrich Doles Jr.: Keyboard Sonata III: I. Allegro ma non troppo

Johann Friedrich Doles Jr.: Keyboard Sonata III: II. Minuetto I & II

Johann Friedrich Doles Jr.: Keyboard Sonata III: III. Scherzo I & II

Johann Friedrich Doles Jr.: Keyboard Sonata IV: I. Allegro

Johann Friedrich Doles Jr.: Keyboard Sonata IV: II. Minuetto & Trio

Johann Friedrich Doles Jr.: Keyboard Sonata IV: III. Presto

Johann Friedrich Doles Jr.: Keyboard Sonata V: I. Tempo giusto

Johann Friedrich Doles Jr.: Keyboard Sonata V: II. Minuetto & Trio

Johann Friedrich Doles Jr.: Keyboard Sonata V: III. Polacca I & II

Johann Friedrich Doles Jr.: Keyboard Sonata V: IV. Presto, ma non troppo

Johann Friedrich Doles Jr.: Keyboard Sonata VI: I. Andantino e grazioso

Johann Friedrich Doles Jr.: Keyboard Sonata VI: II. Tempo di minuetto

Johann Friedrich Doles Jr.: Keyboard Sonata VI: III. Presto