Donizetti: Nuits d'été à pausilippe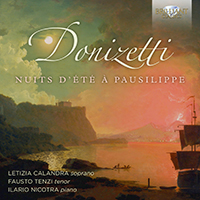 Composer
Gaetano Donizetti
Artist
Letizia Calandra soprano
Fausto Tenzi tenor
Ilario Nicotra piano
Format
1 CD
Cat. number
95672
EAN code
5028421956725
Release
October 2018
About this release
Donizetti was prolific in the field of vocal chamber music, to the extent that he almost rivalled Rossini. Nuits d'été à Pausillippe is an album of ariettas, romanzas, notturnos and duettinos published in 1836. The texts speak of four seasons and three cities, but it's Naples that takes the lead role: Donizetti lived and worked in the city between 1822 and 1838. Mostly authored by local poets, the texts are essentially simple portraits of things Italian: the boatman, the breath of the beloved, and the tower of Biasone (which ends with one of Donizetti's most disarming tunes). Le crépuscule (Twilight), however, sets verses by Victor Hugo as a romanza describing the new dawn, and continues with the lover's door that is closed.

While Posillipo (Pausilippe) is a hillside overlooking the bay of Naples, Infrascata is a steep road leading from the city centre to another hillside, that of the Vomero. The frontispiece of the first edition of Soirées d'autumne à l'Infrascata indicates it was intended as a sequel to the earlier collection. Here the tone is more overtly ardent, not least in the Neapolitan barcarola Me voglio fa 'na casa (I'd Like to Have a House) which has been a popular recital item for many great singers.

The complete collection is far less often heard, and recorded, lending considerable rarity value to this new recording. It is led by the soprano Letizia Calandra, a specialist in Neapolitan repertoire whose recordings on Brilliant Classics include 'Scarlatti and the Neapolitan Song' (BC94488), an album of popular lullabies, 'Ninna Nanna' (BC95771) and 'Erotica Antiqua' (BC95448), an album of Neapolitan villanellas that has won glowing reviews for Calandra's 'clear soprano… accompanied wonderfully by the Ensemble Arte Musica... The recorded sound is excellent, allowing every nuance of the vocal and instrumental lines to come to the fore' (MusicWeb International).

Gaetano Donizetti, the great Italian opera composer, stayed between 1822 and 1838 in Naples, in a house in the luxuriant hillside area Posillipo, overlooking the island Megaride, where the siren Parthenope failed to charm Odysseus and threw herself into the sea. The beautiful surroundings inspired Donizetti to compose a series of vocal chamber music, songs for soprano, tenor and piano in French, the fashionable language of the time. "Nuits d'été à Pausilippe" contains 6 arias and 6 notturnos, highly atmospheric and evocative songs, in seductive bel canto style. Also included on this new recording are the Soirées d'automne à l'Infrascata, the successor of the previous song cycle. Soprano Letizia Calandra is considered one of the foremost interpreters of Neapolitan songs. Her unique, versatile voice, schooled in opera and early music, is the perfect carrier for this genre, a blend of the artful and the folklore, the high and low culture of Napoli.
The booklet contains a detailed description of each song.
Track list
Disk 1
6 ariettes et 6 nocturnes: I. Il Barcaiuolo. Barcarolle

6 ariettes et 6 nocturnes: II. Il Crociato. Romance

6 ariettes et 6 nocturnes: III. A mezzanotte. Ariette

6 ariettes et 6 nocturnes: IV. La torre di biasone. Ballade

6 ariettes et 6 nocturnes: V. La conocchia. Chanson napolitaine

6 ariettes et 6 nocturnes: VI. Le crepuscule. Romance

6 ariettes et 6 nocturnes: VII. Il Giuramento. Nocturne a deux voix

6 ariettes et 6 nocturnes: VIII. L'Aurora. Nocturne a deux voix

6 ariettes et 6 nocturnes: IX. L'alito di bice. Nocturne a deux voix

6 ariettes et 6 nocturnes: X. Amor voce del cielo. Nocturne a deux voix

6 ariettes et 6 nocturnes: XI. Un Guardo ed una voce. Nocturne a deux voix

6 ariettes et 6 nocturnes: XII. I Bevitori. Brindisi a deux voix

Soirées d'automne à l'infrascata: I. La lontananza. Arietta

Soirées d'automne à l'infrascata: II. L'amante spagnuolo. Bolero

Soirées d'automne à l'infrascata: III. Amore e morte. Arietta

Soirées d'automne à l'infrascata: IV. Me voglio fa na casa. Chanson -Napolitaine

Soirées d'automne à l'infrascata: V. Qui dove mercè. Duettino pastorale

Soirées d'automne à l'infrascata: VI. L'incostanza di Irene. Duettino

Collezione di canzonetta: I. Eterno amore e fè. Arietta