Duni: Les Deux Chasseurs et la Laitière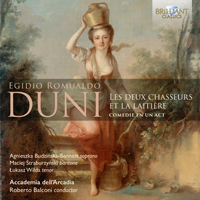 Download booklet
Composer
Egidio Romualdo Duni
Artist
Accademia d'Arcadia
Roberto Balconi director
Agnieszka Budzińska-Bennet soprano
Maciej Straburzyński baritone
Łukasz Wilda tenor
Format
1 CD
Cat. number
95422
EAN code
5028421954226
Release
November 2016
About this release
Les deux chasseurs et la laitière (The two hunters and the milkmaid) is an opéra-comique first performed at the Théâtre Italien in July 1763, and repeated many times there as well as attracting stagings across Europe for the following half-century, when the fashion for such light entertainment was supplanted by younger and better-known contemporaries from Mozart to Rossini.

The composer in this case is Egidio Romualdo Duni (1708-1775), originally educated within the Neapolitan school of composers. As a court composer in Parma he produced several Italian operas such as Olimpiade and La buona figliola, still awaiting modern revival. His move to Paris in 1757 proved decisive, and four years later he became music director of the Théâtre Italien, where he produced many light operas such as this example, which is as unfailingly charming and humorous as it is now little known.

Whereas most previous examples in the French opéra-comique tradition were heavily dependent on pastiche and borrowing to create an effervescent but ephemeral entertainment, Duni worked hard to innovate within the genre and unify it. Despite the limitations of the small pit and resources available at his disposal in the Théâtre Italien, there are many telling orchestral details in this one-act pastoral, scored for pairs of oboes, bassoons and horns with strings and continuo. Pleasingly for English audiences, there is a scene in which the eponymous milkmaid cries over spilt milk; a role once apparently taken in a Versailles performance by Marie Antoinette herself.

Presented here is the work's only available recording, made during a run of performances in 2010, given by Polish singers and period instrumentalists led by the countertenor and conductor Roberto Balconi, who has recorded madrigals by Giovanni Ghizzolo (BC94834) with his other ensemble, Fantazyas. The booklet includes a contextual essay and the French libretto.

Les deux chasseurs et la laitière, a one-act opera by Egidio Romualdo Duni (Matera, 1708-Paris, 1775), was premiered in Paris by the company of Théâtre de Comédiens Italiens, in July 1763. This work, staged then many times at the Opéra Comique, was soon published and its popularity among European theatres reached its peak between the 1780s and the beginning of 19th century.
The opera is written in the Galant Style: small size, fast-paced action, sharp sense of humour, amusing spoken dialogues and, above all, very light and cleverly written music, made this pièce one of the most popular operas not only in Paris of the time.
The libretto is based on two fables by De La Fontaine, ingeniously combining two plots involving two hunters and a milk jug.
A vibrant performance on period instruments by the Accademia dell'Arcadia from the Polish Poznan, featuring three excellent young Polish vocal soloists. Conductor is Early music specialist Roberto Balconi, who already issued an excellent recording of madrigals by Ghizzolo on Brilliant Classics (BC94834).
Extensive liner notes and complete sung texts are included in the booklet.
Listening
Track list
Disk 1
Egidio Romualdo Duni: Les deux chasseurs et la latière: Introduction. Allegro assai

Egidio Romualdo Duni: Les deux chasseurs et la latière, Scène I: Ariette – Colas. Je suis percé jusq'aux os

Egidio Romualdo Duni: Les deux chasseurs et la latière, Scène II: Ariette – Guillot. Tant qu'il me reste

Egidio Romualdo Duni: Les deux chasseurs et la latière, Scène II: Duo - Guillot & Colas. Eh! Bien, Colas? ... Eh! Bien, guillot?

Egidio Romualdo Duni: Les deux chasseurs et la latière, Scène III: Ariette – Guillot. Le briquet frappe la pierre

Egidio Romualdo Duni: Les deux chasseurs et la latière, Scène IV: Ariette – Perrette. Voilà la petite Laitière

Egidio Romualdo Duni: Les deux chasseurs et la latière, Scène IV: Ariette – Guillot. Si vous trouvez dans la plaine

Egidio Romualdo Duni: Les deux chasseurs et la latière, Scène IV: Duo - Guillot & Perrette. Quand je trouve à l'écart... Telle qu'une perdrix

Egidio Romualdo Duni: Les deux chasseurs et la latière, Scène IV: Ariette – Perrette. Voici tout mon projet

Egidio Romualdo Duni: Les deux chasseurs et la latière, Scène V: Ariette – Guillot. Jeune fille à cet âge

Egidio Romualdo Duni: Les deux chasseurs et la latière, Scène VIII: Ariette – Perrette. Hélas! J'ai repandu mon lait

Egidio Romualdo Duni: Les deux chasseurs et la latière, Scène IX: Trio - Colas, Guillot & Perrette. Je tombe ... La masure… Quelle aventure!

Egidio Romualdo Duni: Les deux chasseurs et la latière, Scène IX: Ariette – Perrette. Tu promets de me rendre heureuse

Egidio Romualdo Duni: Vaudeville: Vaudeville – Colas, Guillot & Perrette. J'étois gisant à cette place

Egidio Romualdo Duni: Vaudeville: Choeur – Colas, guillot & perrette. Ain si le sort, un tems, nous berce

Egidio Romualdo Duni: Michal Orlowski Second Half of the 18th Century Sinfonia in F Major: I. Allegro

Egidio Romualdo Duni: Michal Orlowski Second Half of the 18th Century Sinfonia in F Major: II. Andante, rondo

Egidio Romualdo Duni: Michal Orlowski Second Half of the 18th Century Sinfonia in F Major: III. Allegro, rondo