Duparc: Lamento Complete Songs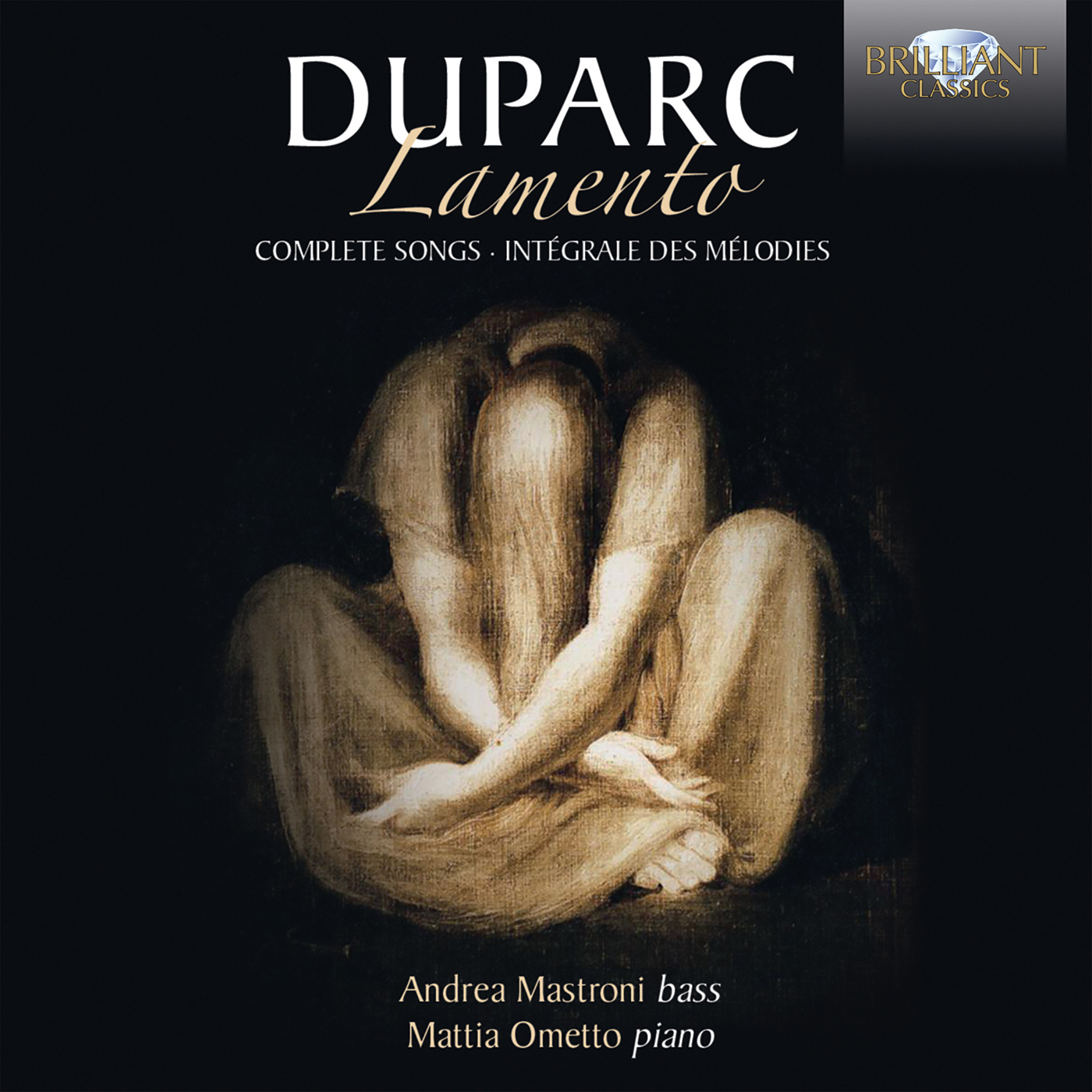 Download booklet
Composer
Henri Duparc
Artist
Andrea Mastroni bass
Mattia Ometto piano
Format
1 CD
Cat. number
95299
EAN code
5028421952994
Release
December 2015
About this release
This sublime recording of Henri Duparc's complete mélodies spans the entirety of the composer's musical career – a career
tragically cut short by mental illness. Duparc was plagued by nervousness, and his frequent changes of opinion or of heart led
him to destroy most of the music he composed, leaving relatively little to posterity. What we do have are a collection of songs
wonderfully varied in style and inspiration, balancing the composer's French roots with the German influences that were so often predominant in his oeuvre. From the intensely Wagnerian 'Au Pays où se fait la guerre' to the distinctly Gounodian 'Sérénade'; from the drama of the 'Chanson
triste' to the seductive yearning of the 'Sérénade florentine'; from the feverish 'Le Manoir de Rosemonde' to the solemn and
moving 'Lamento' –these settings of more than a dozen different poets carry us enthrallingly through Duparc's everchanging
poetic universe. Andrea Mastroni and Mattia Ometto have
an established track record in performing 19th‐century chamber music together, particularly Schubert Lieder. 'Golden-touch'
pianist Ometto (American Record Guide) also recorded the complete mélodies of César Franck for Brilliant Classics in 2013.

French composer Henri Duparc lived from 1848 till 1933, but at age 37 a mental illness made him stop composing and eventually destroy most of his output. What was left is an superb body of 17 songs, which are still regularly performed nowadays.
Duparc is a true heir to his French ancestors César Franck, Gounod and Fauré. But his encounter with Richard Wagner left a strong mark on his musical language, especially in the instrumental sonorities and highly chromatic harmonies.
Bass Andrea Mastroni is one of the foremost young vocalists of Italy, he performed at world famous stages like La Scala Milano, La Fenice, Bayerische Staatsoper, Theatre de Champs‐Elysées, Opera National de Paris. He is expertly seconded by pianist Mattia Ometto, a well known soloist, here in the role of a sympathetic duo partner.
Excellent liner notes by the artist in English and Italian.

Recorded in Italy in 2015.
Contains liner notes written by the artist in Italian and English.
Contains biographies of the artists.
Sung texts available at www.brilliantclassics.com.
Listening
Track list
Disk 1
Henri Duparc: Phidylé in E Major

Henri Duparc: Sérénade in E-Flat Major

Henri Duparc: Romance de Mignon in A Major

Henri Duparc: L'Invitation au voyage in F Minor

Henri Duparc: Soupir in G Minor

Henri Duparc: Le Manoir de Rosamonde in A Minor

Henri Duparc: Au Pays où se fait la guerre in B Minor

Henri Duparc: Chanson triste in B-Flat Major

Henri Duparc: Lamento in B-Flat Minor

Henri Duparc: Le Galop in D Minor

Henri Duparc: Elégie in A Minor

Henri Duparc: Sérénade florentine in B-Flat Major

Henri Duparc: Testament in B-Flat Minor

Henri Duparc: La vie antérieure in A-Flat Major

Henri Duparc: Extase in F Major

Henri Duparc: La vague et la cloche in C Minor